Pretzel Crusted Schnitzel





a great way to add variety to a schnitzel. Bread it with crushed pretzels instead of bread crumbs.

to get more German recipes here is our book.
Recipes from a German Grandma
Ingredients:

4 servings

1 lb (about) of boneless chicken breasts
You can use pork also.
2 cups pretzels crushed. ( about half a medium bag of hard snack pretzels)

| | |
| --- | --- |
| Batter Ingredients | |
| Milk | 1 cup milk |
| Eggs | 2 |
| Flour | 1 / 4 cup flour |
| Kosher Salt | 1 teaspoon |
| Black Pepper | ½ teaspoon |
| Worcestershire Sauce | 1 and ½ Tablesp. |
Directions: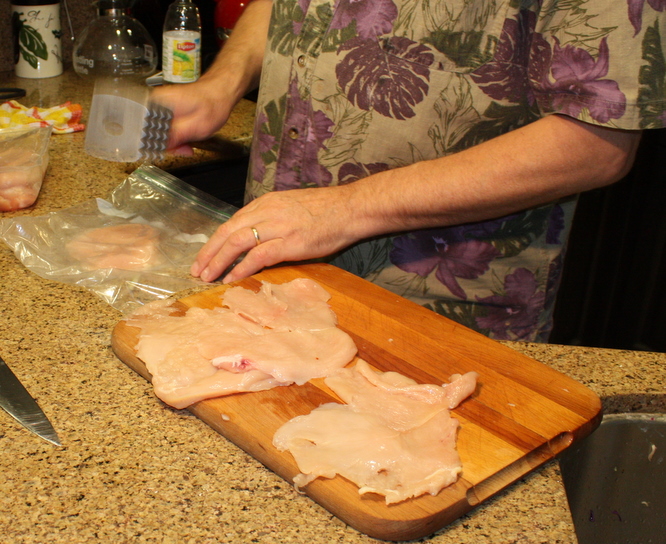 I bought 2 large chicken breasts on special, not the pre portioned ones so they were a bit cheaper.
I cut them in half so I could make two shnitzels from each one.
I put each piece of chicken breast inside a thicker plastic storage bag like a zip lock freezer bag.
any will work but a good sturdy plastic storage bag helps the meat slip and spread evenly instead of tearing.
| | | |
| --- | --- | --- |
| By the way this will work with pork as well if you want. | Here is a good measure of how thin it should be. this is about 1/ 4 inch thick. A bit bigger than a U.S. quarter. | This is ready for dipping. |
~~~~~~~~~~~~~~~~~~~~~~~~~~~~~~~~~~~~~~~~~~~~~~~~~~~~

I mixed the batter ingredients till they are nice and smooth. put the crushed pretzels on a plate.

Dip a chicken breast in the batter and then into the crushed pretzels.

Coat the chicken breast
well with the crushed pretzels and stack on another plate so the crumbs can set.
Heat a skillet to medium heat and add olive oil, place some schnitzels in the pan but down crowd them.
I do 2 at a time.

Turn over when they are nicely browned.


Hold in a dish in the oven until you are ready to serve.
~~~~~~~~~~~~~~~~~~~~~~~~~~~~~~~~~~~~~~~~~~~~~~~~~~~~
Serve with fresh lemon wedge.
More Recipes and Links
Enter your recipe request and search
Where to shop for German Foods and Things
I order from the German Deli more frequently than ever.
I try to get in bulk to make the shipping dollars count.
Also there are sales all the time I like to take advantage of.
They are nice folks. If you don't believe me call them.
and tell them Stephen Block sent you from the German Goodies Newsletter.
Shop for German Food

Go here and search for all kinds of German Food

Shop for German Clothing,
Cooking equipment for German Food,
Fun German stuff

Do you have a question or comment on this recipe?
make sure you put the recipe name in the subject line

Do you have a German Name?
Also what your German name means

Do you want to learn to speak a little German?
Learn one word a day.

Explore your German Heritage
Find out if your relatives came over through Ellis Island and more good links
Back to top
E-Mail The Webmaster stephen@kitchenproject.com
© 1998- to present The Kitchen Project
Last updated October 14, 2010