| | | |
| --- | --- | --- |
| Crack the eggs into the pan, add the water and whisk. | Stir in a little flour at a time. | Grate a little nutmeg in there if you want. I am sold on it, but I like FRESH grated nutmeg over the powdered. |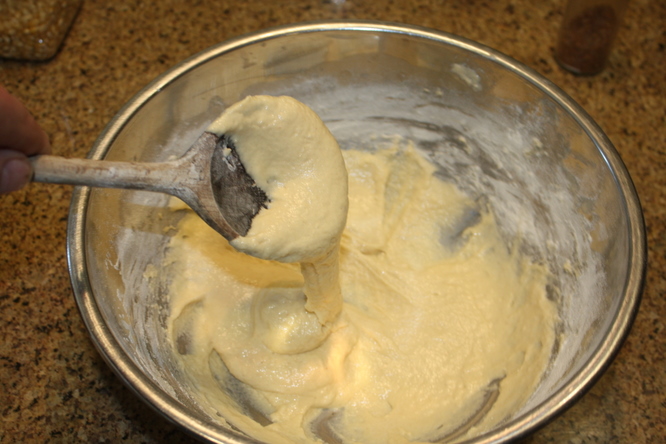 The batter needs to be the right thickness. You can see that it doesn't clump, but it doesn't pour.
I beat this about 50 or 60 times to develop some elacticity (gluten).
Spread the dough very thin on a cutting board. I like one that has a handle. This will take a little
practice to find the right thickness and to get it right.
You can use a cutting board , or I have seen some people use a think metal pancake turner.
Put some dough on the back and Spread it out.
Here is a video of a pro making them.
~~~~~~~~~~~~~~~~~~~~~~~~~~~~~
They freeze nicely also .....Here is how I do it.
First lay them on a plate or pan spread out
so they can freeze individually and not in a clump.

When they are frozen chip them off and put them in a plastic storage bag, and you all these individual frozen noodles.

You can take out as many as you want when you are ready to cook them.
Just put in a frying pan and heat with a little butter, or dunk in boiling water,
then lift them out and shake off the water.