Ingredients:
1 cup diced onion
6 cloves minced garlic
2 Tablespoons Olive oil
1 quart vegetable or chicken stock
2 medium potatoes diced
a good hand full of 7-9 different herbs
1 / 2 cup milk or cream
Sour cream for garnish.
Salt and pepper

Here are the 9 herbs I used;

1 leek sliced (separate white and green into two piles)
handful Celery tops
Basil, Curly Parsley, Arugula,
Watercress, Dill Weed, Spinach, Cauliflower Greens


Excellent served with potato pancakes or crusty bread. These are Barb's Potato Pancakes

Here is the platter of herbs I picked
.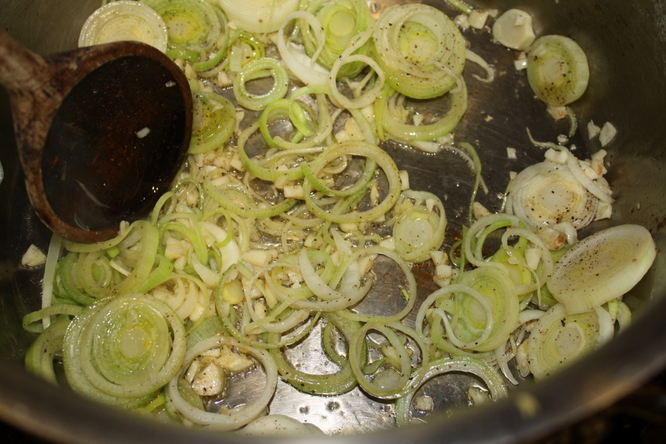 1. Cook the garlic, and white part of the leek in the olive oil till tender.
2. Add the stock and diced potatoes, green parts of the leek and simmer till the potatoes are tender.

I rough chopped all the herbs before adding.

3. Add the herbs and cook for 10 minutes.


4. Puree soup in a blender, food processor or with the hand immersion blender as I am doing now.



I blend for a good long time until the soup is light and silky smooth.
5. Add the milk or cream, and season with salt and pepper.


6. Serve topped with some herbs and a dollop of sour cream if you wish. I served it on the side in this picture.
This Dish goes well with Kartoffelpuffer
(Potato Pancakes)
Here is a fun way to garnish the soup with chives, croutons and edible daisies
Photo courtesy of Chefkoch