Dumplings:
2 eggs
3/4 to 1 cup flour
Salt
Pinch of nutmeg
2 tablespoons water

Soup:
4 cups milk
1 teaspoon teaspoon salt
2 bay leaves
4 cloves
1/ 4 teaspoon nutmeg
2 tablespoons butter

Optional:
Slurry
2 tablespoons cornstarch
1 /2 cup water or milk

Garnish:
Diced chives
Nutmeg

printer friendly



Directions:
I simmered the milk with bay leaf and cloves,



Separate the eggs and whip the whites till stiff

Blend the flour. salt and nutmeg together, then fold into the egg whites. Add a little water if the batter is too stiff. It should be
light and sticky.


Heat the milk on the stove to a simmer and add the bay leaves cloves and salt.

Set up a glass of warm water and 2 spoons to make the dumplings with. Dip the spoons in the warm water and take a half spoonful of batter and scrap it off into the simmering milk. Repeat with the rest of the dough. When they float they are done. Remove from the soup with a slotted spoon.


Thicken the soup with a cornstarch slurry if you are using 2 percent milk. The soup should not be too thin but have just a little body.

I also added a little grated nutmeg for flavor.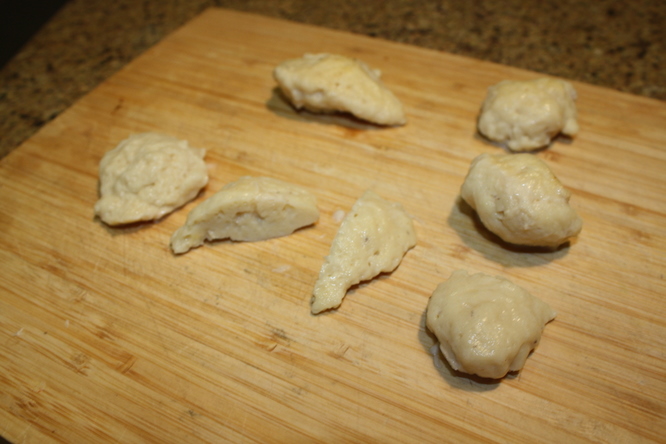 Here is what the dumplings look like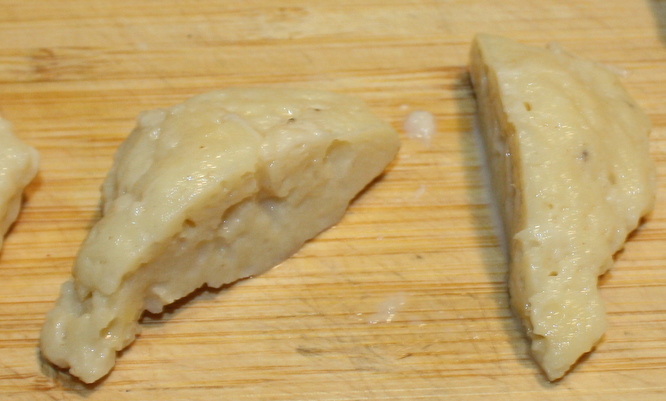 They have a very fluffy light texture.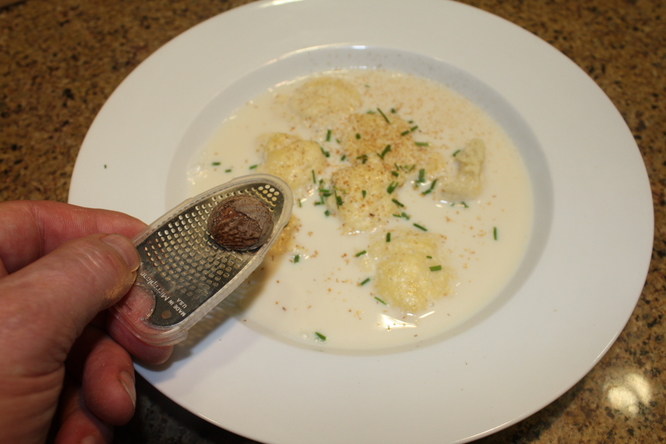 To serve put the dumplings in and add the butter if you want, some fresh grated nutmeg and some chopped chives.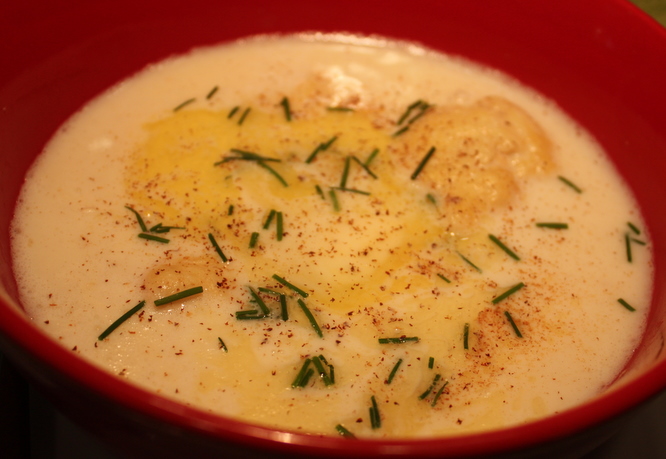 I first heard of this soup from a request, and Roy Denman sent me this recipe.

Mix eggs, water, salt and flour. Dough should be sticky. Add a little water if it seems too dry. Heat milk on medium high. Drop 1/2 teaspoonfuls of dough in hot milk. Stir often so milk doesn't burn to bottom of pan. Cook dumplings about 7 minutes, add butter. Salt and pepper to taste.
Variations:
You can make a sweetened version of this by adding 2 tablespoons of sugar to the milk, also some lemon zest to the dumpling batter is nice.
More Recipes and Links