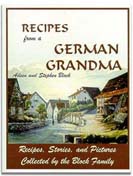 Our German Cookbook with Heritage stories
Join our free German Goodies Newsletter we share recipes and stories of our background
German Slumgullion

(German Stew)
This dish got it's name from two words put together
"slum" which was an English word for mud and "gullion" which was a term that miners used for a pit. I suspect that at mining sites there were pits that were filled with muddy water and all kinds of things that had slid down into it to look like a jumble of colors and shapes. The homes were often poor and used any kind of meat, (even squirrles and birds) that they could find and any vegetable, bean or starch that they had on hand to make enough food to feed the whole family. Similar is mulligan stew which the word comes from an Irish name.
From these concotions I am sure there was many a strange meal, but as with many great inventions there were also some keepers. The following is an example of a great one, being that it is German it uses cabbage. One could also use sauerkraut. Typical of many German meals is using sausage slices or bacon to season anything from potato salad to green beans. A lot of times you have items like summer sausage, bacon or ham in some form, this is great to saute with onions as a base for a pot of stew.

Nowadays the modern Slumgullion's usually have a combination of any meats and vegetables you might have on hand and maybe a can of tomato or cream of mushroom soup and some noodles.
Remember, add leftovers judiciously. This is not a cleaning project or challenge to see how thrifty you can be. things look best in soup that still have a clear shape. People eat with their eyes. If it isn't real pretty try topping it croutons and fresh grated cheese, and a sprinkling of herbs.
Ingredients;

1/2 head cabbage, chopped
2 or more stalks celery, sliced
2 or more carrots, sliced
1 medium onion, diced
leftover ham, pork, chicken, cubed or diced
1 pkg. Ramen Noodle Soup, any flavor
1/2 tsp. Badia All Seasoning or favorite season salt
1/2 tsp. Bay Leaves
1/2 tsp. celery seed
Any leftover veggies, beans, etc.
Salt and Pepper, to taste


Put everything into large pot except Ramen Soup Mix. Add 2 cups water. Bring to a boil.
Add Ramen Noodle Package together
with Ramen Flavor package. Turn down to simmer and leave on heat for 20 - 25 minutes or until ready to serve.
Great with crackers, French or Cuban bread with garlic butter as spread and maybe a green salad.
The taste will surprise you. Your leftovers will become popular with all the family!

links and more recipes
Do you have a question or comment on this recipe?