Directions:
"Speck" is German cured meat similar to bacon.
It is sometimes closer to Prosciutto only it is smoked.
Order Speck online from the German Deli
Speck however is generally cured with Juniper and it is smoked over beech wood. The term Vesper in
German refers to a midmorning snack between breakfast and lunch or an afternoon break between lunch and dinner.
They also use the words A Zwischenmahlzeit is also referred to as Brotzeit, Vesper and Zweites Frühstück.
Often for this "snack" or Vesper they eat rolls and a nice smoked meat like this vesperbacon.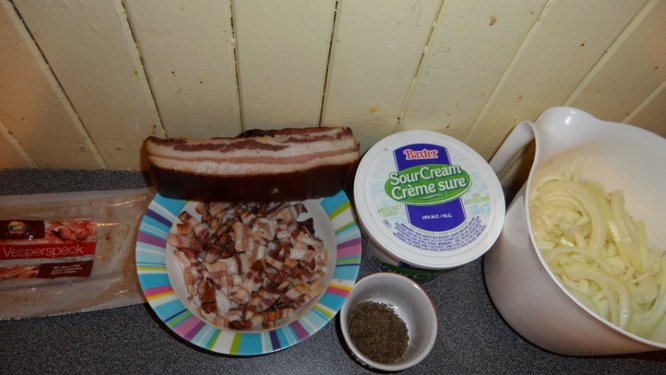 The Speck works fantastic for this as would American bacon. Also Westphalian ham works well.
The base of this pizza like dish uses sour cream, you can also use creme fraische or quark.
a dish of caraway seeds and a bowl of nice sliced onions.
Making the dough
Mix the ingredients for the dough up and let it sit for 20 min. You can use any recipe or
store bought bread dough or sometimes you can find uncooked pizza dough at the grocery store.

Pre heat oven to 450 degrees
| | |
| --- | --- |
| It many places in Germany it is traditional to make it in a rectangle that fits nicely on a baking sheet. Roll out some of the dough very thin, oil the sheet pan and dust it with a little flour. Then lay out the dough, pushing the edges up to the sides of the pan to make a little ridge. Then spread a very thin coat of sour cream on it. | You can of course use round pizza pans. |
Next sprinkle with onions and some caraway seeds.
Simone made one of the round ones with just the Speck and one with onions and the Speck
Bake the Zwiebelkuchen in the middle part of the oven for about 20 minutes or till the crust is lightly browned.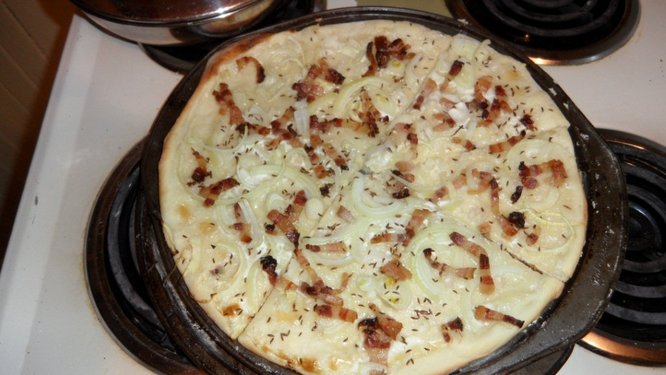 It is nice how the crust gets bubbles up a bit and gives nice texture.
Product Links and more Recipes