The Real crux of the Original Recipe for Caesar Salad is in using whole Romaine leaves, not cutting or tearing them and the technique of rolling the leaves around the dressing in the salad bowl instead of tossing of it. Also the original croutons were made a special way that make them a meal in themselves and not something out of a bag.

Most so called Caesar salad recipes you find are just a vinaigrette, cheese and croutons.

Printer Friendly Recipe
Ingredients:
(Serves 4)
1 /2 cup olive oil + 2 Tablespoons
4 cloves garlic
16 slices from 1 Baguette
12 drops worcestershire
Juice from 2 lemons or limes or combination
2 eggs
Salt
Pepper

Directions:
Oil to baste croutons;
4 cloves garlic
1/2 cup garlic oil
Croutons
4 slices per person
Cut i16 - 1/4 inch slices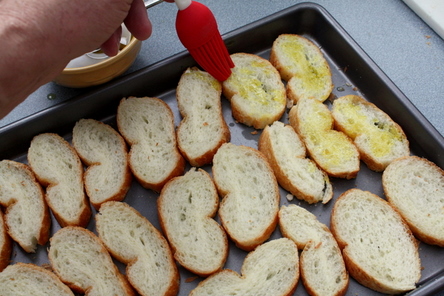 Brush the slices with the garlic oil
Bake the Slices in a low oven, (about 250 degrees F) till dry.
| | |
| --- | --- |
| | |
| | |
Garlic Oil (to fry croutons)
Fry the croutons in the garlic oil till brown and oil is absorbed.
Some puree some of he garlic with the oil and add that at the last.
(beware it burns easy)
Place them in a bowl ready for when you toss the salad.
On the bottom left a crouton with a little anchovy paste on it, for those that
like that. This was what his brother Alex did.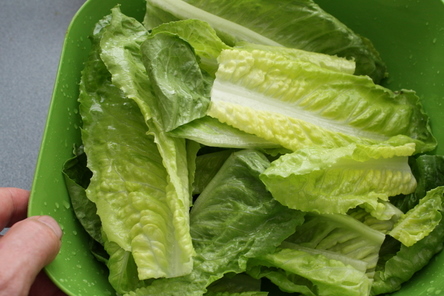 3 medium heads of Romaine (Cos) lettuce
Remove the dark leaves and cut the core off about 2 inches up.


2 eggs boiled exactly 1 minute
This is called a coddled egg, If you are worried about salmonella, your
chances are very small. There's a 1 in 20,000 chance that an egg might
contain salmonella, according to the American Egg Board .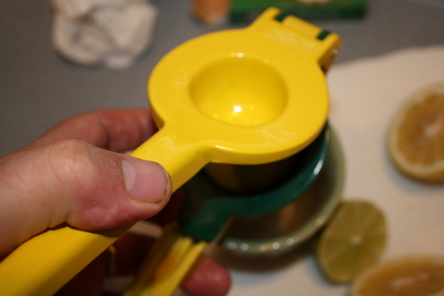 Squeeze the juice of 2 lemons or limes, I used 1 of each We don't know exactly
what Caesar used, because often what we call lemons in Mexico are what
we call limes. I like the blend of the flavors. Part of the show is in how you
add the ingredients. If you want squeeze the lemon and the lime through
cheese cloth or through a squeezer like is shown above.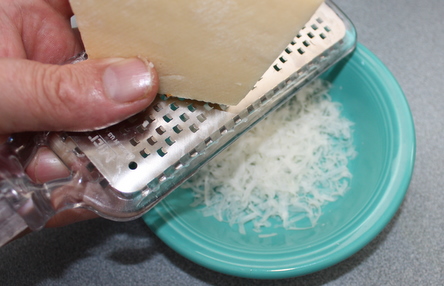 Grate the Parmesan or Romano cheese and place in a bowl ready
to add to the toss.
You will need a large salad bowl for tossing.
Caesar's choice was always a wooden bowl.
Salad tossing fork and spoon
Chill salad plates and forks for added elegance

Get all your ingredients in place
a bowl of kosher salt
a bowl or grinder of black pepper
Bottle of olive oil
Worcestershire sauce
Lemon or lime Juice or both
1/2 cup grated hard Parmesan, or Romano cheese
The chilled Romaine leaves

In the small bowl on the right are some mashed anchovies, which was not
part of the original recipe with Caesar but was with his brother Alex.
Tossing the Salad Directions;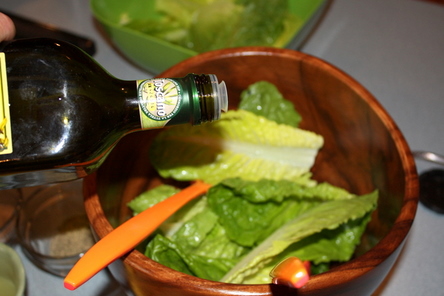 You may want to break this down into two salad tosses if your bowl is small.
Put the Romaine leaves in the bowl.

Add a few tablespoons of Olive oil, about 1 teaspoon salt, and 1 teaspoon or 8 grinds of pepper.
Roll the leaves to coat well.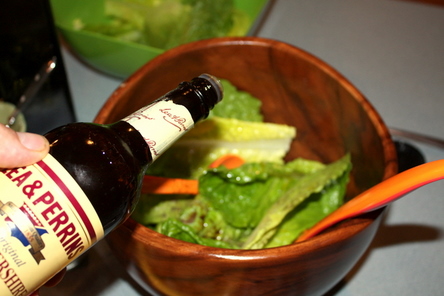 Sprinkle on the lemon juice and 12 drops of Worcestershire sauce.
Break in the eggs, then roll the leaves instead of tossing them, to emulsify
the egg and the other ingredients into a creamy dressing.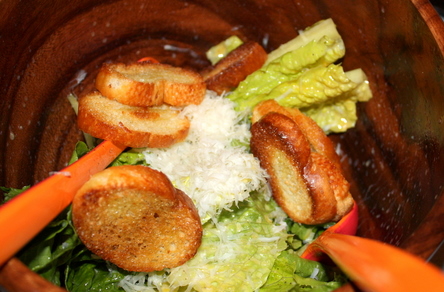 Add the croutons and cheese
Toss to coat well the croutons with the dressing
and to get the cheese coated well on the salad leaves.


the leaves are placed on a plate and put the stem end out, so that
they can be eaten with the hands.
There are many more little techniques that have been added over time.
Some folks make the dressing in the bowl, ahead of time mixing it with a fork.
Here are a couple presentations.


A Caesar Salad Presentation that happened in the Hotel Next to Caesar's in Tijuana
Alton Brown doing Caesar Salad
Food History Course
5 free E-Lessons
Come Explore with me
The History of Food

Have you ever wondered as I have.....

Who invented the first "Caesar Salad"?

How about the first salad or what was the first salad dressing?

How did Salad get the name Salad?

We explore different topics like famous restaurant dishes, famous fun foods like popcorn, famous Menus like Elvis's wedding reception, and popular food dishes that were invented by accident. Also tools and resources, that you can use to find information on different food and their origins
Just sign up here and you will get your first lesson instantly.