The History of
Canadian Bacon
What is Canadian Bacon ??

Canadian Bacon is a misnomer.
The only place they call it that is in the United States.

Just as they don't cal Philly Cheese steak in Philadelphia, or Buffalo Wings in Buffalo.

Why is it called "Canadian" bacon ?

Canadian Bacon probably got that name says because in the mid 1800's there was shortage of pork in the United Kingdom and they imported the meat from Canada.

They would cure the backmeat in a special brine, which the Canadians call peameal bacon, because they would roll it in ground yellow split peas to help preserve it.

The English smoked it instead, and this new concotion was just referred to probably as
Canadian Bacon, The Amreicans like it and brought it back to the states.


So if you went to Canada and asked for Canadian bacon what would you get?
If you were in Toronto and asked for Canadian Bacon you would probably get something
called Peameal bacon . This bacon is from the loin of the pig as opposed to most bacon which is from the belly. Especially in the United States. The loin is the part that they make pork chops out of, so they
just remove the bones.
In Canada, the back bacon is not smoked or pre-cooked. It is almost always the lean, boneless pork loin of the animal.

The loin is then pickle-cured and rolled in a fine golden cornmeal. Which is ironic, because another name for Canadian Bacon is "Pea meal" bacon, which has to do with the fact that the cured pork loin is rolled in some sort of fine meal.

It used to be that the manufacturers would dry and grind yellow peas into a meal and pack it around the meat to help preserve it. When Cornmeal became more plentiful they made the switch but the 'Pea meal' name still stuck.

Go here to see how Chef Peter Pizzati
makes his own
Peameal Bacon Roast
Dining Rooms have had an interesting History

Here is a History of Dining Room Furniture
brought to you by
Furn -On Furniture


Links
My own book
Get in a Pickle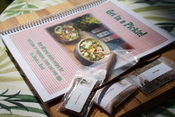 How to make not only pickles but cure your own meats, such as Corned Beef, Canadian Bacon and Pastrami.

Get it all in this book, plus curing salt and spices for Corned beef and other pickle recipes.
Pickling Spice, 1 Lb Jar
Meat Marinade Injector - Commercial-Grade stainless steel heavy duty injector with 6" detachable needle with 12 holes. .
Traditional Irish Boiling Bacon
One of the most versitale tools in the kitchen, for scraping flour off the counter after making bread, to lifting up lots of crumbs, and loosening up stuck on food.
Oxo 73281 OXO Good Grips Pastry Scraper
Here is a book I recommend