Will the real Benedict stand up.
There have been several
Charles Ranhofer


Eggs Benedict" - 1860s -Credit is given to Delmonico's Restaurant, the very first restaurant or public dining room ever opened in the United States. In the 1860's, a regular patron of the restaurant, Mrs. LeGrand Benedict, finding nothing to her liking and wanting something new to eat for lunch, discussed this with Delmonico's Chef Charles Ranhofer (1836-1899),

Chef Charles Ranhofer
| | |
| --- | --- |
| | Ranhofer came up with Eggs Benedict. He has a recipe called Eggs a' la Benedick (Eufa a' la Benedick) in his cookbook called The Epicurean published in 1894.:Eggs à la Benedick - Cut some muffins in halves crosswise, toast them without allowing to brown, then place a round of cooked ham an eighth of an inch thick and of the same diameter as the muffins one each half. Heat in a moderate oven and put a poached egg on each toast. Cover the whole with Hollandaise sauce. |
OR .................

Commodore E.C. Benedict
Craig Claiborne, in September 1967, wrote a column in The New York Times Magazine about a letter he had received from Edward P. Montgomery, an American then residing in France. In it, Montgomery related that the dish was created by Commodore E.C. Benedict, a banker and yachtsman, who died in 1920 at the age of 86. Montgomery also included a recipe for eggs Benedict, stating that the recipe had been given to him by his mother, who had received it from her brother, who was a friend of the Commodore.[3]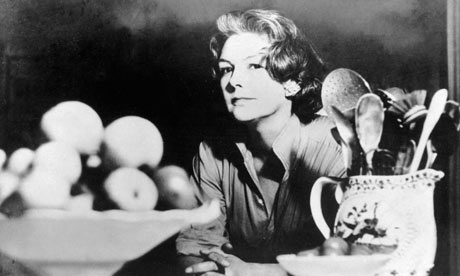 Elizabeth David
Another origin of the dish is suggested in Elizabeth David's FRENCH PROVINCIAL COOKING
Elizabeth David's French Provincial Cooking, where she describes a traditional French dish named œufs bénédictine, consisting of brandade (a puree of refreshed salt cod and potatoes), spread on triangles of fried bread. A poached egg is then set on top and napped with hollandaise. This story would also explain the distinctly French syntax, where the adjective follows, rather than precedes, the noun (although Oysters Rockefeller has the same syntax without needing a Romance-language origin). No one knows how this dish got to America but If Charles Ranhofer could have known of the œufs bénédictine and thought of the coincidence of the LeGrande's request and merged the two. Brilliant! The Canadian bacon or ham is probably preferred to the Salt Cod by MOST!

Mrs. Isabella Beeton
Mrs Beeton's Book of Household Management (Oxford World's Classics)
had recipes in the first edition (1861) for "Dutch sauce, for benedict" (p. 405) and its variant on the following page, "Green sauce, or Hollandaise verte", This gives me the idea that this belonged to the salt cod, That Mrs. David writes about. This would have been the perfect Lent or Friday Catholic dish as well so would have been popular.
Recipes for Eggs Benedict
More a technique or Genre, than just a dish.
The style of placing a poached or fried egg on top of, and bread underneath, to compliment any kind of food you can think of, then topping with hollandaise or a close variation.
Other Variations on this Classic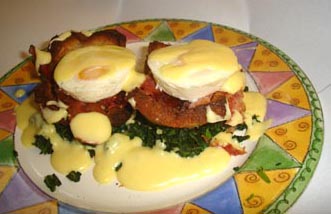 Some other variations on the Original Eggs Benedict;
Seafood Benedict replaces the ham with crab and/or shrimp and/or lobster and/or baby scallops.


Eggs Florentine substitutes spinach for the ham.[9][10][11] Older versions of eggs Florentine add spinach to poached or shirred eggs Mornay – eggs covered in Mornay sauce.[12]


Eggs Royale (Also known as Eggs Pacifica, Eggs Montreal, Eggs Victoria, Eggs Royal or Salmon Benedict) replaces the bacon with smoked salmon. Commonly served with capers and red onions, either on the side or directly on top of the hollandaise sauce.

Eggs Commander's was created by Chef Paul Prudhomme during the time he was working at Commander's Palace in New Orleans. The dish varies from Eggs Benedict in that the bacon is replaced with spicy andouille or breakfast sausage, and the hollandaise sauce is replaced with bearnaise sauce.

Pacific Northwest Eggs Benedict Poached egg over wild Alaskan Smoked Salmon on a toasted English muffin covered with Hollandaise sauce. Can also substitute Dungeness crab cakes for English muffin.

Eggs Montoya Replaces bacon for filet mignon.

Eggs Sardou substitutes artichoke bottoms and crossed anchovy fillets for the English muffin and ham, then tops the hollandaise sauce with chopped ham and a truffle slice. The dish was created at Antoine's Restaurant in New Orleans in honor of the French playwright Victorien Sardou. A more widespread version of the dish starts with a base of creamed spinach, substitutes artichoke bottoms for the English muffin, and drops the ham.


Irish Benedict replaces the ham with corned beef hash or Irish bacon.

Eggs Chesapeake replaces bacon with crabcake.

Pennsylvania-Dutch Benedict replaces the ham or bacon with scrapple. Popular in the eastern region of Pennsylvania.

Veggie Benedict, also known as California Benedict, replaces the bacon with avocado and tomato.


The Future of Eggs Benedict
Eggs Benedict is not losing popularity at all.
Even versions that are not so calorie laden are published on websites and popping up in menus across the world.
Here is a lower calorie version of the dish.