The History of the Hamburger

It seems that grinding up bits of meat left after the kill and forming into a patty and cooking it would be a simple solution.

But not everything is obvious. Here are a few things. Many foods, like potatoes and tomatoes for centuries were considered food fit for pigs, and Europeans wouldn't think of touching them the way perhaps we wouldn't think of eating food say for cattle or chickens. Most likely a joint was boiled or roasted and picked clean after it was cooked.

Below is a start on what I am sure is going to be a great adventure into the history of the hamburger.
look for more updates by following our Food History Cafe Facebook page
Some of the Theories of the invention of the Hamburger.
Raw Meat from "Hell"

The Tartars ( from the word for Hell in latin) the feared Mongolian nomads that spent most of their lives in the saddle conquering settlements, so they needed hand held food. It is said that they would tenderize the meat under their saddles as they rode, and ate it raw, hence the name Steak Tartar. This Legend carried on and raw Steak Tartar was served in Russia where Attila the Hun leader of the Tartars had conquered.


This probable Urban legend carried on and sailors in a sea port in Hamburg, Germany brought back from Russia the steak tartar and became popular there. They brought it to ports in the new world as well. The food eventually became associated with these seafaring
Germans.

Why Hamburger and not just Hamburgs?

Back then people from a city were often called by that name with the suffix er as in , London is a Londoner, The sailors from Hamburg, Germany were called Hamburgers. We also address foods these days from cities or groups of people, like New York steak, California Rolls, Philadelphia Cheese Steak, Cajun Catfish or Kansas City BBQ.
The Hamburger Evolves
After the hamburger got a foothold in America, like the frankfurter or hot dog it was first served without a bun on a plate or street food style with a napkin. The frankfurter in order to combat it's reputation for being messy was even sometimes served with a nice clean white glove to eat. Good god didn't they think to put it on a roll !!?
Who was the First to make it a Sandwich?

At the St. Louis World's Fair in 1904 Fletcher Davis served a "minced Steak with mustard and onions".

This is probably where the burger took hold and spread around the states like wildfire.

There are others of course that feel they started the hamburger first but when even the New York Tribune reported on "this little old burger stand on the Pike" folks around the world started to take notice.

You would have thought that putting it on bread or a bun would be obvious, but it is not that way with food history. Eventually it did become served on bread and then a bun, but it was not for decades.
I want to say that households may have served it on bread or a roll but not commercially until way after the mid 1800's. There are many that claim to have served the first but I think the important thing is that improvements on them came slow and as you develop your family hamburger history chapter it is important that improvements maybe be hidden from plain sight and maybe in front of your face.
Commercially the hamburger has gone through changes, from cleaning up it's greasy reputation and the rat infested mystery meat reputation that it got from Upton Sinclair's book the Jungle, to making it fit the tastes and budget of first the United States, a growing industrial nation and later on the rest of the world.
Here is a simple Timline of some of the major burger events.
1834
The New York Restaurant "Delminico" first advertised a hamburger steak – at that time still without the bun – to attract the custom of German seafarers and immigrants.
Some other theories of how the Hamburger was invented
The Menches Bros. at the Hamburg Fair

Our great-grandfather Charles and his brother Frank were traveling concessionaires back in 1885. They did the Hamburg fair, which is located about eight miles south of Buffalo. They were a 100-man operation. They were really noted for their sausage sandwich. The fair was run in August. It was too hot, and they ran out of sausage. It was too hot to butcher because there was no refrigeration, and the meat wouldn't have turned out very well.

They were talked into using ground beef, which back then was a little taboo. Fairs were where the highest of society met, and ground beef was more for lower-class people, so they didn't think they'd be successful with it. Faced with nothing to sell at all, they fried it up, but it was too bland.

My grandfather decided to put coffee, brown sugar, and some other household ingredients in it and cooked up the sandwich. My great-uncle Frank served the first sandwich, a gentleman tasted it and said, "What do you call it?" Uncle Frank didn't really know what to call it, so he looked up and saw the banner for the Hamburg fair and said, "This is the hamburger."

Hamburger Charlie

1885

Charlie from Seymour, Wisconsin got his start when he was 15 selling meatballs. At a local fair he figured that he needed to make the meatball more portable as fair goers wanted to walk around and view the exhibits. He flattened the meatball and put it between two pieces of bread and he is also famous for adding onions to this, making it a wonderful hand held success.




Louis Lassen 1895, New Haven, Connecticut.
Some believe the first hamburgers were served at Louis' Lunch, a sandwich shop established in 1895 in New Haven. The small lunch counter is credited by some with having invented this quick businessman's meal when Louis' sandwiched a hamburger between two pieces of white toast for a busy office worker in 1900. Louis' Lunch flame broils the hamburgers in the original 1898 Bridge & Beach vertical cast iron gas stoves using locally patented steel wire broilers to hold the hamburgers in place while they cook. In 2000, the United States Library of Congress credited Louis' Lunch with making America's first hamburger
Around 1900
The hamburger and the hamburger steak are frowned upon by "better society" both being considered food for the common people. Upton Sinclair wrote a book, "The Jungle that exposed many of the questionable practices of the meat packing industry.

The popularity of the hamburger stand took a tumble.
1916
The American chef Walter Anderson sandwiched the hamburger between two halves of a bun and sold it at the open counter of his stand, the "White Castle".

Walter needed to His idea was to make everything and every worker very clean, hence the name White Castle".

1948
Ultimate breakthrough and a firm place in American dining culture.
The brothers Richard and Maurice McDonald open the first "drive-in hamburger bar".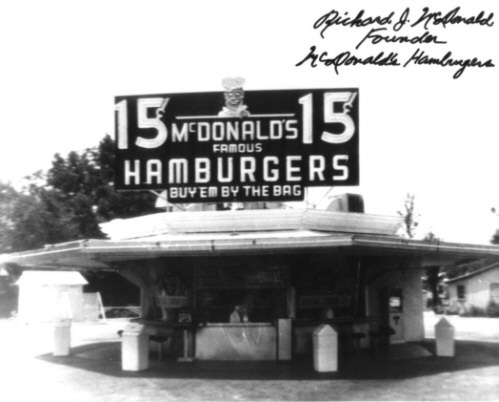 Links
http://www.salomon-online.com/en/support/food-dictionary/hamburger-story.php
http://aht.seriouseats.com/archives/2005/04/menches_bros_th.html
Food History Course
5 free E-Lessons
Come Explore with me
The History of Food

Have you ever wondered as I have.....

Who invented the first "Caesar Salad"?

How about the first salad or what was the first salad dressing?

How did Salad get the name Salad?

We explore different topics like famous restaurant dishes, famous fun foods like popcorn, famous Menus like Elvis's wedding reception, and popular food dishes that were invented by accident. Also tools and resources, that you can use to find information on different food and their origins
Just sign up here and you will get your first lesson instantly.
Search for Food History Articles
More Links and Recipes
Here is a food history book I recommend

This book tells about the roots of the hamburger not only from it's conception but also how this food became a national icon.
Hamburger, a Global History
Grinder attachment for KitchenAid mixers
One of the most versitale tools in the kitchen, for scraping flour off the counter after making bread, to lifting up lots of crumbs, and loosening up stuck on food.
Oxo 73281 OXO Good Grips Pastry Scraper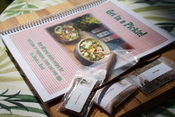 Get it all in this book, plus curing salt and spices for making your own Corned Beef.
Food: A Culinary History (European Perspectives)
The Oldest Cuisine in the World: Cooking in Mesopotamia