I read about using short rib meat. This meat is known to be very flavorful,
because of its fat content and the gelatinous compounds that give
it that real "beefy" sensation.
I also used some chuck, and I went half and half weight wise with the chuck and
the short rib meat. In reading I have also heard that the brisket makes a perfect
ground beef as well.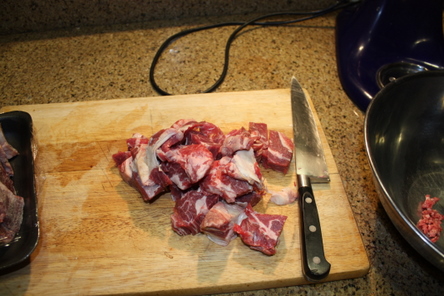 Of course I cut the meat off the bone of the short rib before
I ground it. Make sure the meat is very cold before grinding it.
Put it back in the fridge or freezer for a short period of time if necessary.
I used a grinding attachment for a Kitchen Aid Mixer.
If you don't have a grinder you can use a food processor or even
chill the meat and hand chop it with a knife.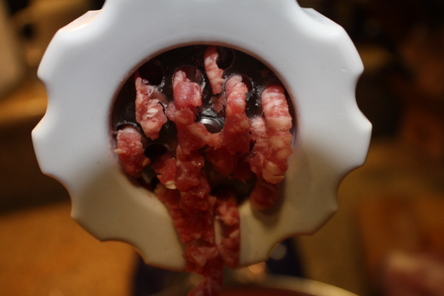 I used a large hole plate.
As you can see the mix doesn't look as mooshed together as a store bought
ground beef.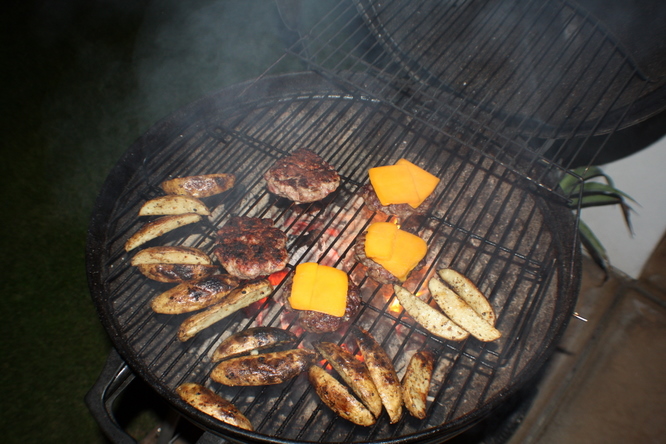 My choice of cooking them was a hard wood charcoal in this case Mesquite.