It Happened This Day In Food History
President Lincoln's Inaugural Dinner
Mock Turtle Soup | Corned Beef and Cabbage | Blackberry Pie

Information donated by Janet Clarkson
It was probably not what you would think.
More like a normal Sunday dinner, almost like he wanted
to get away from the crowds because his inauguration was
very heated with emotions from both sides, either
adulation or hatred. Many representatives of states were
Looking to Secede from the union. Lincoln's inaugural address
Lincoln got away after the Inaugural address and the
Carriage took him and his wife Mary Todd
to the White House and "Old Edward" the doorkeeper of
the mansion since President Taylor let them in .


He wanted to get away from the crowds I am sure
so his first dinner innaugural dinner was with only 17 people
mostly family, unlike today's huge spreads.
Mary Todd Lincoln was the first to choose Presidential China.
Solferino," a rich fuschia color, had been made fashionable by the French in about 1859, and Mrs. Lincoln perpetuated the vogue by employing it liberally in the interior decoration of the Executive Mansion (then the name for the White House.) She had curtains made in that shade, as well as a ball gown. The china service was delivered to the White House on September 2, 1861, and numbered 658 pieces, including a dinner service of 190 pieces, a dessert service of 208 pieces, and a breafast and tea service of 260 pieces. The total cost was $3,195.00. You can still buy this design today.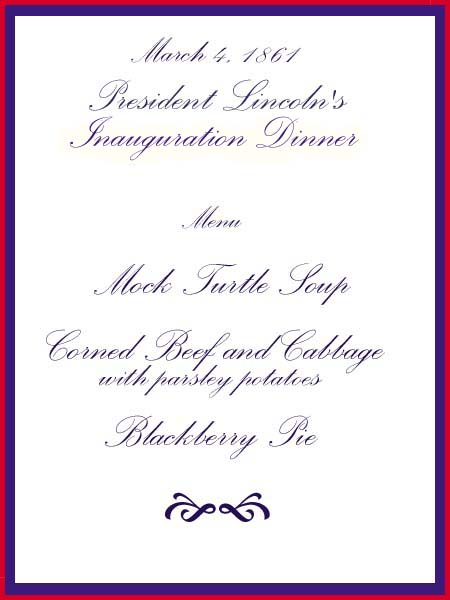 About the Menu

Mock Turtle Soup | Corned Beef and Cabbage | Blackberry Pie
Apparently Abe Lincoln asked for the Mock Turtle Soup maybe because he was thrifty and would have been more use to that dish instead of real turtle soup because of the price of turtle meat then.

I have always wondered why Turtle Soup? Was it made because it was plentiful? Did it taste unique and different ? It was just one of those food curios that has been very interesting to me. Also what is a "mock"? A mock recipe means that it tastes similar to, but doesn't contain the main ingredients. So a mock turtle soup would contain something other than the turtle.
The obvious choice for a source for mock Turtle Soup would be Mary Randolph's Virginia Housewife. It was first printed in 1824, and this recipe comes from the 1860 edition

When Lincoln arrived on a horse drawn carriage with outgoing president James Buchanan. The streets were lined with sharpshooters on the roofs of this controversial electioion.
During the inaugurat ion apparently it was a very heated atmosphere. Some adulation and much hate and disapproval of the new president. When it was over they went to
the White House and the door keeper for many many presidents let Abe and Mary Todd in to the white house where they ate their Inaugural dinner with only 17 people, mostly family.
Lincoln's China picked by Mary Todd Lincoln


Contrast that to Andrew Jackson that had thousands at his inaugural dinner!
This recipe and more on Turtle soup and Mock turtle soup
More about this Menu, history and recipes
Corned Beef may have been a natural choice back then because it was traditional to have in Spring. People would put meat in brine to cure in fall. It was then brought out and prepared for occasions like Easter dinner and St. Patrick's day. Parsley potatoes have always gone well with corned beef and so has cabbage.


More on The History of Corned Beef and How to prepare it
why they call it "corned" when there is no corn in it.
More about this Menu, history and recipes
Blackberries are indigenous to the United States and they are plentiful in the northern regions.
From several sources that I have read the term "pie" most likely got its name from the fact that a Magpie is black and white. This became a term or things that had this and that , or a mixture.
This is from the White House Cookbook
BLACKBERRY PIE.
Pick the berries clean, rinse them in cold water and finish as directed for huckleberries.
HUCKLEBERRY PIE.
Put a quart of picked huckleberries into a basin of water; take off, whatever floats; take up the berries by the handful, pick out all the stems and unripe berries and put them into a dish; line a buttered pie, dish with a pie paste, put in the berries half an inch deep, and to a quart of berries, put half of a teacupful of brown sugar; dredge a teaspoonful of flour over, strew a saltspoonful of salt and a little nutmeg grated over; cover the pie, cut a slit in the centre, or make several small incisions on either side of it; press the two crusts together around the edge, trim it off neatly with a sharp knife and bake in a quick oven for three-quarters of an hour.
WHITE HOUSE
COOK BOOK
COOKING, TOILET AND HOUSEHOLD RECIPES,
MENUS, DINNER-GIVING, TABLE ETIQUETTE,
CARE OF THE SICK, HEALTH SUGGESTIONS,
FACTS WORTH KNOWING, Etc., Etc.
THE WHOLE COMPRISING
A COMPREHENSIVE CYCLOPEDIA OF INFORMATION FOR THE HOME
BY
MRS. F.L. GILLETTE
AND
HUGO ZIEMANN,
Steward of the White house

1887

[Pg 1]

TO THE WIVES OF OUR PRESIDENTS, THOSE NOBLE WOMEN WHO HAVE GRACED THE WHITE HOUSE, AND WHOSE NAMES AND MEMORIES ARE DEAR TO ALL AMERICANS, THIS VOLUME IS AFFECTIONATELY DEDICATED BY THE AUTHOR. [Pg 2]

To View the Whole book go here

Here is an example of a Blackberry pie recipe from the 1800's
from The Boston Cooking-School Cookbook, by Fannie Merritt Farmer,
Blackberry Pie

Pick Blackberries
Pick over and wash one and one-half cups berries.

Blackberry Jam
Stew until soft with enough water to prevent burning.

Add sugar to taste and one-eighth teaspoon salt.

Line plate with paste, put on a rim, fill with berries (which have been cooled); arrange six strips pastry across the top, cut same width as rim; put on an upper rim.

Bake thirty minutes in moderate oven.
Links
More on President Lincoln's Inauguration Day
On Mrs. Beeton's Book of Household Management
The Virginia Housewife, Jeffersonian Dinners
http://www.sfpnn.com/TravelbyPatty/1Patty2010/JFKLibrary/JFK%20LIBRARY.htm
Food History Course
5 free E-Lessons
Come Explore with me
The History of Food

Have you ever wondered as I have.....

Who invented the first "Caesar Salad"?

How about the first salad or what was the first salad dressing?

How did Salad get the name Salad?

We explore different topics like famous restaurant dishes, famous fun foods like popcorn, famous Menus like Elvis's wedding reception, and popular food dishes that were invented by accident. Also tools and resources, that you can use to find information on different food and their origins
Just sign up here and you will get your first lesson instantly.