The History of The Reuben Sandwich
Who created the Reuben Sandwich
Was it Omaha, Nebraska or New York, NY ?

What is your vote?

Meet the two Reubens...

Story 1
Story 2

Named after Arnold Reuben
(1883-1970)

Reuben's Restaurant , New York, New York




Named after Reuben Kulakoesky
1875-1960

of Omaha, Nebraska

I can't find a picture of Reuben Kulakofsky,
only a gravestone to show he truly did exist.

Story 1
Reuben's Deli in New York
and Charlie Chaplin's Leading Lady

Reuben's Restaurant, New York City
A favorite haunt for the rich and famous.

From Patricia R Taylor...I would like to share with you the story of the first Reuben's Special and what went into it.
The year was 1914. Late one evening a leading lady of Charlie Chaplin's came into the restaurant and said, 'Reuben, make me a sandwich, make it a combination. I'm so hungry I could eat a brick.'

Patricia R Taylor, Reuben's daughter gave her account of the first Reuben sandwich that was invented at her father's restaurant. the combination first requested by Charlie Chaplin's leading lady,

Annette Seelos

Arnold Reuben's Chef's 1st Recipe

He took a loaf of rye bread, cut two slices on the bias and stacked one piece with sliced baked Virginia ham, sliced roast turkey, sliced imported Swiss cheese, topped it off with cole slaw and lots of Reuben's special Russian dressing and the second slice of bread.... He served it to the lady who said, 'Gee, Reuben, this is the best sandwich I ever ate. You ought to call it an Annette Seelos Special.' To which he replied, 'Like hell I will. I'll call it a Reuben's Special.'

Story 2
Reuben Kulakofsky
and the Poker Game


Elizabeth Weil , Grandaughter of the
designer of the Reuben sandwich



Blackstone Hotel, Omaha Nebraska

Elizabeth Weil the great grand daughter of Charles Schimmel tells the story of what she learned through family reunions and the stories.

Reuben Kulakofsky or sometimes refered to as Reuben Kay was playing poker with a few men including Charles Schimmel. They all chipped in every pot for a midnight sandwich break. This night Reuben asked Charles son ,Bernard who was a European trained chef for the hotel, for Corned beef, Sauerkraut sandwich.

Chef Bernard's First Recipe

Chef Bernard went to work with his culinary perspective and drained the sauerkraut, mixed in Thousand Island dressing, and added this to a grilled corned beef and swiss sandwich on dark rye.

His chef Bernard Schimmel made this sandwich from a request by Reuben Kulakofsky
Dressed it up a bit, it became a hit at the Poker game!


This was the earliest menu offering the Reuben Sandwich

This mid-1940s menu from The Golden Spur restaurant clearly lists the Reuben Sandwich. Newspaper accounts report that a 1937 menu from the Cornhusker Hotel in Lincoln is the first written evidence of the Reuben's existence. At that time, the Schimmel family also owned the Cornhusker Hotel.

Source: Douglas County Historical Society, Omaha

Golden Spur Restaurant
Omaha,

click to enlarge

The Reuben Sandwich from the Original Chef
who designed it
Bernard Schimmel

from the book
"Joslyn Presents Bernard Schimmel's Recipes

Make The Schimmel's Reuben Sandwich

Reuben becomes a national sandwich contest wInner

National Sandwich Idea Contest


Our research suggests Chicago-based Wheat Flour Institute's sandwich contest was part of the promotional activities during National Sandwich Month, originating in 1952. The sandwich contest may have launched in 1955. The first winners were announced in 1956. Subsequent contests/promotions bore variant names and co-industry sponsorships likewise varied. General notes, gleaned from the New York Times, here:

So how did this Reuben sandwich get from the small restaurant in Omaha to national recognition?

In 1956, Fern Snider, a cook at the Blackstone, entered a quantity recipe for the Reuben in the first National Sandwich Idea Contest sponsored by the Wheat Flour Institute. It served forty-eight, took top honors, and won her a trip to New York...In 1976, twenty years after Fern Snider won the sandwich contest, Omaha World-Herald food editor Jane Palmer profiled the Reuben, interviewing Bernard Schimmel, son of the man who'd put the sandwich on the Blackstone Hotel menu in the late 1920s. "

Reuben
Portions: 48


Enriched Russian Rye Bread, 144 slices
Thousand Island dressing, 5 lb, 2 ½ qt.
Cheese, Swiss, 1-oz slices, 6 lb., 96 slices
Sauerkraut, 1 qt.
Corned beef, ½-oz slices, 6 lb. 192 spices.
Method of Preparation
Spread bread with Thousand Island dressing.
On each of 96 slices arrange 1 cheese slice, a scantNo. 60 scoop of kraut, and 2 slices of corned beef.
Stack these slices to form 48 sandwiches.
Close the remaining bread slices and fasten with wooden picks.
Grill to order on both slices until browned. Cut diagonally in thirds. Garnish with French fried potatoes.


--- Winning Sandwiches for Menu Makers From the National Sandwich Idea Contest , Kathleen M. Thomas, director of Home Economics, Wheat Flour Institute editor [Cahners Books International:Boston] 1976 (p. 30)


[NOTE: the preface of this book states: "The Contest That Gave us the Reuben. For over twenty years the skill of sandwich makers throughout America's hotel, restaurant, and institutional industry has been encouraged and recognized by the granddaddy of all recipe contests, the National Sandwich Idea Contest… The recipes in this book represent the best of twenty years of sandwich competition, starting with the champion of the first contest in 1956, the now ubiquitous 'Reuben.'" (p.2)]

an excerpt from the New York Times ...

"Bob Grinstaff of New York did not enter this year's National Sandwich Contest. Just as well. His elegant open-face sandwiches shimmering with aspic and ornamented with herbs would never had progressed beyond the first round.The 25-year-old-contest sponsored by the Wheat Flour Institute has traditionally acclaimed concoctions such as the "Hawaiian Farmer" with chicken, ham, pineapple, pecans, kumquat and mozzarella, or multiplex cheeseburgers with smiling faces on them...The first of the National Sandwich Contest winner was the now-classic Reuben made with Swiss cheese, sauerkraut, corned beef and Thousand Islands dressing grilled on rye bread. A still unsuccessful search for the equal of that inspiration has justified the contest ever since. This year's grand prize was awarded last week at the Waldorf-Astoria to the St. Helen's Sunnyside Special, consisting of an English muffin with Canadian bacon, pineapple, marmalade and meringue baked with an egg yolk on top. Lois Dowling of Tacoma, Wash., said it took her 20 minutes to prepare."
---"Elegant Creation: A Four-Hour Sandwich, Florence Fabricant," New York Times , August 27, 1980 (p. C3)

Omaha's favorite Reuben

Since Omaha is the birthplace of the Reuben sandwich it is interesting to peruse what are some of the favorites.
The Omaha Herald gave an award to the Crecent Moon restaurant for their
Blackstone Reuben Sandwich

The Crecent Moon's
Blackstone Reuben Sandwich



Jim Rader's
account of the Origin of the Reuben Sandwich

Omaha

Reubens Cafe

My Grandfather invented the Reuben Sandwich

Search for Food History Articles
Please add a comment to the recipe, Thanks

More Links and Recipes
Here is a food history book I recommend
Food: A Culinary History (European Perspectives)
The Oldest Cuisine in the World: Cooking in Mesopotamia
Learn how to make your own corned beef with this book and kit with curing and spices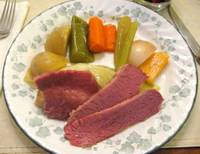 Also the Perfect Corned Beef and Cabbage
Pickling Spice, 1 Lb Jar
Meat Marinade Injector - Commercial-Grade stainless steel heavy duty injector with 6" detachable needle with 12 holes. .
Traditional Irish Boiling Bacon
The Irish Country Kitchen
Feasting Galore Irish-Style: Recipes and Food Lore from the Emerald Isle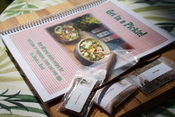 Get it all in this book, plus curing salt and spices for making your own Corned Beef.

We explore recipes, and their history and how to best make
them with step by step pictures.

Read latest Issue of "Tasty Bites" Newsletter