The name ....how did a sausage get to be a dog?
a Butchermeister in Frankfurt, Germany get's credit for this unusual kind of find ground pink colored thin sausage that was not accepted well in Germany, so he went to Vienna, Austria. When they became more and more popular, Frankfurt wanted it back! They wanted to copyright the name Frankfurters. Vienna is spelled and pronounced Wein in Austria, so they were also called Wieners.
Who won? Well they both were trumped by accident almost when in the states it evolved to Hot Dogs!
The First Hot dog eating contest was held on.......July 5, 1916
excerpt from Danielle Schneider
94 years ago on July 5, an argument broke out between four immigrants. The men had been eating hot dogs at the recently opened hot dog stand, Nathan's Famous on Coney Island .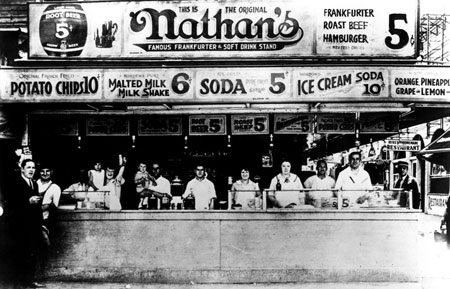 The stand's owner, Nathan Handwerker, had listened as each one had bragged that he was the most American of the four. Nathan feared that the men would get into a brawl. He wanted his brand new stand to remain intact. Quickly, he suggested a hot dog eating contest. Whoever ate the most hot dogs would be declared the most patriotic. Nathan also hoped that the contest would attract more customers.
The men agreed. Nathan placed large plates of hot dogs, buns included, before them. The contestants shoveled in the food at top speed. James Mullen, an Irish immigrant, inhaled 13 hot dogs in 12 minutes (just over one hot dog per minute). He won the contest (and had a colossal stomachache). Nathan stated that a hot dog eating contest would be held at his stand each year.
I am going to hand this story off to a great writer and storyteller named
cheeseburger brown.

Go here for more history of the hot dog
So is the hot dog really made with mystery meat ?
Let's take a look at the back of the package. In America all food producers are required to reasonably list the ingredients that went into the manufacture of their meal without giving away their recipe. Starting with the ingredient with the largest amount, descending to the least amount.
An urban legend that they use all kinds of strange meats or by products in their hot dogs and just add flavoring is not true. Not in the major brands that tastes good! It is not easy to make a good wiener.
This is an excerpt from the Food Safety and Inspection service, from the USDA website.
" The standard also requires that they be comminuted (reduced to minute particles), semisolid products made from one or more kinds of raw skeletal muscle from livestock (like beef or pork), and may contain poultry meat."
The key phrase is raw skeletal meat. ..eyeballs and livers don't fall under that definition.

Here is the rest of the Hot Dogs and Food Safety article.


If it DOES have some of the liver and gizzards, it has to SAY it in the ingredients.

Some Choices other than Pork or chicken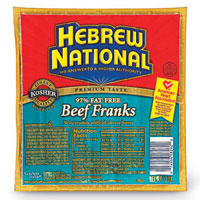 You can of course go the tofu dog route but these 97% beef franks are a good go even for a dog lover like me. Once you get the toppings on there you still get a wonderful hot dog experience.
How Do You Say Hot Dog In..?
Spanish - Perrito Caliente
Italian - Caldo Cane
French - Chien Chaud
German - Heisser Hund, or Wurst
Portugese - Cachorro Quente
Swedish - Korv, or Varmkorv
Norweigan and Danish - Grillpolser
Czech - Park v Rohliku
Dutch - Worstjes
Finnish - Makkarat