What exactly is Schnitzel?
Schnitzel is a meat dish that is a very thin boneless cutlet of veal, pork, beef or chicken that is either breaded and deep fried or pan fried with or without a breading. The most well known Schnitzel is Wienerschnitzel which is traditionally Veal, breaded with crumbs and served with lemon and German potato salad or parsley potatoes and sometimes Lingonberry Jam.
Where does the word Schnitzel come from?
The word Schnitzel is believed to come from the word der Schnitz which means a slice or a cut, similarly Schneider means a tailor. (Because he is a cutter, of fabric)
A popular bread that uses the word base is Schnitzbrot. Usually it is slices of apple or pear and other dried fruits and nuts for the Christmas season.
2 other recipes of note that use a similar word is Mandelschnitten which is an almond cookie, and Schneiderfleken which means tailor scraps. It is a pastry my grandmother made from scraps of dough.

When did this style of cooking start?

The idea of tenderizing a piece of tough meat by pounding it is evident in the oldest relics of the history of man.

However the Romans left evidence of refinement of a thin slice of meat, dredged in breading and fried around in the 1 century BC around Europe. Marcus Gavius Apicus the James Beard of his time, very likely had much to do with the development of this dish.

I find Apicius a most interesting pioneering man that really got people thinking beyond survival when it came to food.


In the middle ages it appears to be a very popular dish in both Northern Italy and what is Austria now, and the common meat was veal.The most famous of all Schnitzels is Wiener Schnitzel which is to Austria as a Steak and baked potato would be to the United States.
More evidence that shows this came from Rome is that first of all Austria and Milan, Italy border each other and a similar Italian dish Cotoletta alla Milanese was enjoyed by an Austrian General prior to when Wiener Schnitzel showed up on Austrian menus.
Veal of course became the standard for Wiener Schntizel and in Austria
you legally MUST use veal. However throughout the world Schnitzel is made and sold using beef, pork, and chicken as well as veal.

Read more about the history of Wiener Schnitzel here.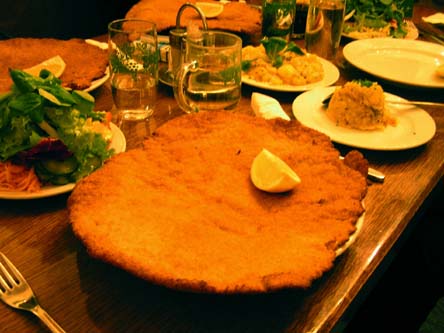 In reading about this dish I was surprised how many countries have their own version
of this dish and just call it by a different name.
| | |
| --- | --- |
| Even in Iran they call it Shenitsel, although it is thicker, spicier and crispier breading. | Japan has a version that they call Tankatsu. |
Many folks have sent me pictures of going to a place called the Waldgeist in Hoffenheim, Germany that serves Schnitzel as large as a Pizza! ....and sometimes with sparklers.
The Berger Strasse restaurant in Dusseldorf, Germany serves gold flakes on their Schnitzel.
Is gold edible. Sure it is! The gold leaf you see is not all that expensive, but the truffles on this is!
Schnitzel transforms in the U.S.
Schnitzel morphs into Chicken Fried Steak
In the mid 1800's German Immigrants flocked to Texas. Beef was more plentiful than veal or pork and something needed to be done with the . So instead of using veal or pork for schnitzel they used beef.
Looking for a way to sell the tougher cuts of meat they pounded it and tenderized it a bit. Legend has it that a cook accidentally grabbed one of these steaks by accident when doing an order of fried chicken. The accident was loved and became known as Chicken Fried Steak.
The Pork Tenderloin Sandwich
In Indiana where there is lots of German heritage you get almost anywhere a popular sandwich that has almost a cult following called a Pork tenderloin sandwich.With it's roots in the Schnitzel It always uses the pork loin, but varies in other ways. Most of them are HUGE tenderloins served on little bun. To me this is also reminicent of the way a German Bratwurst on a bun is served. With most of the sausage hanging out of the bun.
Here is a short video on the Pork Tenderloin Sandwich
So How do you Make Schnitzel
Schnitzel needs to be pounded thin to be authentic, otherwise it is the same as a cutlet or a breaded fried steak
Go here to learn how to make Schnitzel
with step by step pictures
Here are some popular versions of Schnitzels
What is the future of this dish?
The traditional breaded schnitzel that is huge and is sometimes referred to as "carpet of crumbs" is pretty high in fat. Add a rich sauce and you really have a cholesterol feast. Although there is a place for the traditional it probably will become less a common weekly meal as we focus more and more on our health. Lightly breaded alternatives , and can be made with skinless chicken breast and the lean part of the pork loin and also turkey breast. Combine some light toppings and you now have a great reason to make a Schnitzel of the week. I look forward to more and more creative expressions of this wonderful dish.
Here are two that I have created that fit the specifications for someone watching calories.

Links
The Food Timeline

How to make Schnitzel