What is Wiener Schnitzel?
Wienerschnitzel is a thin crumbed slice of veal (usually 3 to 6 ounces) fried in oil and served with lemon, and often ligonberry jam and Erdapfel potato salad (German Potato Salad) Pomme Frits (French Fries) or boiled potatoes with parsley and butter.

Sometimes gold dust was added to the crumb mixture to give it an even better golden brown color.
What does the word Wiener Schnitzel come from?
It basically means schnitzel in the style of Vienna, (Wiener) Austria.
In Austria, the term Wiener Schnitzel is protected by law, and any schnitzel called by that name has to be made from veal.

When was the first Wiener Schnitzel made?

"Wiener Schnitzel and its Italian counterpart, Cotoletta Milanese, involved two Hapsburg domains in a culinary quarrel. Both branches of the family, Austrian and Italian, claimed credit for the invention of the dish, the latter branch tracing their claim all the way back to a banquet given in 1134 for the canon of Milan's St. Ambrogio Cathedral."
---Horizon Cookbook and Illustrated History of Eating and Drinking Through the Ages, William Harlan Hale [American Heritage:New York] 1968 (p. 516)

How has modern Wienerschnitzel changed?
The origin of Wiener Schnitzel is not really German or Austrian.

The idea of tenderizing a piece of tough meat by pounding it is evident in the oldest relics of the history of man. However the Romans left evidence of refinement of a thin slice of meat dredged in breading and fried in the 1 century BC by Apicus. You know the guy that we know of that wrote the first cookbook.

Roman armies brought their culinary skills up to the Germanic countries.
In the middle ages records show it to be a very popular dish in both Northern Italy and what is Austria now, and the common meat was veal. I found this interesting, didn't they have animal rights groups then? From what I read, they were not raised in crates or battery cages , and by the way for the most part aren't anymore.
Reading in my food history books I couldn't really get a definitive answer, just that it was maybe easier not to graze and feed it, and it was readily available as soon as it is weaned and a decent size.
In Northern Italy this dish goes back to a banquet given in 1134 for the canon of Milan's St. Ambrogio Cathedral."

a dish that was served called Cotoletta alla Milanese, that was similar to the Austrian Schnitzel but it was a veal chop pounded and breaded and served with lemon.

As you can see to the right it had a bone in it and the Austrian version is boneless.

The term Wiener Schnitzel goes back to at least 1862 and is said that a famous Austrian general that spent much time close to Milan, introduced it.
As we stated earlier veal is the standard for Wiener schnitzel and in Austria you legally MUST use veal to call it that. However throughout Austria Schnitzel is made and sold using beef, pork, and chicken as well as veal.
From Figlmüllers restaurant in
Vienna
( Wien)

They say the coating is so important on the schnitzel but also the coat on the waiter that serves you. Every Schnitzel is served with tux and tails to your table.

You can use the English version of this website.





At Figlmüllers they go into all the steps to making the biggest and finest Schnitzel they believe in Austria. They show pictures of what kind of home made bread crumbs they use and the Rose of the Pork loin. The Schnitzel goes into 4 different pans to achieve the right crispiness. I looked through their menu and didn't see a Schnitzel made with veal.

Here are some more restaurants that serve Schnitzel in Vienna, Austria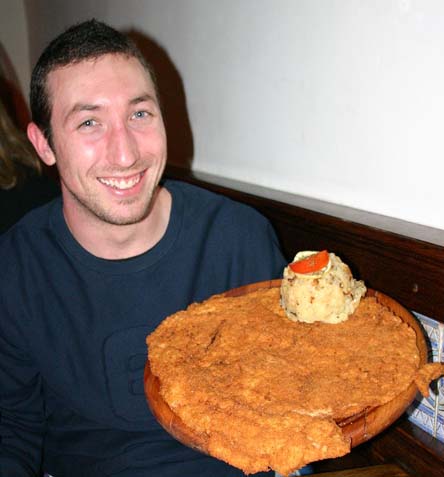 Seems many restaurants try to out do themselves with the size!!!!
One restaurant in Austria has made this interesting plate presentation on a stack of potatoes,which looks to me like a scalloped potato.