What did Elvis like to Eat ?

"If Elvis were to come into our own dining room tonight, he'd say, 'Yes, ma'am,' and 'Thank you, ma'am,' and probably ask for the same kind of good home cooking that his mother, Gladys, put on the table in Tupelo, Mississippi in the late 1930s. Gladys cooked all the traditional Southern favorites. Grits and black-eyed peas were served, ham and bacon were an occasional treat, and there was always fried chicken, cornbread, mashed potatoes, and plenty of homemade country gravy. Elvis Presley was Southern-born and Southern-bred. his culinary tastes never varied far from Southern-style home cooking, although he was exposed to, and did enjoy, certain Oriental foods that contained such ingredients as pork...Elvis played hard, worked hard, and ate hard, and he preferred rib-sticking kinds of foods.
Elvis did not develop much of a taste for exotic or foreign foods. Nor did he consider trying ay dish that contained unusual ingredients or had an odd texture or flavor...At home, the King always specified exactly what foods should be kept on hand, whether at his Graceland mansion in Memphis or at his house in Beverly Hills. His list always included fresh, lean, ground round, hamburger buns, rolls, at least six cans of ready-to-bake biscuits, pickles, potatoes, onions, shredded coconut, fudge cookies, assorted fresh fruit, canned sauerkraut, mustard, and peanut butter. His refrigerator also contained at least three bottles of milk or half-and-half, thin-sliced, lean bacon, vanilla and chocolate ice cream, and freshly squeezed orange juice. His favorite soft drinks are said to have been Pepsi Cola, Nesbitt's Orange, and Shasta Black Cherry. He liked to chew Wrigley's Spearmint, Doublemint, and Juice Fruit gum."

Hungry for more? Try The Life and Cuisine of Elvis Presley, David Adler. Your local public librarian can help you get both books. Why buy when you can borrow!
From NPR: Aug. 16, 2001 -- Elvis Presley may have been the king, but in his kitchen Mary Jenkins Langston was the queen.

Langston was the cook at Graceland, the rock and roll star's estate in Memphis, Tenn., for 14 years. She specialized in the kind of down-home cooking that Elvis loved -- especially the stuff that's really bad for you.

How bad? A short list of his favorites includes butter-soaked grilled banana and peanut butter sandwiches, biscuits fried in butter and filled with sausage, t-bone steaks -- grilled in butter, naturally -- and meatballs wrapped in bacon
Elvis Wedding Menu at the Aladdin Hotel in Las Vegas.
Aladdin Hotel around the 1960's
why the Aladdin Hotel?

Elvis and Particular Presley

The Menu

Ham and eggs

Oysters Rockefeller,

Roast Suckling Pig,

Poached and Candied Salmon,

Lobster,

Eggs Minnette,

Wedding Cake
(Pricilla's famous
6 tiered cake)

champagne

May 1st, 1967


The Wedding of
Elvis and Priscilla Presley
at the Aladdin Hotel
Las Vegas, Nevada

An estimated 100 guests dined
Elvis and Pricilla's
Honeymoon Hideaway
1350 Ladera circle
Palm Springs, CA 92262
| | |
| --- | --- |
| | The built in Weber BBQ in the original 1962 kitchen |
| The Kitchen with a picture of one of his chefs. | Judy with Elvis ? |
Grilled Banana and Peanut Butter Sandwiches.

1/2 C creamy peanut butter
2 very ripe bananas
10 slices buttered bread
butter
Blend the peanut butter w/ bananas till reamy.
Spread the mixture over 5 slices of bread. In a skillet melt enough butter to coat the bottom of the pan.
Place sndwiches in pan and grill til the bread is lightly toasted
Flip to grill the other side. Drain on paper towells
makes 5 sandwiches.
According to David Adler's book The Life and Cuisine of Elvis Presley, eating the sandwich was something of a ritual for Elvis: "Elvis enjoyed eating picnic style. However, he fastidiously used a knife and fork to eat his peanut butter and banana sandwiches." Probably not a bad call: it's one of the messier sandwiches you'll find.

source: pg 166 Fit for a king Cookbook
Fools Gold Loaf
Rumored to be one of Elvis Favorite sandwich.
Coconut Cake
1 2/3 C cake flour
1 C Sugar
3/4 tsp salt
3 tsp Baking Pdwr
1/3C + 1T shortening
1/3 C Coconut Milk
1/4 C milk
3 egg whites
1 tsp Vanilla
3 C grated Coconut
Line the bottom of 2 8 inch layer pans w/wax paper. Lightly grease the paper and sides of the pan. Have all ingredients at room temperature.
Into a bowl sift the cake flour. Add the sugar, salt, and bkg pdwr, and resift 3 times. Add the shortning and coconut milk, and beat with electric mixer at med speed for 2 min. Scrape the sides of the bowl.
Add the milk,egg whites,and Vanilla. Beat 2 min more. Scrape the sides of the bowl frequently to keep the batter smooth.
Bake @ 350 for 25 min. Remove the cake from the oven and let stand for about 5 minutes. Remove it from the pans to cool thouroughly.
Top w/coconut, and stack the layers
8-12 servings
Pg 176 Fit for a king cookbook
"It has been said that Elvis was
just wild about his Mother's Coconut Cake."
Monkey Bread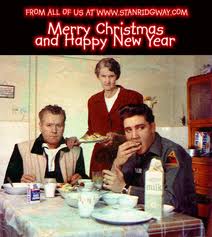 "Elvis was always home with his family at Graceland for Christmas. There would be plenty of packages under the huge tree. He served the traditional turkey with stuffing, but for himself, Elvis preferred ham salad, potato salad, meatloaf, and
Monkey Bread"
2 envelopes active dry yeast
1/2 C sugar
1/4 C warm water (115 degrees)
1C milk, heated
1/3 C + 1T butter softened
1/2 tsp salt
2 eggs, slightly beaten
5 1/2 C all-purpose flour
Topping
1 1/2 C sugar
1/2 C chopped walnuts
2 tsp fresh ground ginger
1 tsp cinnamon
1/2 C butter melted
In a small bowl dissolve the yeast and 1 T of sugar in the water. Let the mixture stand for 5 min. In a large bowl combine the milk, sugar,butter,salt, and eggs. Add the yeast mixture Beat in 3C flour, beating until smooth. Add the remaining flour. Turn the dough onto a floured board and knead. Let the dough rest for 10 min. Knead the dough for 8 min more. Place the dough in a greased bowl, turning the dough greased side up. Cover and let rise in a warm place until doubled in bulk, about 30 min.
In a small bowl combine 1 1/2 C sugar, the walnuts, ginger, and cinnamon. Punch the dough down and divide it into 36 portions. Roll each portion in to a ball. Roll each ball in melted butter then in walnut mixture. Place the balls in a greased 10 X 4 in loaf pan. Sprinkle any remaining topping over the dough. Cover and let rise for 30 min. Bake at 350 for 1 hour or until golden brown. Let bread come cool before serving.
Makes 10 servings
From Fit for a King
(pg 108)
Tomato Fritters
2 medium tomatoes
1/2 C + 2 T all purpose flour
1/2 tsp sugar
1/2 tsp baking powder
1 egg-beaten
1/4 tsp Worcesterhire sauce
3/4 C Gruyere Cheese (shredded)
Oli (for deep frying)
Bring a large saucepan of water to boil. Plunge the tomatoes in the water, and hold them there for about 1 min. Remove the tomatoes from the water and hold them under cold running water to remove the skins.
Cut the tomatoes horizontally and remove the seeds. Coarsely chop the tomatoes.
In a mixing bowl combine the flour, sugar, and baking powder. Add the beaten egg, tomatoes, Worc. sauce, and cheese, stirring to coat the tomatoes.
Shape the mixture into pattties or balls, and deep fry in hot oil for about 30 seconds on each side or until golden.
Drain on paper towels
Makes 4 servings
Elvis Favorite Cheeseburger


1 pound ground beef
1/4 cup onion, chopped finely
1 teaspoon garlic salt
1 teaspoon oregano
1/4 teaspoon black pepper
4 slices American cheese
4 hamburger buns
Lettuce, mayonnaise or salad dressing, prepared mustard, pickles, sliced tomatoes and red onions
Prepare grill and let coals get hot for 20 minutes, until they look gray-white.
In mixing bowl, combine ground beef, onion, garlic salt, oregano and black pepper. Shape into 4 patties.
Grill or broil for 5-7 minutes on each side until burgers are well-done. About 2 minutes before second side is finished, add slice of cheese to each burger.
Serve burgers on buns with lettuce and remaining works.
Elvis Presley Eating a Cheese Burger

BBQ BOLOGNA

.
1 / 2 stick of bologna (not the cut-up deli style, but from a whole roll)
1 / 2 cup vinegar
1 / 2 lemon juice
2 tablespoons red pepper
1 tablespoon salt
Punch holes in the bologna and place on a grill or in the oven. Mix the other ingredients, and constantly baste the roll while it cooks on low heat for about an hour. Then baste the roll with barbeque sauce, and cook for about another half hour, then serve.
County Fair Cookies
5 C oatmeal
2 C butter
2 C sugar
2 C packed light brown sugar
4 eggs
2 tsp vanilla
4 C flour
1 tsp salt
2 tsp baking powder
2 tsp baking soda
1 24oz pkg chocolate chips
1 8oz milk chocolate bar, grated
3 C walnuts, chopped
Place the oatmeal in a blender or food processor. Process until the oats turn powdery.
In a bowl cream together the butter, sugar, and brown sugar. Add the eggs and vanilla.
In a separate bowl combine the flour and oatmeal. Blend in the salt, baking powder and soda.