Cheesy Mashed Potato Puff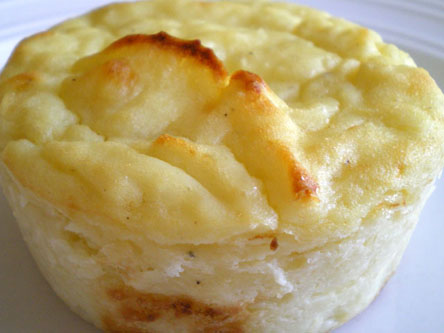 Yield: 5 to 6 servings
Ingredients
2 pounds of potatoes peeled and cut into 2-inch chunks (Russet, Red or White Skin, or Yukon Gold )

2 Tablespoons butter, cut up
1 Tablespoon butter melted
1/3 cup sour cream
4 ounces of parmesan Cheese grated (about 3/ 4 cup )
4 eggs, whisked

1 to 1 1/2 teaspoons salt
1/2 teaspoon pepper, fresh cracked preferred
1/4 cup chopped fresh chives, optional

Directions;
Place the potato chunks in a 2-quart saucepan with water to cover. Boil for 15 to 20 minutes, or until potatoes are fork-tender. Drain well, leaving potatoes in saucepan on the burner on low to dry for a few minutes.


Add the butter, sour cream and mash to desired consistency.
Pre heat oven to 375 degrees
Let cool 20 minutes and fold in the eggs and parmesan cheese, and chives if you desire.
Place in 2 quart casserole dish and brush with a little melted butter
and Bake for 20 to 30 minutes till top lightly browns.



Stir in the salt, pepper and parsley and serve hot.