Makes 10-12 skewers, Serving size: 2 Skewers- Prep time: 30 min -Cook time: Total time: 30 minutes ,- (4-6 servings)
Ingredients:
The Meat Skewers
wooden skewers soaked in water
2 lbs. beef chuck in 1"cube's
2 large onions, quartered and separated into 3 to 4 layers
salt and pepper

For the Sauce:
4 tablespoon oil for frying
2 large onions, and whatever is left from above, sliced
3 large red or red and yellow bell peppers cleaned and cut into 1" chunks
7 to 8 bacon slices, (1/2 lb) cut into 1/2 " pieces
3 cups chicken broth
3 cups beef broth
1 medium/large dill pickle, thinly diced
1/4 cup pickle juice from same jar
2 tablespoons good mustard, medium sharp
3 tablespoons paprika, I used Hungarian Sweet
1 teaspoon cayenne pepper ,
2 bay leaves
1 pinch of ground cloves, or 2 small whole
3/4 cup tomato ketchup
salt and pepper to taste


Hand Held Immersion Blenders
Directions:
| | | |
| --- | --- | --- |
| Cut the onions into 1 inch chunks. | Thread the Beef on Skewers Alternating Beef and Onions. Not more than 4 or 5 chunks of meat per skewer. | If some Onions are odd shape I trim them. The skewer needs to lay flat. |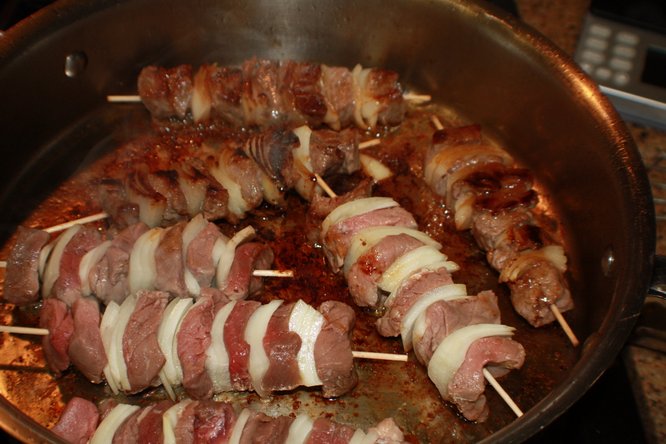 Brown the meat in a skillet with a little oil. You can do these in batches and reserve on a plate or a crockpot. Sprinkle with a little salt and pepper while they are warm.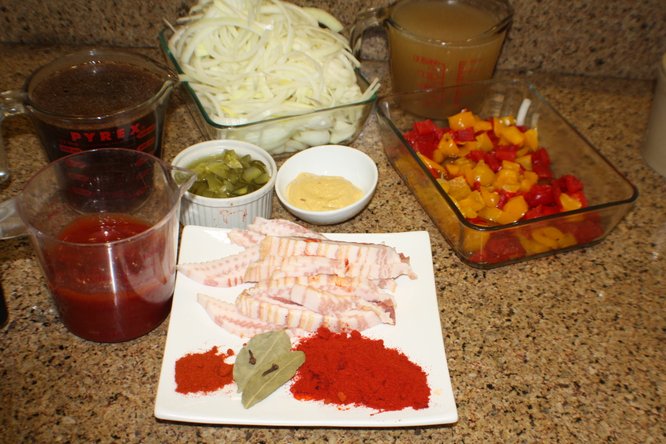 While the meat is browning gather your ingredients for the sauce.

| | | |
| --- | --- | --- |
| When the skewers are brown you can then put them in a crockpot to finish simmering after the sauce is made, otherwise reserve them to a plate while making the sauce. | To start the sauce brown the bacon in the same skillet. | Add onions and peppers and cook for 5 minutes or until they are tender. Then add a liitle broth to deglaze the pan. |
| | | |
| --- | --- | --- |
| . Add the remainder of the chicken and beef broth, chopped pickle, pickle juice, mustard, paprika, cayenne, bay leaves, cloves, ketchup, salt and pepper. | Cook on low until everything is well blended. | Add the meat skewers to the sauce. Meat should be covered with the sauce at all times. To accomplish that, I divided the meat and the sauce into two pots. Simmer over very low heat for 1 hour, with the lid on. |
| | | |
| --- | --- | --- |
| Cook uncovered for another hour. This will reduce the sauce and make it nice and thick. Remove the bay leaves and cloves. | Use an immersion blender, or food processor to blend the sauce smooth. | Here is how it looks. |
| | | |
| --- | --- | --- |
| An alternative way is to simmer the skewers in a crockpot | Cover the crockpot bring to a simmer and cooked them for about 4 hours. | Remove the skewers to blend the sauce, pour it back on. Hold warm till ready to serve. |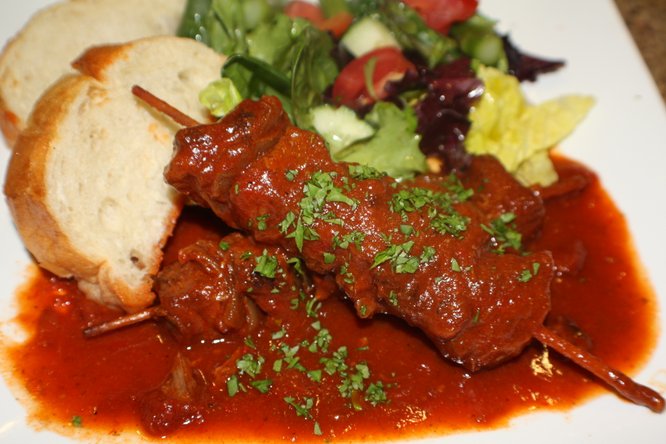 Serve 2 skewers per plate with French bread or a Crusty roll and salad. French Fries are another favorite.
Product Links and more Recipes
Looking for another recipe?
Enter your recipe request and search
Where to shop for German Foods and Things
I order from the German Deli more frequently than ever.
I try to get in bulk to make the shipping dollars count.
Also there are sales all the time I like to take advantage of.
They are nice folks. If you don't believe me call them.
and tell them Stephen Block sent you from the German Goodies Newsletter.
Shop for German Food

Go here and search for all kinds of German Food

Shop for German Clothing,
Cooking equipment for German Food,
Fun German stuff

Do you have a question or comment on this recipe?
make sure you put the recipe name in the subject line
Listen to German Music
Listen to the Chicken Dance, and download it
CD's recommendations and links

Do you have a German Name?
Also what your German name means

Do you want to learn to speak a little German?
Learn one word a day.

Explore your German Heritage
Find out if your relatives came over through Ellis Island and more good links