Another great Kitchen Project

Bauernfrühstück




Bauernfruhstuck , Bauer = farmer and Früstück = Breakfast. There are many recipes for this, but usually contain potatoes, eggs and bacon or ham. This is one version I made as an example of using what I had on hand.

Ingredients: serves 4
The basics
4 medium potatoes
4 eggs beaten
1 cup chopped ham or 4 slices bacon cooked and chopped into 1 inch pieces.
1 cup chopped onions


Optional ingredients
Suggestions
add equal amounts

Bell peppers
Brussels Sprouts
Zuchinni
Mushrooms

for heat
6 Jalapeno peppers slices
4 cloves Chopped garlic

Chives or green onion tops for garnish
This one I am going for a large chunk. You can vary the size. I also had 3 differernt kinds of potatoes from last nights community BBQ where we had lots of different foods. Russet, red skin and sweet potatoes. Grandma would never throw anything away like many from the old world so we would get them in a soup or sometimes in a dish like this.
Put some cooking oil in the skillet and heat to medium.
Add the ham or bacon and onions.

Add some jalapeno slices if you want to add some heat. Add the garlic if you like.

After browning the onions and potatoes add the rest of the vegetables.
Some folks then add the eggs and cook them right in the pan with the vegetables.
I like to cook the eggs separate. When you just put the beaten eggs in the skillet with the other vegetables
they sometimes have no identity as eggs and pick up any other dark colors from the bottom of the pan.
An easy way to cook scrambled eggs without getting another pan out is to cook them on 50 % power in the microwave. Depending on your wattage, it should take 2 to 3 minutes for 4 eggs in a glass dish like above.
I spray the dish lightly but it really doesn't stick much at all.
Blend in the eggs with the rest of the ingredients.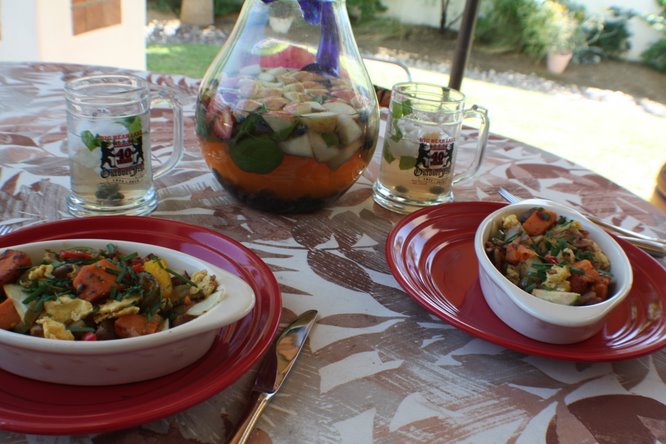 Time for Breakfast!
Looking for another recipe?
Enter your recipe request and search
Where to shop for German Foods and Things
I order from the German Deli more frequently than ever.
I try to get in bulk to make the shipping dollars count.
Also there are sales all the time I like to take advantage of.
They are nice folks. If you don't believe me call them.
and tell them Stephen Block sent you from the German Goodies Newsletter.
Shop for German Food

Go here and search for all kinds of German Food

Shop for German Clothing,
Cooking equipment for German Food,
Fun German stuff

Do you have a question or comment on this recipe?
make sure you put the recipe name in the subject line
Listen to German Music
Listen to the Chicken Dance, and download it
CD's recommendations and links

Do you have a German Name?
Also what your German name means

Do you want to learn to speak a little German?
Learn one word a day.

Explore your German Heritage
Find out if your relatives came over through Ellis Island and more good links
Back to top
E-Mail The Webmaster stephen@kitchenproject.com
© 1998- to present The Kitchen Project
Last updated March 24, 2012