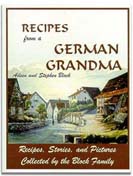 Our German Cookbook with Heritage stories
Join our free German Goodies Newsletter we share recipes and stories of our background
BROTCHEN
German Crusty Roll
donated by Barb Rokitka
"Brotchen" means ´small bread´. Pronounced Semmel and Weck in South Germany ; Schrippe in Berlin ; Rundstuck in Hamburg ; Roggelchen in the Rhineland .
There are varieties, such as "Zwiebelbroetchen" (onion), "Kaesebroetchen" (cheese), or Schinkenbroetchen (ham).
INGREDIENTS:

1 pkg. yeast
1 1/4 c. lukewarm water
2 tsp. sugar
1/2 tsp. salt
2 tbsp. shortening
1 egg white, stiffly beaten
4 c. flour


printer friendly


Dissolve yeast in 1/4 cup warm water. In mixing bowl combine yeast, 1
cup water, salt and shortening. Fold in stiffly beaten egg white. Add
enough flour to make a soft dough. Let dough rise twice until
doubled, punch down and let rise again. Punch down and divide into 10-
12 pieces.
Form into slightly flattened balls and place on greased baking sheet.
Preheat oven to 450 degrees and bake 20 minutes. To ensure a hard
crust, place pan with boiling water in bottom of oven during baking.
Serve warm with jam, or cold
More Recipes and Links
Do you have a question or comment on this recipe?