Hefezopf and Hefekranz
Hefezopf
Hefe means yeast and Zopf means braided

Hefekranz
Kranz means wreath
Both of these breads are traditional Easter breads.
The 3 braids are often a symbol of theHoly Trinity.
Some folks use 5 braids however.
The recipe is simple but I have seen recipes where all kinds of fruit is added to the bread.

The Hefezopf and Hefekranz tradition of braiding goes back many years. It was perhaps started as a symbolic tradition of human sacrifice hough it can not be fully corroborated. Max Höfer a bread researcher says that many years ago when a husband died the wife would sacrifice her life in his honor and follow him to in the grave. Later just a women's braid went into the grave and as time passed a braided loaf of bread was buried with the husband.

There were many ways to make a "Hair Sacrifice" be it the shaved monks head or giving a braid to a relative to honor the deceased. The hair was considered in some cultures the best part of a person. In some communities it was given as a proposal of marriage. Using the bread instead of real hair was a lot more practical for this time honored tradition.

As time went on the braided loaf of bread became part of festivals and holidays like Christmas, New Years and of course Easter. For Easter the shape is often in a circular wreath and called Hefekranz.

Some other historians claim that it was developed by the first bakers union in Switzerland started in 1256
in the middle ages. The first recorded braided loaf was in 1430.
Regardless it is nice to carry on centuries old traditions and make a braided loaf for Easter.
It is really fairly easy

Ingredients:

serves: 12

2 1/4 teaspoons or 1 package dry yeast
1 teaspoon sugar
1/4 cup water
3 1/3 cups or (1 pound) All Purpose flour
1/2 cup (4 ounces) granulated sugar
2 ounces (1/2 stick) butter, melted
3 eggs
1/2 teaspoon grated lemon peel (optional)
1/4 cup warm milk
1 cup raisins and /or other fruit

1 /2 cup Sliced or slivered almonds
1/4 cup coarse sugar (Hagelzucker)

for egg wash, take 1 egg and beat with 1 tablespoon water.

1. Dissolve yeast in water and sugar. Stir well and allow to rise in a warm place.

2. In a mixing bowl, combine flour, yeast mix, sugar, butter, eggs and raisins.

3. Mix dough adding milk gradually until dough is elastic and does not stick to sides of bowl.
| | |
| --- | --- |
| Without fruit | With fruit |

Add raisins and fruit if you want now, then shape into a ball.
Cover and refrigerate overnight or let it raise till double in volume.
If letting it sit overnight I place the dough in a plastic bag with a little oil,
or I cover the bowl with plastic wrap.
Preheat oven to 350 degrees

4. Divide dough into 3 parts.Roll each piece into 16 inch log or 8 inch log if your going to make 2 smaller loaves.
| | |
| --- | --- |
| Lay the logs next to each other | Braid the logs. Tuck in the ends under the loaf. |
| | |
Place loaves on baking sheet with plenty of room to rise.
Let Rise at room temperature for two hours.
Beat one egg with 1 tablespoons water and brush the loaves with this. top with sliced almonds or Hagelzucker.
Bake about 30 minutes till nicely browned. take out and lift up the loaf and tap the bottom crust. If it has a nice hollow sound it is done.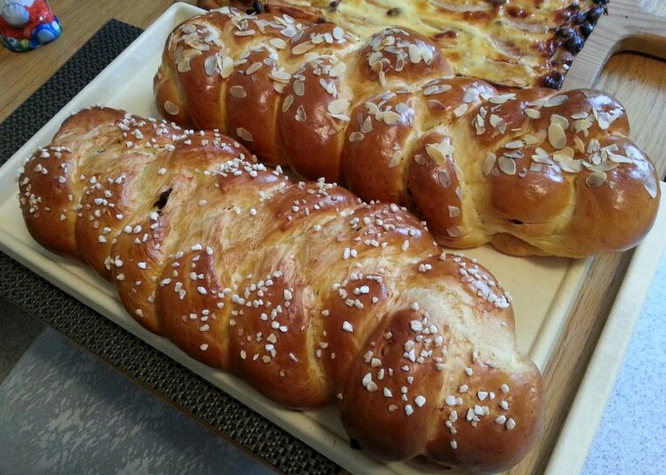 My friend Oliver Mühling mother Brigitte, made this one with coarse Hagelzucker and the other with
sliced almonds.

Here is a novel way to make a Hefezopf
on the final rising place raw colored eggs in the dough
Hefekranz
Braided Wreath
| | |
| --- | --- |
| For the Hefekranz I made 3 -24 inch logs | Braid the logs |
| Place on a greased sheet pan, shape the wreath and tuck the ends together. | Let double in size in the warm moist oven |
| Brush with egg wash | Top with almonds and or Hagelzucker (large crystal sugar) see recipe below |
Decorate with Eggs and Greenery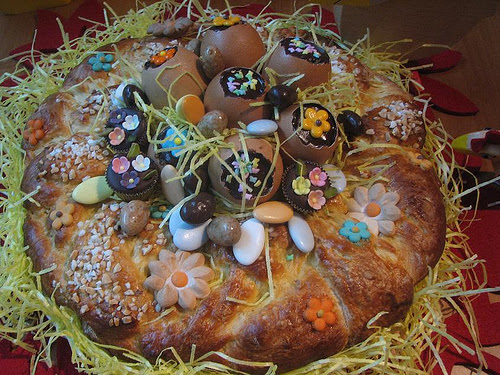 There are many ways to decorate this for Easter.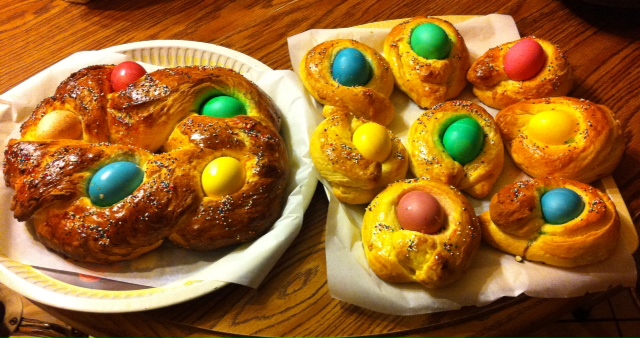 This is donated by Kareen Clazio.
For the inlaid eggs she recommends that you put in a dyed raw easter egg on the
dough on the final rising. Then bake as normal.
Hagelzucker
Hagelzucher literaly means ...Hail sugar.

Legend has it that it is called "Hagelzucker" because during a thunderstorm with small hail,sugar that was left near a window got wet . and clumped together in a sheet.
The lady of the house used a fork trying to loosen it up again and ended up with small lumps...looking almost like the small hail that was the cause of the problem..ergo HAILSUGAR / HAGELZUCKER was born
Step 1, Make Hagelzucker

2 cups of sugar in a baking -tray with walls...spray with previously boiled water to avoid bacterial growth

when crust builds,use fork to scrape ,repeat several times until you have consistecy that is suitable for your usage...let air dry over night before you put in a container.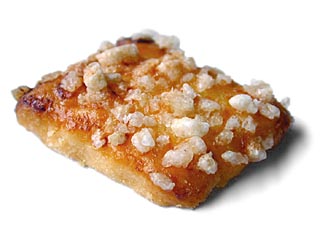 This is a close-up of the hagelzucker on a cookie.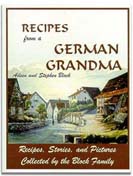 Our German Cookbook with Heritage stories
Join our free German Goodies Newsletter we share recipes and stories of our background