In German Hefe means..." yeast", and zopf means ..."braided"

It starts with making "Hagelzucker"
Hagelzucher literaly means ...Hail sugar.

Legend has it that it is called "Hagelzucker" because during a thunderstorm with small hail,sugar that was left near a window got wet . and clumped together in a sheet.
The lady of the house used a fork trying to loosen it up again and ended up with small lumps...looking almost like the small hail that was the cause of the problem..ergo HAILSUGAR / HAGELZUCKER was born
Step 1, Make Hagelzucker

2 cups of sugar in a baking -tray with walls...spray with previously boiled water to avoid bacterial growth

when crust builds,use fork to scrape ,repeat several times until you have consistecy that is suitable for your usage...let air dry over night before you put in a container.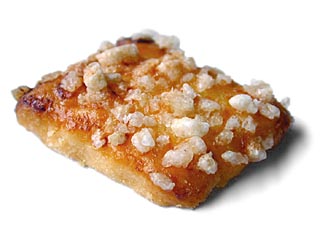 This is a close-up of the hagelzucker on a cookie.

Now to make the Hefezopf
3 cups bread flour
3 eggs
1 1/2 Tbsp salt
1/3 cup sugar
1 cup warm water ( about 100 F )
2 Tsp yeast/ quick rise
pinch of saffron ( I use 6-8 drops yellow food color ) for the warm water
Step 2, the dough
Hand Method
let the yeast soak in the warm water with 1 tablespoon sugar
for 15 min. till foamy.

Add the eggs and saffron or food color and mix.
Add the rest of the sugar, salt and then the flour
add a bit more flour if needed to make a firm dough but not TOO firm.
Enough so it is not sticky.
Bread Machine method for mixing dough

Throw all ingredients into the bread machine. Check consistency after 2 minutes and again after 10 minutes. Adjust with water or flour till neither sticky nor brick-like. Run on dough cycle.
Step 3, Braid dough
When done, divide in 3 equal pieces and braid .Place on greased cookie-sheet,cover with moist towel and let rise until doubled in size ( about 45 minutes ) Brush with egg wash ( 1 egg beaten with little rosewater )sprinkle with Hagelzucker
This is a picture of how you braid the dough, This is a Stollen, but the principal is the same.
Pinch the ends underneath to make a completed loaf.
Step 4, Bake
. Bake on same cookie-sheet 20-30 minutes at a preheated 350 F oven.You know its done when you tap with a wooden spoon and it sounds the same in the middle as it does on the ends

Donated by Silvia