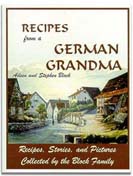 Our German Cookbook with Heritage stories
Join our free German Goodies Newsletter we share recipes and stories of our background
Babka Osterbrot


Easter Bread
INGREDIENTS:
2 loaves

Ingredients

2 packages active dry, or cake, yeast
2 cups scalded milk, lukewarm
8 cups sifted all-purpose flour, divided
5 egg yolks beaten
1 cup sugar
1/2 cup melted butter
1 cup currants (sultanas)
1 tablespoon vanilla
1 teaspoon salt




printer friendly

INSTRUCTIONS:

Dissolve yeast in lukewarm milk. Add 3 cups flour, mixing thoroughly.
Let rise until double (overnight).

In morning: Add egg yolks, sugar, butter, currants, vanilla, salt, enough
remaining flour to make a light dough. Reserve to rise in warm place until
double.

Turn out on floured board; knead well, using more flour if necessary to make
medium dough. Place in 2 large, greased loaf pans. Let rise to double bulk
once more. Bake 10 minutes at 400°. Bake 50 minutes more at 350°.

Notes

70 g chopped almonds and lemon zest, to taste, are nice additions. Some
bakers prefer orange zest. Candied lemon zest is another possibility.
Personally, I like to add some crystallized ginger.

The loaves, themselves, may be formed into rounds or braided. At last, baked
as is; or, either topped with a light icing or dusted with confectioner's
(powdered) sugar. A German tradition is to dust with vanilla sugar
(vanillezucker).

One can also braid the dough and work colored hard boiled eggs into the dough

More Recipes and Links
Do you have a question or comment on this recipe?