Hühnerschnitzel Caprese



Chicken Schnitzel with mushrooms, tomato and basil and parmesan
Ingredients:

2- 5 ounce Chicken Breasts
1/ 2 cup flour
1 / 2 teaspoon salt
1 / 2 teaspoon pepper
1 tablespoon Olive oil

1 cup sliced Mushrooms (4 oz.)
1 / 2 cup chopped onions
1 / 2 cup white wine
1/2 cup chicken stock

1 medium tomato sliced into 6 slices
2 oz. Parmesan reggiano
( about 1/2 cup)
6 basil leaves
Directions:
Pound Chicken Breasts to ¼ inch
mix flour and salt and pepper
Heat skillet to medium heat
Dredge schnitzels in flour mix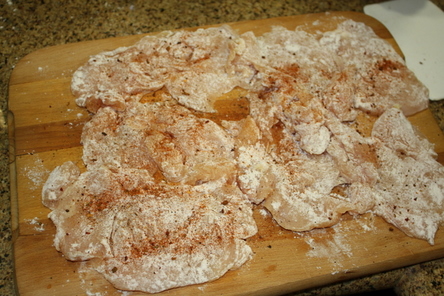 Sauté the Schnitzel in olive oil
till lightly browned on both sides.
Reserve to platter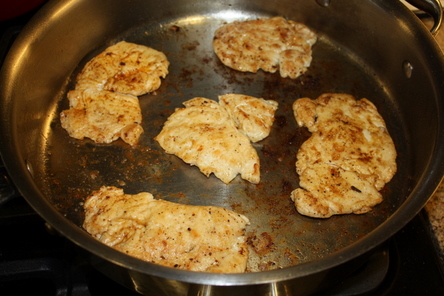 Add the onions and sauté for 1 minute
Add the mushrooms , and brown.
Add 2 teaspoons flour to the pan and mix
Add white wine, and chicken stock.

stir till thickened. Add a bit more flour mixed with water if you like it a bit thicker.
Bring to a simmer and stir to incorporate
and cook for 1 minute.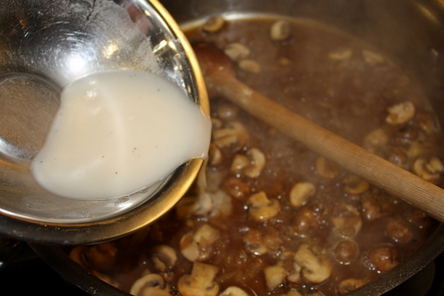 Assembly:
Place the chicken on the plate.
Top with mushroom sauce, then cheese,
and sliced tomatoes.
Place in 350 degree oven to melt the cheese.

Remove and top with 3 basil leaves and serve.
More Chicken Recipes and Links


Our Retail Store has moved!
Our new and improved retail store is now open in Colleyville!
The address: 5100 State Hwy 121 Colleyville, TX 76034
(817) 354-8101
Hours of operation:
Mon - Sat: 9am - 9pm
Sundays: 10am - 6pm
Do you have a question or comment on this recipe?