Schneeballen

Schneeballen is a specialty in Germany especially in the city of Rothenburg.
Ingredients:

1 3 / 4 cups all purpose flour
(more if needed)
2 tablespoons butter
2 egg yolks
2 teaspoon milk
2 teaspoons baking powder
1 teaspoon salt
2 tablespoons sugar
1 / 4 cup sour cream
Dash of rum

I also used this yeast Dough
(Yeast dough for Donuts )

There are many different recipes for doughs for these kinds of donuts

Here I blended the flour, salt, baking powder and sugar.
Then I mixed the eggs in
I softened the butter in a bowl.


I worked the butter in with my fingers, but you can use a fork and blend in like you would for pie dough.

Next I blended in the sour cream and the milk and a dash of rum.




I blended in a bit more flour to make a nice firm dough.



Then I chilled the dough for a few hours.
I also used the yeast dough that I used to make Berliners and it works very well also.

I rolled out the dough into a 6 inch circle.

I used a crinkle roller to make slits about 1 / 2 inch wide. You could just use a knife also.


I used a metal skewer and threaded the strands, in between each other. this helps so they don't unravel during the frying process.


another view of threading the strands.

form a ball in your hands.

I used a metal pasta fork here.
In Rothenburg they use a special tool that holds it together. You just need to be creative, a ladle or large spoon could work too.

My oil is preheated here to 350 degrees. Test it first to make sure it is hot enough and just cooks it a light brown.

Lower the dough in the oil.

I am using a pair of tongs to hold it together.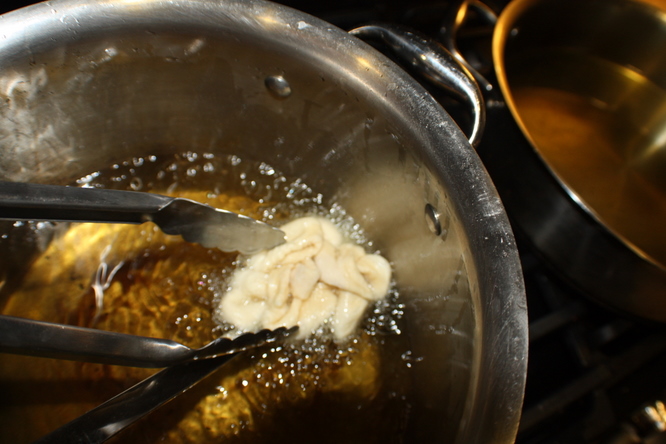 Also pushing the dough to the side of the pot helps to keep it from unraveling.
Flip it over to cook the other side.
Lift it out and drain on a paper towel.

Dust it with powdered sugar before serving.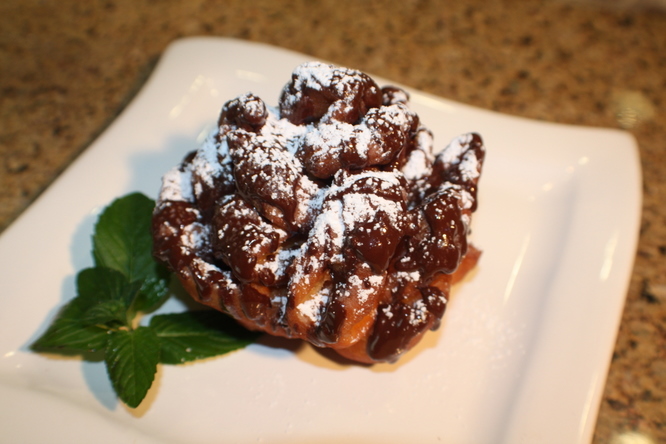 Here I drizzled chocolate over it.
In Rothenburg you can get them with all kinds of toppings, including Maple, or Amaretto.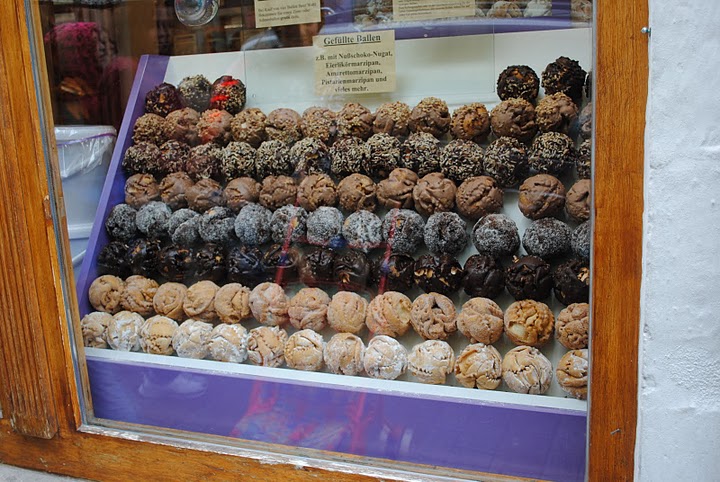 More Recipes and Links
Looking for another recipe?
Enter your recipe request and search
Where to shop for German Foods and Things
I order from the German Deli more frequently than ever.
I try to get in bulk to make the shipping dollars count.
Also there are sales all the time I like to take advantage of.
They are nice folks. If you don't believe me call them.
and tell them Stephen Block sent you from the German Goodies Newsletter.
Shop for German Food

Go here and search for all kinds of German Food

Shop for German Clothing,
Cooking equipment for German Food,
Fun German stuff

Do you have a question or comment on this recipe?
make sure you put the recipe name in the subject line
Listen to German Music
Listen to the Chicken Dance, and download it
CD's recommendations and links

Do you have a German Name?
Also what your German name means

Do you want to learn to speak a little German?
Learn one word a day.

Explore your German Heritage
Find out if your relatives came over through Ellis Island and more good links
Back to top
E-Mail The Webmaster stephen@kitchenproject.com
© 1998- to present The Kitchen Project
Last updated February 20, 2012