Dough 1. ( quick dough with baking powder )
Ingredients:

1 cup all purpose flour
1 egg
2 teaspoon milk
1 teaspoon baking powder
1 teaspoon salt
2 teaspoons sugar
1 / 4 cup sour cream

Dough 2 (Yeast dough)

Large pot for deep frying and 4-cups Canila or Vegetable oil
or
Large Frying pan for shallow frying
Use 1 inch of Canola or vegetable oil in it.


printer friendly



Directions:
Get oil ready in pan for frying. It will take 10 minutes or so to heat up.
1. Mix All dry ingredients in a bowl.
2. Mix the egg, milk, and sour cream together in a bowl till smooth and then mix in the dry ingredients a little at a time. Let the dough sit for half an hour or overnight.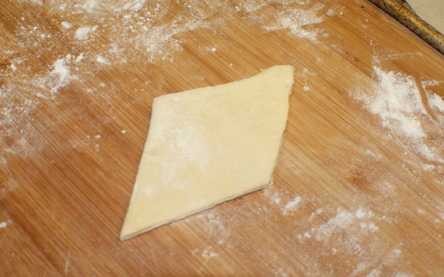 I cut these individually from rolling out a piece of dough , however if you are good you can roll a big triangle and cut a lot of diamonds at once.
I just feel I have better control this way. if you want you can use a cookie cutter or a paper template. the dough is about 1/ 8 th inch thick.
The pattern would be similar to this picture.

| | | |
| --- | --- | --- |
| Make a slit in the center | bring one tip to the center, | thread and pull through. |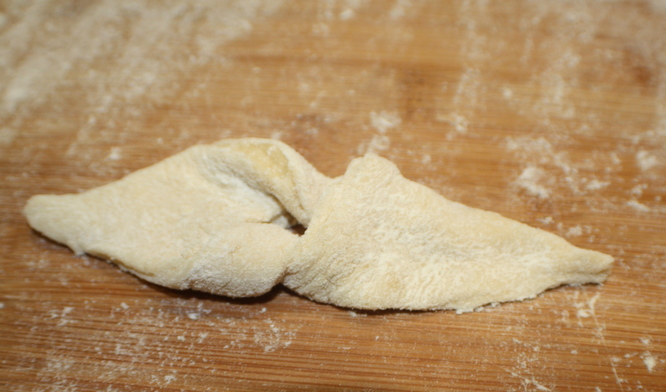 Pull it all the way through and back and it will look something like this. You may have to wiggle it or use adjust everything so it looks proportioned right.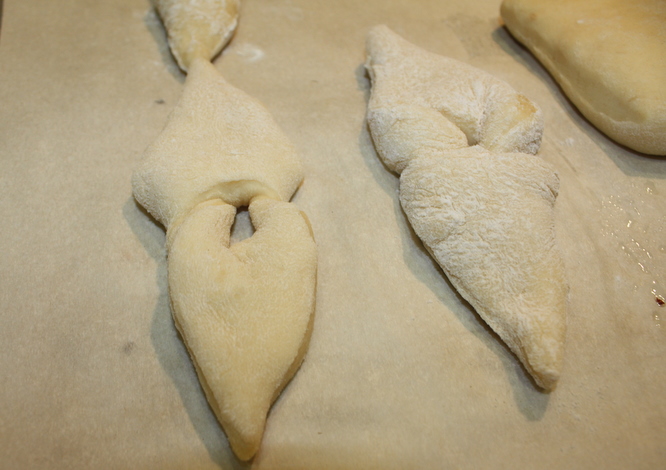 If using a yeast dough, let it rise a bit, it will look nice and fluffy.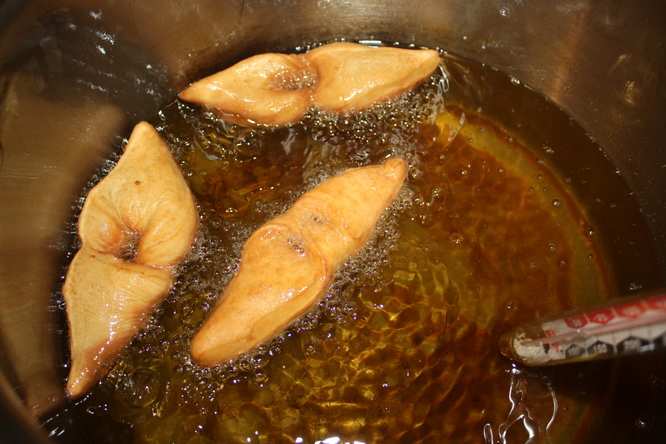 I am using Canola oil here, I poured it about 3 inches deep in a large soup pot.
You can also shallow fry these in an inch of oil. If doing large quantites you may need to
change the oil as it gets brown and smells bad.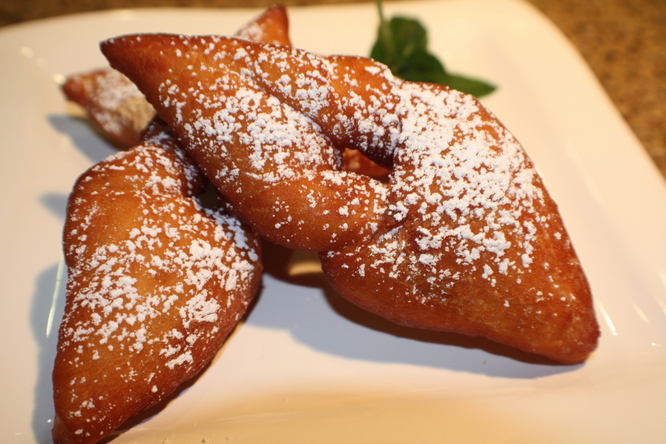 Dust with powdered Sugar.
These keep well in a tin can and even improve with age.
More Recipes and Links