Prep time: | Cook time: | Total time: | Yield: 6 cups , Serving size: 1 cup | Calories per serving: 144gr | Fat per serving: 2 gr | carbs per serving: 27 gr | protein per serving: 5 gr
2 quart saucepan , colander or strainer

Ingredients:

4 large potatoes (Either Russet or firm white, Redskin or Yukon)
5 thick slices of bacon
1 cup chopped onion
Mix dressing ingredients in measuring cup:
1/4 cup wine vinegar
1/4 cup water
1/4 c up sugar
1 teaspoon black pepper
Directions:
I find that any type of potato works well with this recipe.
Each potato variety has it's own characteristics it brings to the salad.
Peel and cube the potatoes, In this case it was 4 large Russets.
put in a 2 a quart saucepan and cover with water. After I am finished cubing one potato I put it in
water to keep it from turning brown. If you are slow at cubing a touch of lemon juice will
also slow down this browning.

When the water comes to a boil , set the timer for 10 min.
Check the cubes and if it is just barely tender then boil one more minute then drain. This may take up to 15 minutes but you don't want to over cook them so they turn to mush. They should be tender but firm when you drain them. They will continue to cook a little sitting in the colander or strainer.


While the potatoes are cooking chop your bacon, first in half the long way then then dice.

Dice the onions. You can use purple, white or Spanish (brown) onion. Mix the dressing in a small measuring cup. It is so efficent. Add the water to the 1/4 cup line. Then add the vinegar to the 1/2
cup line. finally add the 1/4 cup sugar and mix well with a spoon or small whisk.


Cook the bacon in the frying pan till some fat is rendered and it starts to turn brown. Add the onions..

...cook till the onions are tender.

Add the cooked and drained potato cubes and cook till hot and slightly browned. Add the dressing and the pepper. and cook for half a minute then turn the stove off. Taste and add salt if needed.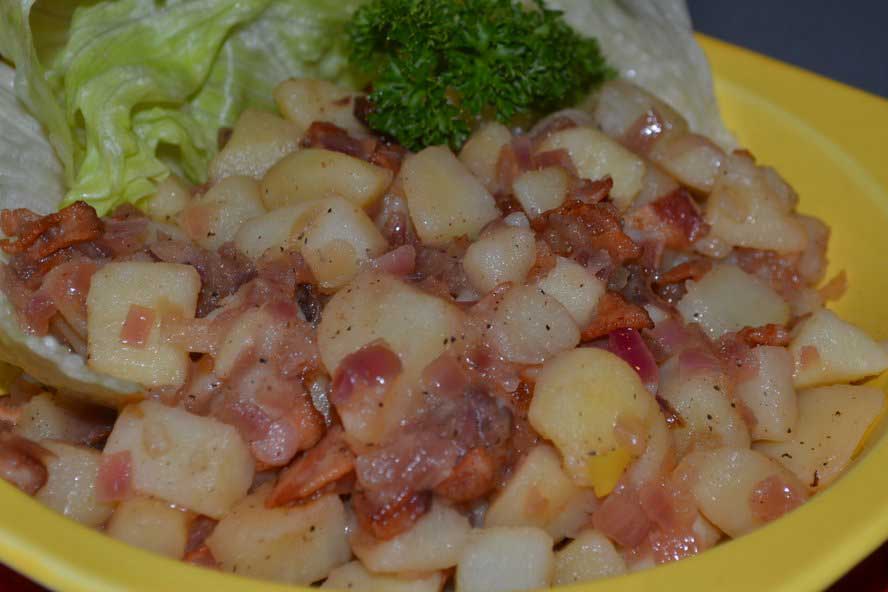 You can see the sauce thickens a bit with the starch of the potato giving it a nice texture.
You can see how the dressing mixes with some of the potato to thicken the dressing slightly and cause it
to cling to the potato. The result is a nice succulent flavor.
Roy Denman showed me that you can also roast your potatoes in the oven first for this salad. It takes about 20 minutes at 350 degrees. Toss with a bit of oil and some season salt.

Toss as you would with the Hot Bacon Salad Dressing.
Here Roy has also added a bit of Mayonnaise.
A great substitute if you are watching carbs is to make this out of roasted cauliflower instead of potatoes.
Toss cauliflower florets in a bowl with seasoning salt and a touch of paprika.

Roast the cauliflower at 350 degrees for 15 minutes.
Take out and use as you would for potatoes in this recipe.
Product Links and more Recipes
Looking for another recipe?
Enter your recipe request and search
Where to shop for German Foods and Things
I order from the German Deli more frequently than ever.
I try to get in bulk to make the shipping dollars count.
Also there are sales all the time I like to take advantage of.
They are nice folks. If you don't believe me call them.
and tell them Stephen Block sent you from the German Goodies Newsletter.
Shop for German Food

Go here and search for all kinds of German Food

Shop for German Clothing,
Cooking equipment for German Food,
Fun German stuff

Do you have a question or comment on this recipe?
make sure you put the recipe name in the subject line
Listen to German Music
Listen to the Chicken Dance, and download it
CD's recommendations and links

Do you have a German Name?
Also what your German name means

Do you want to learn to speak a little German?
Learn one word a day.

Explore your German Heritage
Find out if your relatives came over through Ellis Island and more good links