Serving size: 1 Rouladen- Prep time:30 min -Cook time: Total time: 30 minutes ,-(6 servings) - reviews
Ingredients:
6 boneless pork chops
6 oz. Black Forest Ham, thinly sliced
6 oz. Emmanthaller cheese (can substitute Swiss Cheese)
2 medium dill pickles cut in half to make shorter and cut into thin spears
1 cup small diced onions
2 tablespoons Dusseldorf mustard. ( substitute Dijon if you want)

Toothpicks

1 cup flour, seasoned with 2 pinchs of salt and 2 pinchs of pepper or a nice season salt
1/ 4 cup olive or good quality vegetable oil

Gravy
1 quart chicken stock
4 tablespoons flour
oil in the pan, should be about 1/ 4 cup

Directions: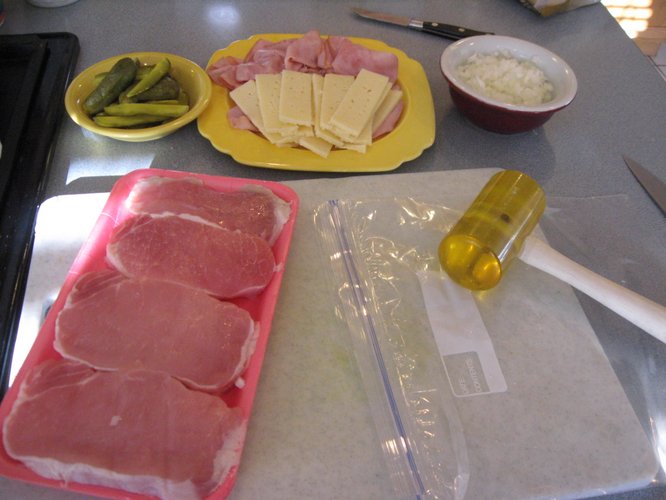 1. Gather your ingredients, Pound the boneless pork chop into a Schnitzel. If you want more info on pounding schnitzel go here
| | | |
| --- | --- | --- |
| 2. Spread mustard on the pounded Schnitzel next the chopped onions. | Put an ounce of ham and ounce of cheese on the pork, and top with some pickle slices. | Roll up and pick with toothpicks like shown. |
| | | |
| --- | --- | --- |
| 4. Set up the flour on a plate, roll the Rouladen in the flour. | Heat 1/8th cup oil in a Skillet on medium heat, add the Rouladen and brown on all sides. | Remove onto a plate. |
5. Add 4 tablespoons flour to the oil in the pan, cook for 1 minute on medium low heat.


Add the stock and whisk constantly,as it comes to a simmer
and cook for 1 minute. If you want you can add a several tablespoons of cream or milk to make it creamier and a nicer color.

Return the Rouladen to the pan and simmer for 35 40 minutes covered.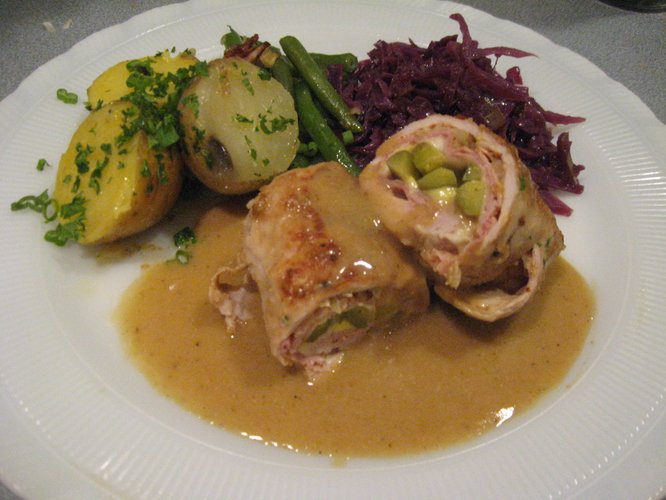 Strain the sauce if it is lumpy and not smooth. I cut the Rouladen in half to expose the nice center.


Looking for another recipe?
Enter your recipe request and search
Where to shop for German Foods and Things
I order from the German Deli more frequently than ever.
I try to get in bulk to make the shipping dollars count.
Also there are sales all the time I like to take advantage of.
They are nice folks. If you don't believe me call them.
and tell them Stephen Block sent you from the German Goodies Newsletter.
Shop for German Food

Go here and search for all kinds of German Food

Shop for German Clothing,
Cooking equipment for German Food,
Fun German stuff

Do you have a question or comment on this recipe?
make sure you put the recipe name in the subject line
Listen to German Music
Listen to the Chicken Dance, and download it
CD's recommendations and links

Do you have a German Name?
Also what your German name means

Do you want to learn to speak a little German?
Learn one word a day.

Explore your German Heritage
Find out if your relatives came over through Ellis Island and more good links