Ingredients:

Rye Bread Dough:
1 tbsp (15 mL) active dry yeast
1/4 cup (60 mL) molasses or dark malt syrup
3 tbsp (45 mL) liquid honey
3 cups (750 mL) bread or all-purpose flour
1 tbsp (15 mL) caraway seeds
1 tbsp (15 mL) ground coriander seeds
2 tsp (10 mL) salt
1 tsp (5 mL) ground cardamom (optional)
3-1/2 cups (875 mL) (approx) whole (dark) rye flour

The Ham:
1 bone-in smoked ham (10 to 12 lb/4.5 to 5.4 kg)
3/4 tsp (4 mL) black pepper
1/4 tsp (1 mL) ground cloves
1/4 tsp (1 mL) ground allspice
1 -2 cups Honey mustard or Dijon
1 cup brown sugar


printer friendly



Rye Bread Dough:

One day before baking ham, sprinkle yeast over 1/4 cup/60 mL warm water; let stand until foamy.
Meanwhile, warm together molasses, honey and 1-3/4 cups/425 mL water, stirring until blended; let cool to at least 110°F/44°C.
Place bread flour, caraway seeds, coriander, salt, and cardamom (if using) in bowl of stand mixer; with paddle attachment, beat at slow speed until thoroughly mixed. Pour in yeast and molasses mixtures; mix on low speed until blended, then beat on high speed for 3 minutes. Remove paddle and add hook attachment; on low speed, gradually mix in enough rye flour until in sticky dough that holds together.
Knead on medium-low speed, adding more rye flour if necessary, until dough is no longer sticky, about 6 minutes (you should be able to slap palm against dough and hold for 5 seconds without it sticking).
Knead few turns by hand and form into ball; place in oiled bowl, turning to coat all over. Cover and let rise until doubled in volume, about 2 hours; punch down dough, knead lightly and form into ball. Return to bowl and wrap with plastic, forming airtight seal; refrigerate overnight or for up to 24 hours.
Remove dough from refrigerator and let stand until at room temperature, 1 to 2 hours.
~~~~~~~~~~~~~~~~~~~~~~~~~~~~~~~~~~~
Pre heat oven to 350 degrees.
I used a smaller ham because I am fixing for a smaller amount of folks
So you can adjust the recipe in half.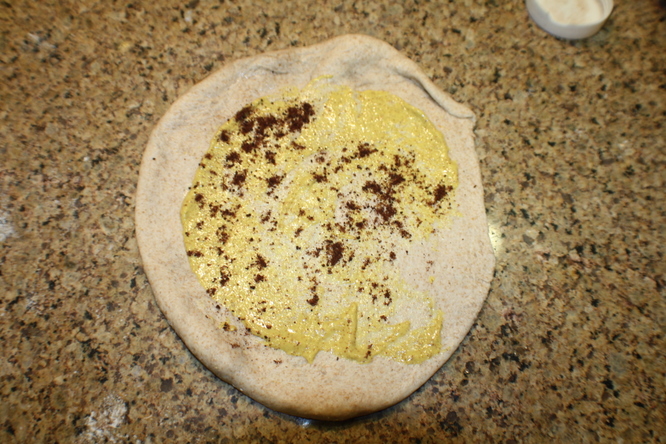 I started with rolling a small piece of dough out so that it was just bigger than the base of my ham.
I spread some mustard on it and sprinkled some cloves. You can use cloves and allspice as well.

~~~~~~~~~~~~~~~~~~~~~~~~~~~~~~~~~~~
Place the ham on top of the dough and spread mustard all over the ham,
and sprinkle with your spices.
~~~~~~~~~~~~~~~~~~~~~~~~~~~~~~~~~~~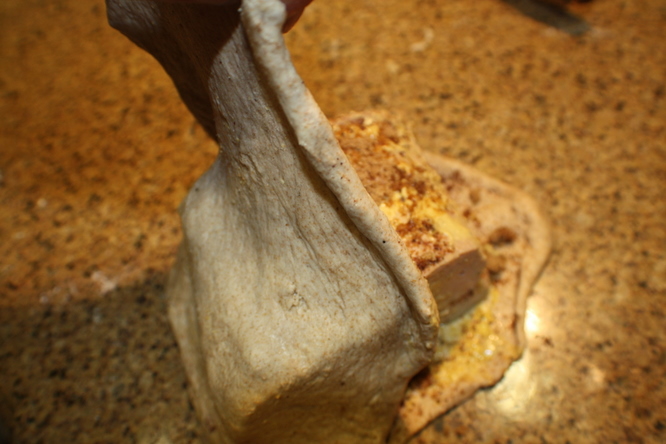 Roll the dough and c over the ham.
~~~~~~~~~~~~~~~~~~~~~~~~~~~~~~~~~~~
seal the edges of the dough and tuck under. It doesn't have to look perfect.
I saved a bit of dough and made a little flower on top.
Put in a greased baking dish.
take a beaten egg with 2 tablespoons water
and brush the ham dough well.
This will make the crust look shiny.
Bake the Ham for about 40 - 60 minutes
until nice and browned and a temperature of
160 degrees.
~~~~~~~~~~~~~~~~~~~~~~~~~~~~~~~~~~~
To achieve an even shinier crust I brushed it again half way through the baking time.
~~~~~~~~~~~~~~~~~~~~~~~~~~~~~~~~~~~
Let the ham rest for 15 minutes before slicing.
More Recipes and Links