This is a great way to use older green beans. Schnippel means snipped and Bohnen means beans. In the U.S. It is a shame to throw away the larger tougher green beans. Also today green beans aren't as stringy as they use to be. These tougher beans were often put through a machine that would slice them and remove the string making them easier to eat. Some folks like to add a pear or 2 to this. It gives a nice background flavor. You can use an unripe pear if you want.
Here is a way to deal with a tougher string bean. Cut them at an angle. Like cutting celery at an
angle or on the bias as you would for a stir fry. each piece has very short strings then so you
don't have to fight them in your mouth.

This is a perfect dish to do in a crockpot. You can also do it in a Dutch oven. You can also make a smaller
batch in just a saucepan. Perfect if you have a small amount of green beans left, this makes an excellent side dish.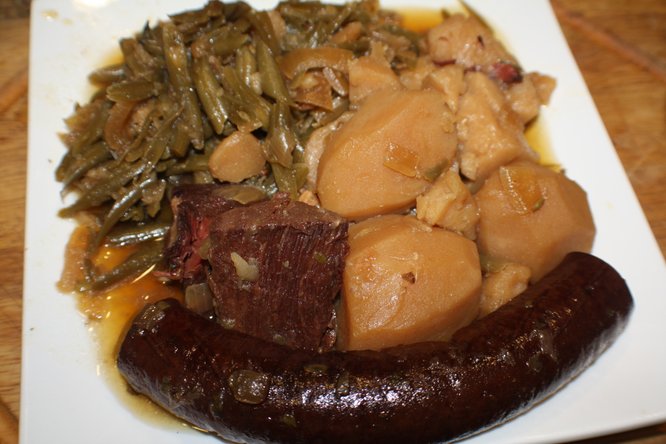 8 hours would be perfect. These were in the crockpot for 12 hours of cooking. I strained the ingredients and reserved the stock. the potatoes and beans have a wonderful flavor from the sausage and ham.
Now I can do several things,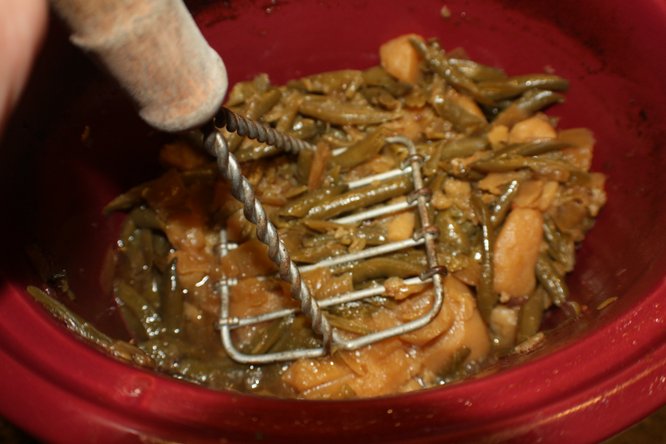 You can mash the beans and potatoes together You can use a hand held Immersion blender for this
also.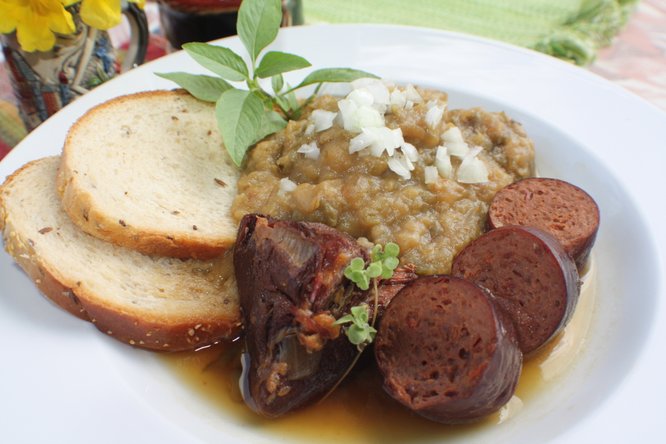 Mixing other veg with mashed potatoes is very popular now, and for good reason.
This has a great flavor especially simmered with the ham, sausage herbs.
I ladeled some of the stock into the bowl also, then served some of the sausage and ham along with
some good rye bread.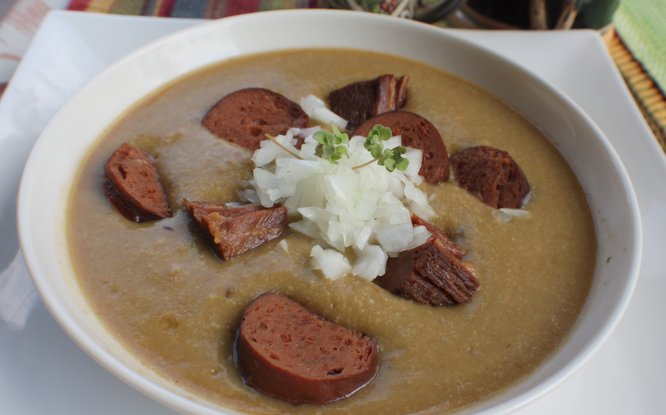 Here I pureed the beans and potatoes and blended with the stock.
It made a nice thick soup like texture. Then I cut up the sausage and ham and floated them in.
Some chopped sweet onion in the center makes a nice garnish and crunchy texture.
Here are some other ways to present the stew. One is to cut up all the ingredients the same
size like a stew and add to the stock. On the right the some of the beans are mashed with some of the potatoes then it is blended in with the stock. This gives a thicker soup, and keeps some of the beans and potatoes whole for texture.