German Style Cole Slaw

This is a basic simple cole Slaw, that was adapted from a German Chef friend. a simple vinaigrette dressing. The key to it is working the cabbage a little with some salt. You will notice a wonderful difference in the texture of the cabbage, just the right crunch. A refreshing dressing and not cloying mayonnaise.
Ingredients:
4 cups cabbage shredded and chopped
1 teaspoon salt

Dressing :
1 /4 cup cider vinegar
2 teaspoons olive oil
1/2 teaspoon teaspoon Dill weed or celery seed
1 / 2 teaspoon black pepper
sugar ( varies how you like it. 1 tablespoon for tart andup to 4 tablespoons for sweet.

other vegetables :
1 tablespoon chopped onion
2 Tablespoons chopped bell pepper.



Directions:
This technique I learned from a German Chef who called it Gestamphe salad, or pounded german cabbage salad. You work the cabbage with the salt and it breaks down the cabbage structure and it's juices naturally. You get a better texture and it doesn't weep, causing the dressing to be diluted.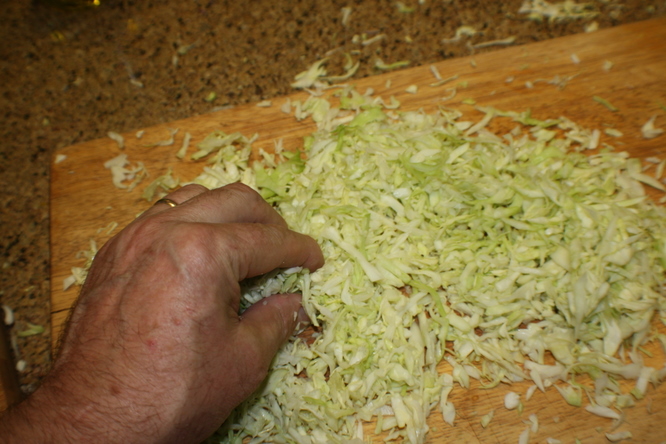 Here is about 4 cups of chopped cabbage. I work the cabbage with salt with my hands

~~~~~~~~~~~~~~~~~~~~~~~~~~~~~~~~~~~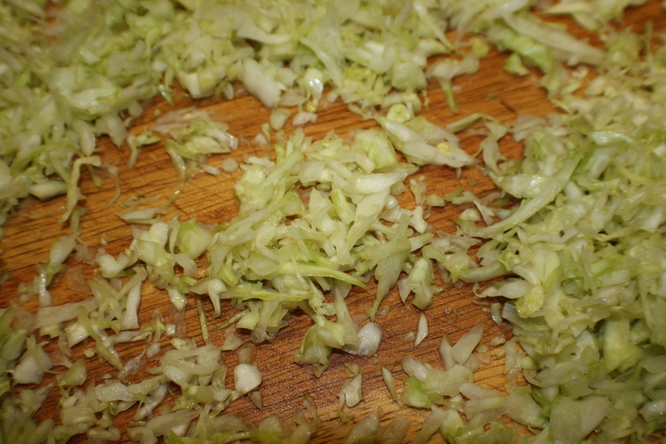 I let the cabbage sit on the board for about 15 minutes and you can see how much water is already coming out of the cabbage.
~~~~~~~~~~~~~~~~~~~~~~~~~~~~~~~~~~~
You can see the texture of the cabbage had begun to break down a bit. It is still crunchy but just the right amount. I squeeze out the water and put it in a bowl to dress.
~~~~~~~~~~~~~~~~~~~~~~~~~~~~~~~~~~~
| | | |
| --- | --- | --- |
| Assemble the dressing ingredients. | Add to the shredded cabbage, and mix. | Add chopped onions or bell pepper if you want. You can also add a few Tablespoons of cream or sour cream |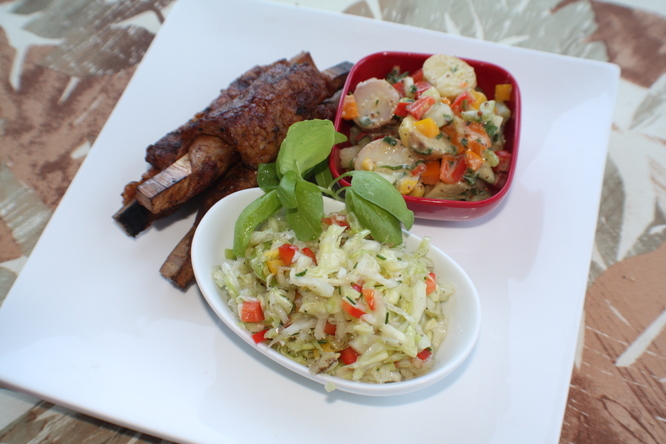 More Recipes and Links
Enter your recipe request and search
Where to shop for German Foods and Things
I order from the German Deli more frequently than ever.
I try to get in bulk to make the shipping dollars count.
Also there are sales all the time I like to take advantage of.
They are nice folks. If you don't believe me call them.
and tell them Stephen Block sent you from the German Goodies Newsletter.
Shop for German Food

Go here and search for all kinds of German Food

Shop for German Clothing,
Cooking equipment for German Food,
Fun German stuff

Do you have a question or comment on this recipe?
make sure you put the recipe name in the subject line

Do you have a German Name?
Also what your German name means

Do you want to learn to speak a little German?
Learn one word a day.

Explore your German Heritage
Find out if your relatives came over through Ellis Island and more good links
Back to top
E-Mail The Webmaster stephen@kitchenproject.com
© 1998- to present The Kitchen Project
Last updated June 28, 2012