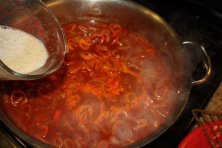 Add the Vinegar and the agave or sugar, mix then add half of the slurry, whipping it in as you pour. You may need more but let it cook for a minute to thicken. Add a little more at a time if thicker sauce is desired.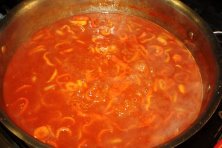 Cook for 2-3 minutes till the sauce turns clear and thickens. You can thin the sauce also if it gets too thick. A good rule of thumb is that the sauce should just coat the bottom of a spoon.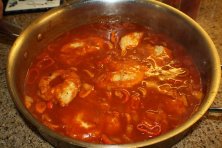 Taste and then adjust the sauce for sweetness or tart, also salt and pepper. If you only added half the paprika and want more then mic it in carefully when it is not boiling to prevent lumping Add the chicken and simmer for another few minutes.