Buffalo Schnitzel





The Germans will make all kinds of variations on a Schnitzel featuring ethnic cuisine from all over the world. This is a spin off from "Buffalo Wings" Using the same sauce that is used in Buffalo to make spicy hot wings and topping with some Blue Cheese dressing and serving it with the traditional celery sticks, but also other dipping vegetables.
Serves 2

Ingredients:
4- 2 oz. Chicken breast cutlets
1 egg plus some water or milk.
1 / 2 cup seasoned bread crumbs
and 1 / 2 cup flour mixed

Sauce:
4 Tbs butter or margarine (1/2 stick)
5 Tbs Louisiana-brand hot sauce (preferably Frank's) or Tabasco sauce
1 Tbs white wine vinegar

8 oz. Blue cheese dressing
2 oz. Blue cheese crumbles

Celery sticks and other fresh vegetable sticks, like carrots, radish, bell peppers and tomato.

printer friendly



Here I cut an 8oz. chicken breast into 4- 2 oz. slices . If the breast is smaller you will need 2.
| | | |
| --- | --- | --- |
| I put the slices between a plastic storage bag, and pound it to about 1/4 inch thick. | Carefully take it out and place on a plate. | You can cut these ahead of time. Cover and chill or even freeze for another day. |
I mixed the egg and water, and the flour and bread crumbs, then dipped each cutlet in the egg
and then breaded the cutlet placing on another plate to hold.
Let the cutlets sit for a minute while you put the Buffalo Wing Hot Sauce together.
Put together the
Buffalo Wing Hot Sauce for this.
Heat some oil in a skillet and cook the Schnitzel, browning on both sides. Reserve to a pan and hold in a warm oven. Tip: don't crowd the pan, cook in two batches if you dont have a large pan.
When ready to serve, place the cutlets in a bowl one at a time with the warm sauce.
Trun over and repeat with the remaining sauce.
Place 2 cutlets on a plate and top with a little blue cheese dressing and blue cheese crumbles. I serve with raw vegetables and a side of the blue cheese dip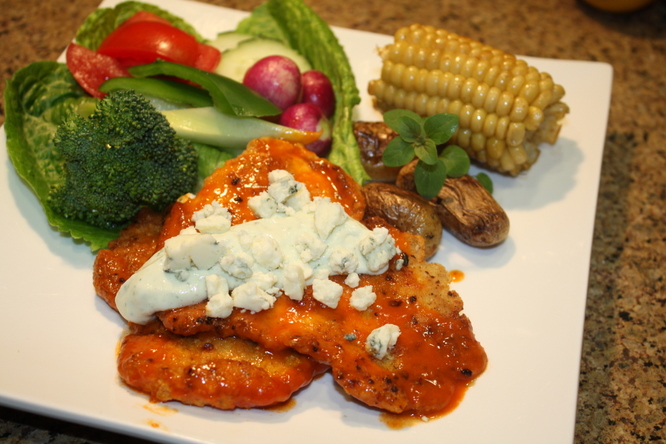 More Recipes and Links
Enter your recipe request and search
Where to shop for German Foods and Things
I order from the German Deli more frequently than ever.
I try to get in bulk to make the shipping dollars count.
Also there are sales all the time I like to take advantage of.
They are nice folks. If you don't believe me call them.
and tell them Stephen Block sent you from the German Goodies Newsletter.
Shop for German Food

Go here and search for all kinds of German Food

Shop for German Clothing,
Cooking equipment for German Food,
Fun German stuff

Do you have a question or comment on this recipe?
make sure you put the recipe name in the subject line

Do you have a German Name?
Also what your German name means

Do you want to learn to speak a little German?
Learn one word a day.

Explore your German Heritage
Find out if your relatives came over through Ellis Island and more good links
Back to top
E-Mail The Webmaster stephen@kitchenproject.com
© 1998- to present The Kitchen Project
Last updated January 21, 2011