Ingredients:

beef soup bones or short ribs
1 gallon water
1 tablespoon pickling spice
trim from the following vegetables
8 to 10 garlic cloves

1 large potato
1 onion
1/2 cup rice [an unusual variation; optional]

2 carrots, diced
2 beets, peeled and shredded
1turnip
1 parsnip
2 carrots
2 cups celery
1 / 2 cabbage, shredded
2 tablespoons caraway seed

1 pound (16 ounces can) tomatoes or 1 small can of tomato paste

sour cream
allspice or cinnamon
fresh dill


Instructions:

I brown the soup bones with vegetable trimings, garlic cloves and the pickling spice.


Simmer the bones and vegetable trim in about 1 gallon of water.


Simmer 3 to 4 hours then strain into a large bowl, soup pot or glass container.
Separate the beef , and toss the vegetable trim.



When the beef cools separate from the bones and take any peeling left on the garlic.

Chop the beef and garlic up. Put the broth in a soup pot and add the meat and garlic.

Add the potatoes, onions and rice and


Bring pot to a simmer and cook for 1 hour.

| | | |
| --- | --- | --- |
| You can either shred the vegetables or chop. I love the texture of the shredded vegetables. | I like using a mandoline but you can use just an old fashione hand grater as well. | Add the vegetables to the soup and cook for 30 to 40 minutes till tender. |
| Meanwhile chop the cabbage into shreds by cutting only in one direction. | Add the cabbage and cook for 15 more minutes till tender. | The soup is looking very nice now. Good color. Add the tomatoes or tomato paste. |




Top with a dollop of cream, chopped dill and sprinkle allspice or cinnamon on top.

Blend in 1 cup of sour cream if you want, by mixing it with a little of the soup and then
blend in with the rest of the soup.

Notes: Hungarians spell this borsch; while Russian spell it Borscht.
Germans seem to be divided depending on what source influenced them. I have yet to calculate a serving quantity for the above. It seems to disappear too quickly on a freezing, wintery night; just as in a sweltering, summer. Accordingly, serve hot or cold.
Click to see a larger image click the picture.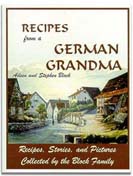 Our German Cookbook with Heritage stories
More Recipes and Links
Enter your recipe request and search
Where to shop for German Foods and Things
I order from the German Deli more frequently than ever.
I try to get in bulk to make the shipping dollars count.
Also there are sales all the time I like to take advantage of.
They are nice folks. If you don't believe me call them.
and tell them Stephen Block sent you from the German Goodies Newsletter.
Shop for German Food

Go here and search for all kinds of German Food

Shop for German Clothing,
Cooking equipment for German Food,
Fun German stuff

Do you have a question or comment on this recipe?
make sure you put the recipe name in the subject line

Do you have a German Name?
Also what your German name means

Do you want to learn to speak a little German?
Learn one word a day.

Explore your German Heritage
Find out if your relatives came over through Ellis Island and more good links