APFEL STRUDEL
(Apple Strudel)

In Grandma Block's part of Germany, Strudel was not usually made-at least, not in her family. She learned about it from her German friends after she came to America. The group of German and Austrian families would get together and have Strudel-Fests at one of the big halls where there were cooking facilities-large work-tables and ovens. There, the women would have a grand time working together, and the families would enjoy the singing and dancing as well as the Strudel.
Though Grandma never made Strudel by herself, one of her German friends would come over to the Block's house and help her make it-they would chop apples together, stretch the dough together, and roll it up and bake it together. It was much more fun with a friend, anyway! After it was done, they would each have a slice of the Strudel, with a cup of coffee, and consider the whole project time well spent.
Oven: 350 degrees.
Generously butter 2 large baking sheets.
STRUDEL DOUGH

2 C. sifted all-purpose flour
1/3 teaspoon salt
1 small egg, beaten
2 teaspoons cooking oil
3/4 C. lukewarm water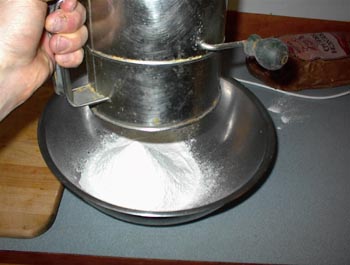 1. Sift flour and salt into a large bowl and make a well in the center.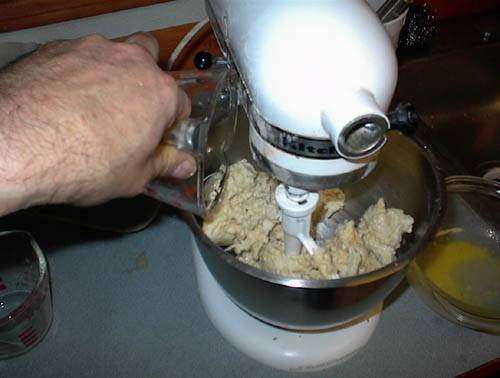 2. Add the beaten egg and cooking oil and mix well. You can do this by hand or use a mixer like shown.
3. Stirring constantly, gradually add the lukewarm water. Keep the mixture a smooth paste and keep mixing until a soft dough is formed.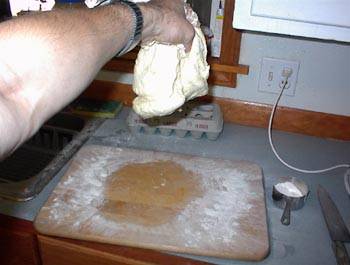 4.Turn dough (dough will be sticky) onto a slightly floured pastry board.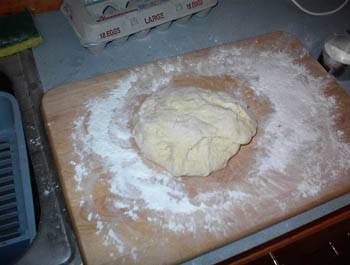 5.Hold dough above board and hit it hard against the board about 120 times. Dough will become smooth and elastic and leave the board easily. This goes faster than you think.
6. Knead slightly and pat into a round. Lightly brush top of dough with cooking oil. (Not olive oil.) Cover with inverted bowl and allow to rest 30 minutes. Meanwhile, prepare the following:
Click here

to make the filling , roll up and bake