Do Buffalo's have wings?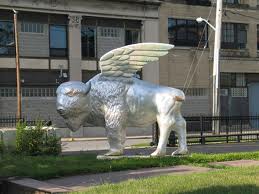 Chicken wings that have been deep fat fried and coated with a
signature spicy hot sauce, served with bleu cheese dressing and celery
sticks have become known all over the world as Buffalo Wings.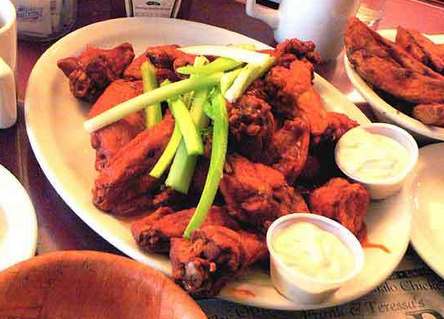 Buffalo wings with celery sticks and blue cheese dressing from the Anchor Bar, Buffalo, NY.
Where did they originate and why Buffalo?
They have nothing to do with a buffalo but have a lot to do with a restaurant in Buffalo, New York, called the Anchor Bar.
| | |
| --- | --- |
| | Frank and Theresa Bellissimo in 1939 bought a restaurant at the foot of Main street in Buffalo, New York which was near the Buffalo River so they called it the Anchor Bar. |
There was a time when chicken wings were discarded or used just to make soup stock.
TERESSA BELLISSIMO
IN 1964 Theresa stumbled onto an idea, to fry chicken wings and serve them.

Like many famous recipes that started from a family recipe the origins are cloudy.


One version of the story in 1964 when her son Dominic and his friends came to the bar looking for a quick late night snack. "Mother Teressa" (Buffalonians take their wings very seriously) was preparing to make chicken stock with a bunch of wings and, improvising, stuck them under the broiler (later they switched to deep frying), sprinkled them with a hot sauce she concocted from a commercially available base (Frank's), took some celery sticks off the antipasto dishes, put some blue cheese dressing (the house dressing) in a small bowl and served them.
Her son Dominic tells a different story,

All the principals are now deceased, but Dominic, who took over the bar from his parents, told the story differently to Calvin Trillin (1980) of the New Yorker magazine. According to Dominic, it was Friday night in the bar and since people were buying a lot of drinks he wanted to do something nice for them at midnight when the mostly Catholic patrons would be able to eat meat again. So, according to this version, Dom did not stop by with his friends, he was trying to be the good host at the bar. It was still Terressa who came up with the idea.
Frank Bellissimo tells even a Different Story
Frank told a third story. It involved a mis-delivery of wings instead backs and necks for making the bar's spaghetti sauce. Faced with this unexpected resource, he says he asked Theresa to do something with them.
A familiar story,
This reminds me of the Caesar salad, Caesar Cardini's family all have different stories of it's invention.
Read more about the origin of this dish here
Buffalo Wing History

Some other stories that refute this history of Buffalo Wings
What makes this dish Unique?
1. When I asked those from the Buffalo, NY area they said that it is
the crispy unbreaded skin of the wing, and tender meat on the inside,
and a Special type of cayenne pepper hot sauce that is laced with vinegar and butter that makes it sumptuous.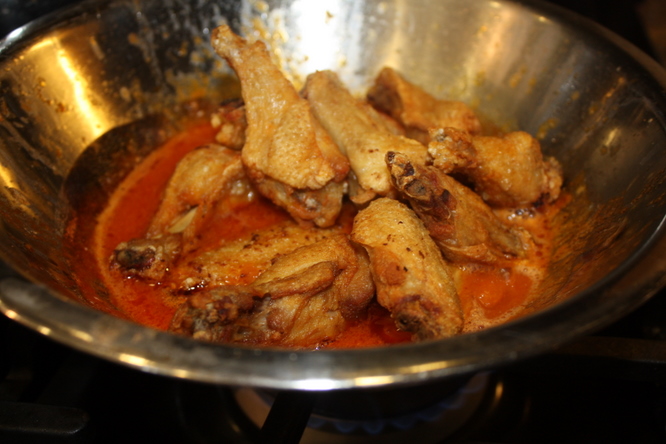 2. The Blue Cheese dressing and celery are the perfect components to cool down that HOT zap in your mouth.
Why did this dish take off and become world famous?
Part of the celebration of this dish is that a family has trademarked it,
marketed the sauce, and made their restaurant a place that celebrities want
to visit when they come through Buffalo, NY. So marketing has definitely
been part of the equation that makes this dish stand out?
The Super bowl helped kick this dish into stardom
The Buffalo Bills being in 4 Super Bowls may have had some impact on their popularity for a game snack .

Dan Marino when he came to Buffalo is reported that it was mandatory to go get some of those good hot wings.
So where do I go to get to Buffalo, New York?
Buffalo is on the Western part of New York State almost on the Canadian Border.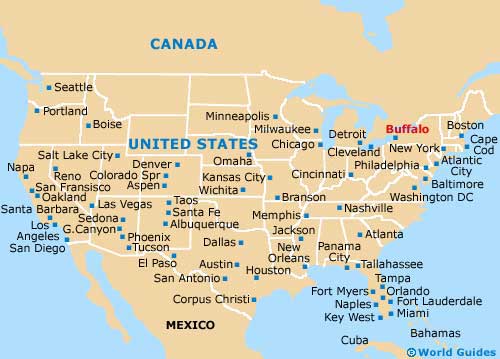 Here we are approaching the city of Buffalo
Here is a picture of the Anchor Bar in Buffalo, NY
on 1047 Main St.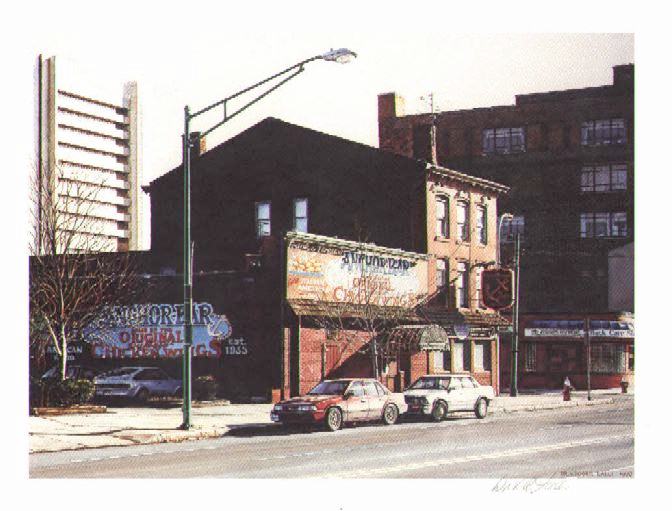 courtesy of Buffalochow.com
Buffalo Wings are not made all over the world and the Anchor Bar is internationaly famous. They have marketed their own sauces, and in 1977 July 29th became known as Chicken Wing day by the cith of Buffalo, New York.
Buffalo recognized for their accomplishment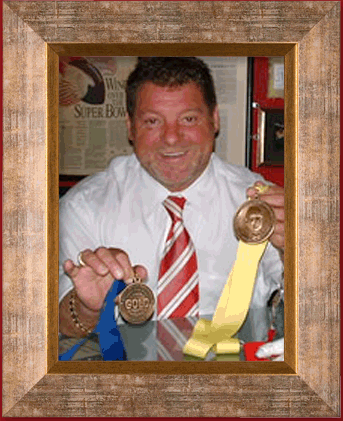 Dominic Bellissimo, son of Frank and Theresa.
Other Awards
In April 2003, the Anchor Bar was given the "James Beard Foundation Award." This is given to restaurants "that have timeless appeal, beloved for quality food that reflect the history and character of the community. It is for an American classic."

In May 2003, the Anchor Bar received the "Quality International Award" for its sauces. Presented with the prestigious gold medal, the Anchor Bar was judged the "Best of the Best" in a contest in which more then 1,000 sauces were entered. The judges were from the American Culinary and Tasting Institute.
In early 2008, Anchor Bar Suicidal sauce wins "A Scovie Award" for their hot sauce through the International Fiery foods show in Albuquerque New Mexico.
Courtesy of the Anchor Bar's restaurant.
Now ...do you want to order some of that special
Wing Sauce from the Anchor Bar that make their own?
Or do you want to express your Yankee do-it-yourself
tradition and try the reasonable copycat version that reveals what is so special
about the sauce?

Traditional Buffalo Wing Recipe
Come into my kitchen and let's make
Buffalo Wings with step by step pictures
Just remember when you serve these you are displaying the country's colors
with red chicken, and the white and blue that the blue cheese dressing
represents. (Perhaps here we should give credit to the French, for
inventing Bleu Cheese, and to the Spanish-Americans for the Tabasco sauce! Another great example of our multi-cultured country!)

This is a good hands-on meal and one that is truly satisfying. Enjoy these
"Wings of the free" as you watch a ball game or share good
conversation ...and give a toast to democracy and the American dream.
Related History