Salmorejo
This is similar to the traditional Gazpacho but richer and smoother.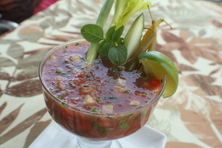 Gaspacha Spanish
From circa 1825, The Virginia Housewife
Seville Gaspacho ( the traditional that most of the world knows it)
the most popular version in most of the world that with tomato, and cucumber.
White Gazpacho or Ajo Blanco
This is a traditional recipe that goes back to the roots of the dishes origin, before there was tomatoes in Europe. Recipe by Bobby Flay , This is popular especially in the Granada or Malaga area.
Frozen Gazpacho
A nice appetizer
Warm Gazpacho
Warmed Gazpacho is very popular in Spain.

Links