Ingredients:

2 cups short grain rice often called pearl rice.
(Traditionalists use Calaspara or Bomba rice )
1 / 4 lb Chorizo, or a good smoked sausage
1 / 2 lb large prawns
1 lb small steamer clams
1 lb mussels
1 cup chopped Spanish onion
1 head of garlic cut and blanched in water
1 cup canned plum tomato
2 tablespoons Spanish paprika (smoked paprika if you have it)
2 pinches saffron
1 / 4 cup fresh parsley chopped
4 cups seafood or chicken stock
1 / 4 cup Olive oil for saute

Marinate the Saffron 1 / 2 cup of the stock for 10 minutes or so.


If you can find smoked Spanish paprika use it. Make sure it is fairly fresh, not 3 years old.

Brown the slices of Chorizo or smoked sausage

There is even low fat turkey sausage you can use to

cut down on calories.


This is Spanich Bomba rice. In most grocery stores they have a short grain or Pearl rice which works also.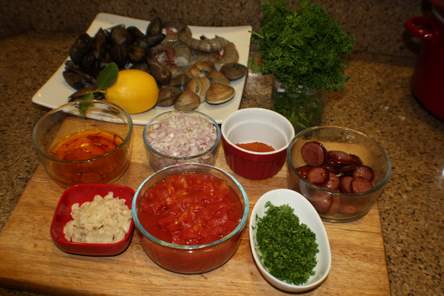 Here are the ingredients assembled. I blanched the garlic in
boiling water for a few minutes so the cloves would slice out
and then chopped them. the sharpness of the garlic is much less
when blanched also, otherwise use about half the amount.
1. Saute the onions in the olive oil in a Paella pan or a shallow frying pan.
2. Add the rice and saute for another minute.
3. Add the parsley, paprika, tomatoes and cook for another minute.
4. Add the stock and saffron with the water, and bring to a simmer.
Cook for 15 mim - 20 minutes or until the rice is almost tender. Do not over cook the rice or it will mush.
5. Add the prawns and simmer for 3 minutes.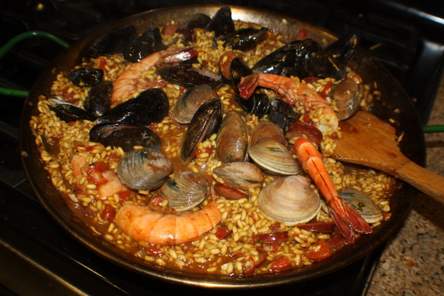 Then add the mussels and clams and simmer for till they open.
You may want to cover with foil so there is enough heat around the mussels and clams.
Top with chopped parsley and serve with lemon wedges
Links