Apfel Mürbeteig


German Apple Pie
Ingredients:

The Mürbeteig
1 1 / 2 Cups flour
1 stick ( 4 ounces) butter
1 egg

optional;
1 teaspoon salt
2 teaspoons sugar

this is like a 123 pie dough recipe

Filling:
4 Cups of thin sliced apples 3-4 large apples
1 / 2 cup raisins or dried cherries soaked in brandy.
1 tablespoon apple pie spice,

1 / 2 Cup vanilla sugar ( may substitute regular sugar and 1 tablespoon pure vanilla extract)
1 /4 cup cornstarch

Topping
1 /8 cup vanilla sugar or regular sugar
1 teaspoon cinnamon
1 egg beaten with 1 tablespoon water

Notes
( for apple pie spice you may substitute 2 1 /2 teaspoons cinnamon and 1/2 teaspoon nutmeg)

You will need a spring form pan



Pre- Heat the oven to 325 degrees F.
1. Work the softened butter into the flour till it is in small pea sized clumps.

2. Add the egg and work the dough into a ball. Do not over mix the dough.
.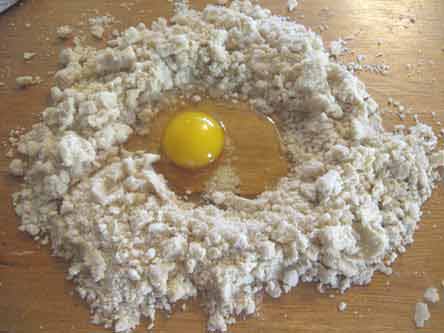 3. Roll out one third of the dough and measure with the sides of a spring form pan.
4. Roll out one of the thirds into a rectangle about 10 inches by 4.
Divide into 3 strips and press each one into the sides of the pan.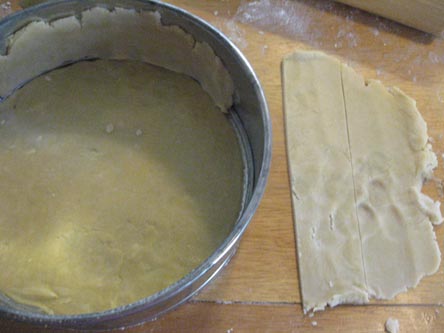 5. Add the apples and raisins or dried cherries, Roll the final third of the dough into a round, and lift it over the rolling pin, and place it on top of the apples.
6. Seal the dough around the dough-sides, making small dimples with your fingertips.
Brush the top with the egg-wash and sprinkle the cinnamon sugar on top.

7. Place on a Sheet pan lined with foil and place in the pre-heated oven.
Bake for 45 min. to 1 hour to make sure the apples are done.
Donated by Einzi Johnson
Some Background

Einzi writes .....My mother used to make it on the counter. She put flour on the counter and then made a well in it and added the ingredients as needed. She was good at it and it took me awhile to find out that she made her Mürbeteig this way. It was fairly soft and she kind of smeared it in the form, than she added the apples, cherries or whatever and because the dough was soft, usually the fruits sank into the cake. Sometimes she added sweet cream to which she added eggs and a little flour and poured it over the cake before she baked it. Later it all made sense to me, her kitchen was hot and the butter was just to soft. Lots of times she used leftovers, like sour cream and eggs (where she only used the white off) so it would not be wasted. On a farm everything is used. In the older days we had a cellar and that's where all the food was kept cool. Later on we had a fridge and things were different.
More German Desserts and Links