1. Place pie crust in pie pan so that about 2 inches of the pie crust falls over the side of the pan all the way around then cover crust bottom with a light layer (2 tablespoons) of breadcrumbs.
2. In a bowl mix 3/4 cup sugar with flour and cinnamon. Then set the bowl aside. If your plums are not sweet add another 1/4 cup of sugar.
3. Split plums on one side and take out pits – place plums in sugar mixture and mix a little then let stand for 15 minutes till plums look a little juicy. Some of the sugar mix will remain dry and you will use it later.
4. Arrange open plums in a circle in pie crust – starting with an outside ring and making several rings to the center till all plums are used. Dot with butter.
5. To left-over sugar mixture add 2 tablespoons bread crumbs and mix together then sprinkle mixture over pie. Fold pie crust up to form a "rustic" edge of crust of about 2 inches all the way around the pie.
6. Bake 400 degree oven 35 – 45 minutes. Cover pie for last 5 minutes if necessary to prevent excessive browning.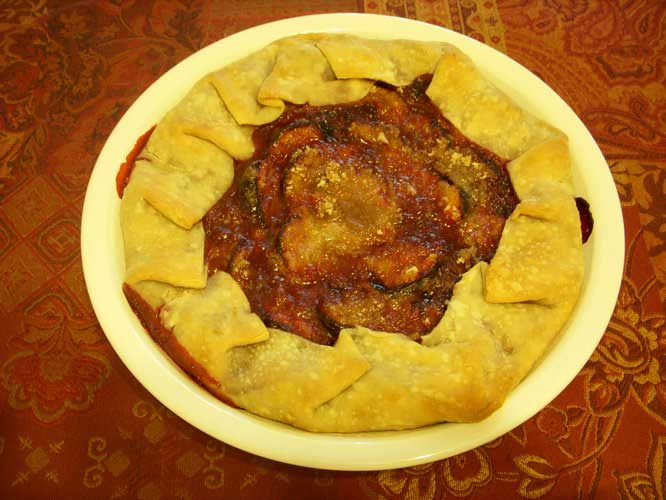 By Marsha McElligott