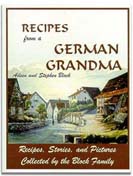 Our German Cookbook with Heritage stories
Join our free German Goodies Newsletter we share recipes and stories of our background
Grandma Block's
Hot Bacon Salad
Also called Wilted Lettuce Salad

Ingredients:

1 head Fresh Salad Greens
1 / 4 lb. (115 grams)diced bacon
1 / 4 lb.(115 grams) onion, chopped
1 /2 cup (115 ml)cider vinegar
1 / 2 cup (115 ml) water
1 / 4 cup (100 grams) sugar
Salt and Pepper, if desired.
Olive oil , extra if needed


printer friendly



"Grandma Block often made this dressing when her children and grandchildren came to visit. When lettuce was plentiful (preferably leaf-lettuce) she would make "Wilted Lettuce." The dark-green leaves were put into a large bowl to be mixed with the hot dressing, then served in small hand-turned wooden salad bowls that Grandpa Block had made in his workshop. The bowls were stacked, pyramid-style, on the kitchen counter well before dinner-time. When I went through the kitchen on my way to play in the back yard, I would see them there and look forward to that tangy salad. Much later on, when I had my own restaurant, I used the same dressing, modified just a little, as my House Dressing. It was the most-requested recipe I had. I preferred to serve it with Romaine lettuce or fresh raw spinach. It also makes a good dressing for German potato salad."
Directions: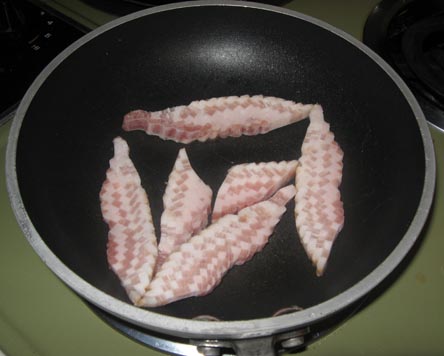 1. Chop bacon still into small chunks, and fry in a large skillet till crispy.
Reserve on a plate. shown above is how I do it. I take the frozen pound of bacon and freeze it. Then I cut across the whole slab in small narrow slices.
This will separate as it cooks.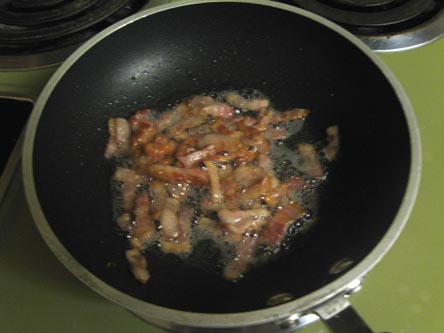 2. In a skillet, fry the bacon until almost crisp.
Often bacon doesn't render much bacon fat so add some good quality olive oil to make about 1/4 cup then add the diced onions and cook until the onions are clear. Remove the bacon chunks to a plate.
3. Add water, vinegar, and sugar. Bring to a boil, reduce heat and simmer for a few minutes.
4. Here we used a Bronze Leaf Lettuce. I tear the pieces with fingers
instead of cutting with a knife. I find that the salad is fluffier this way.
I prepared this as the dressing was cooking.

5. add half of the dressing and toss. Then add some more to get the
right amount to taste.
6. The salad wilts a little and is a bit soupy but the dressing is so good,
if you are like our family you sop it up with bread or eat the rest like soup.