Spinach Salad


with

Hot Bacon Dressing




This classic German Salad is a favorite. The sweet and tangy dressing that is poured on the salad warm is a delightful sensation.
Ingredients:

large bowl full of Spinach Greens
1 bag approx is approx 9 oz.
1 / 2 lb about 8 slices of bacon
1 cup onion, 1/4 inch dice
1 /2 cup (115 ml)cider vinegar
1 / 2 cup (115 ml) water
1 / 4 cup (100 grams) sugar
Salt and Pepper, if desired.

optional garnish
tomato
2 hard boiled eggs
carrot shreds
Feta cheese
chopped apple chunks

Serves 4
1. Chop bacon still into small chunks, and fry in a large skillet till crispy.
Reserve on a plate. shown above is how I do it. I take the frozen pound of bacon and cut across the whole slab in small narrow slices.
This will separate as it cooks.

2. Here I have the bacon and the 0nions chopped up and I mix the vinegar, water and sugar together in a measuring cup.

3. Fry the bacon on medium heat in a skillet till browned.
| | | |
| --- | --- | --- |
| Add the onions and cook stirring for a few minutes till tender. | 4. Add the vinegar,water, sugar solution. | Simmer for a few minutes and turn off heat. |
5. Assemble the garnish before you toss the salad.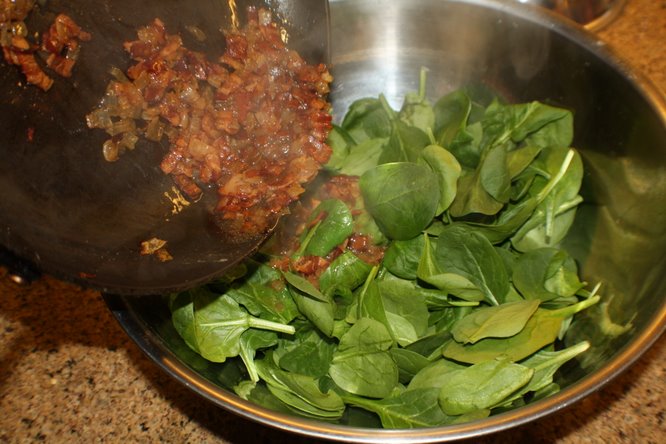 When ready to serve add the warm bacon dressing into the spinach.
Garnish the salad with the tomatoes, carrots, apples and egg wedges.
I also like to add Feta Cheese on top, or even Bleu Cheese Crumbles.
Looking for another recipe?
Enter your recipe request and search
Where to shop for German Foods and Things
I order from the German Deli more frequently than ever.
I try to get in bulk to make the shipping dollars count.
Also there are sales all the time I like to take advantage of.
They are nice folks. If you don't believe me call them.
and tell them Stephen Block sent you from the German Goodies Newsletter.
Shop for German Food

Go here and search for all kinds of German Food

Shop for German Clothing,
Cooking equipment for German Food,
Fun German stuff

Do you have a question or comment on this recipe?
make sure you put the recipe name in the subject line
Listen to German Music
Listen to the Chicken Dance, and download it
CD's recommendations and links

Do you have a German Name?
Also what your German name means

Do you want to learn to speak a little German?
Learn one word a day.

Explore your German Heritage
Find out if your relatives came over through Ellis Island and more good links
Back to top
E-Mail The Webmaster stephen@kitchenproject.com
© 1998- to present The Kitchen Project
Last updated February 14, 2012