Southwestern Schnitzel




The Germans will make all kinds of variations on a Schnitzel featuring ethnic cuisine from all over the world. This is a variation of a Ziguenerschnitzel using a breading mix of crushed corn chips and cheddar cheese , then topped with a pepper sauce. browned cheese tastes really nice.
Serves 2
Ingredients:
2-4 oz. beef cutlets
1 egg plus 1 /2 cup water or milk.
1 cup crushed corn chips
1 cup finely grated cheddar cheese

Sauce:
1 cup chopped onions
2 tablespoon fresh chopped garlic
1 cup chopped chilies (chose degree of hotness)
Use Hatch, Anaheim, Pablano, or for mild use bell peppers.
1 small can chopped tomatoes ( 1 cup )
Juice from 1 fresh lime

NOTE: You can substitute a nice chunky salsa for the sauce if you want.

printer friendly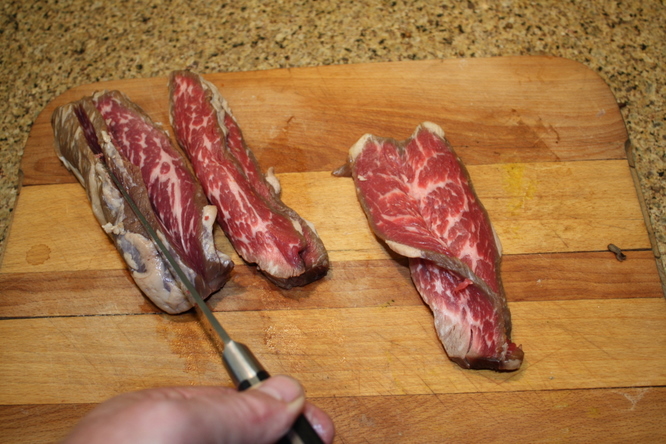 Here I cut chuck steak into 2 - 4 oz. slices. Cut more for later and freeze or use in another dish
| | | |
| --- | --- | --- |
| i | | |

Grate a cup of Cheddar cheese

Set up the breading station. One pan for crushed chips and one for cheese
Dip the cutlets in the egg and then the crushed chips , then back into the egg and then into the cheese.

Let the Schnitzels rest for about 15 minutes before frying for the breading to set.
While they are resting make the Sauce
Heat up some olive oil in a large frying pan on medium heat and fry the Schnitzels to a crispy brown on each side.

Here is a nicely Browned Schnitzel
Here is a close up of the browned crushed corn chip and cheese crust.
Here is the Sauce I made.
These are Roasted and Peeled Hatch chilies.
You can use a canned chili if you want.


Brown the onions and garlic in a little bit
of olive oil in a sauce pan

Add the tomatoes, chilies, like juice and simmer.


I blended half of the sauce in a food processor to give it some thickness. This step is optional if you like it chunky. You can also use a nice salsa and heat if you want.

Top the Schnitzel with some of the sauce, grated cheese, some chopped green onions, and garnished this with some typical Southwestern foods like
cherry tomato, lime wedge and cilantro.
More Recipes and Links
Enter your recipe request and search
Where to shop for German Foods and Things
I order from the German Deli more frequently than ever.
I try to get in bulk to make the shipping dollars count.
Also there are sales all the time I like to take advantage of.
They are nice folks. If you don't believe me call them.
and tell them Stephen Block sent you from the German Goodies Newsletter.
Shop for German Food

Go here and search for all kinds of German Food

Shop for German Clothing,
Cooking equipment for German Food,
Fun German stuff

Do you have a question or comment on this recipe?
make sure you put the recipe name in the subject line

Do you have a German Name?
Also what your German name means

Do you want to learn to speak a little German?
Learn one word a day.

Explore your German Heritage
Find out if your relatives came over through Ellis Island and more good links
Back to top
E-Mail The Webmaster stephen@kitchenproject.com
© 1998- to present The Kitchen Project
Last updated January 22, 2011