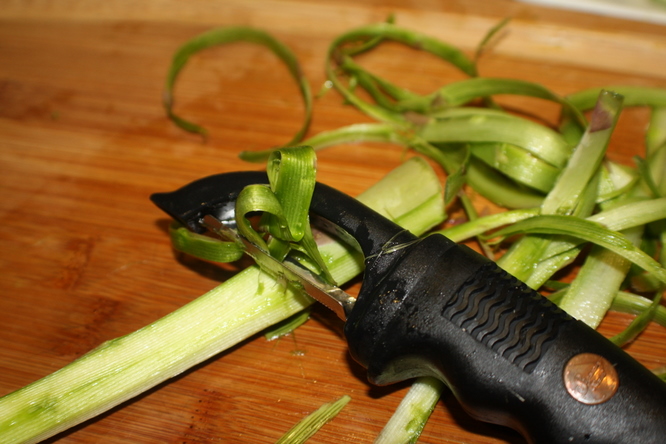 It is an American thing to buy the thin stalks.
In Germany the thicker stalks are preferred. I like to get the thicker stalks, and then peel the lower half with a potato peeler. I peel the stalks sometimes but if they look fine I leave them on. It is your choice.
~~~~~~~~~~~~~~~~~~~~~~~~~~~~~~~~~~~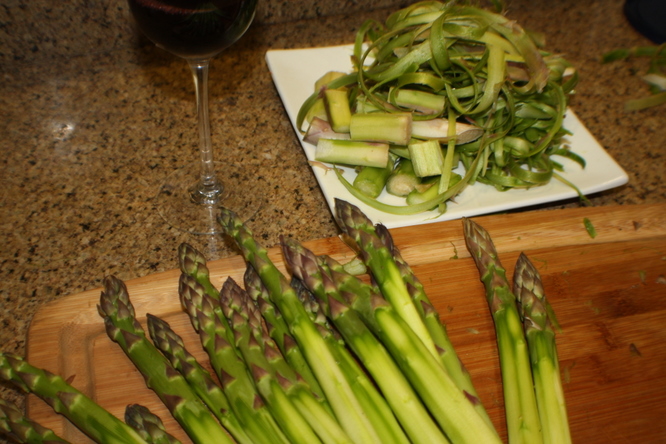 Then I take the last 1 to 2 inches off the bottom of the stalk.
Some folks hold the asparagus with both hands at the tip and the end and snap, and the
asparagus bottom stringy end will break in the right place, as if the asparagus will tell you
where the stringy end is.
Don't throw away the asparagus peels or bottom stems,
They make a great cream of asparagus soup (Spargelsuppe)
~~~~~~~~~~~~~~~~~~~~~~~~~~~~~~~~~~~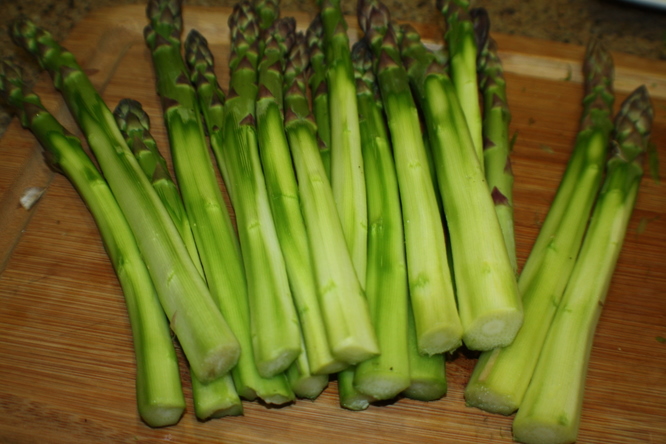 These beautiful asparagus are ready to steam, boil or pan roast now.
~~~~~~~~~~~~~~~~~~~~~~~~~~~~~~~~~~~
Simmering in Water the German Way
1 lb Asparagus
1 teaspoon salt,
1 teaspoon sugar
1 tablespoon butter

When I read German recipes for basic Spargel (asparagus) cooking techniques they always add
salt, sugar and butter to a pot of boiling water. For 1 lb of asparagus I use about 1 1/2 to 2 quarts water.
Steamed Asparagus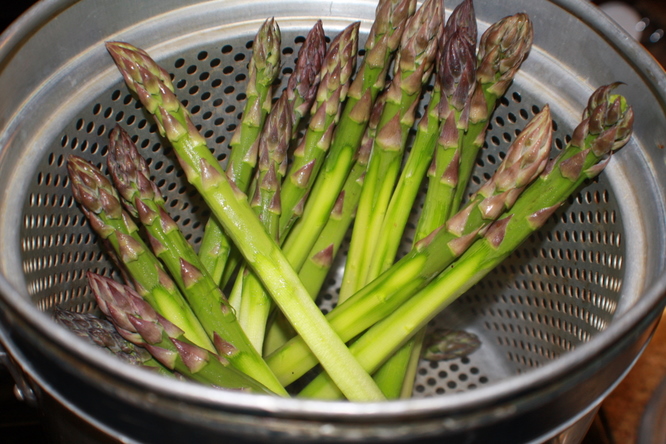 Put the Asparagus in a steamer or blanch in a small amount of water in a large frying pan where they will lay flat. Some folks will tie the asparagus up in a bundle. This way you can lift it out at the same time easy. I just feel that the ones in the center are not going to cook the same as the ones on the outside, so I do it this way or pan steam it with a lid. The reason for cooking asparagus standing up is so the tender tips won't get soggy by the time the thickest part of the stalk is tender.

~~~~~~~~~~~~~~~~~~~~~~~~~~~~~~~~~~~
Steam for about 15 minutes. till tender but still holds it's shape.
~~~~~~~~~~~~~~~~~~~~~~~~~~~~~~~~~~~~~~~~
Steaming in a Frying Pan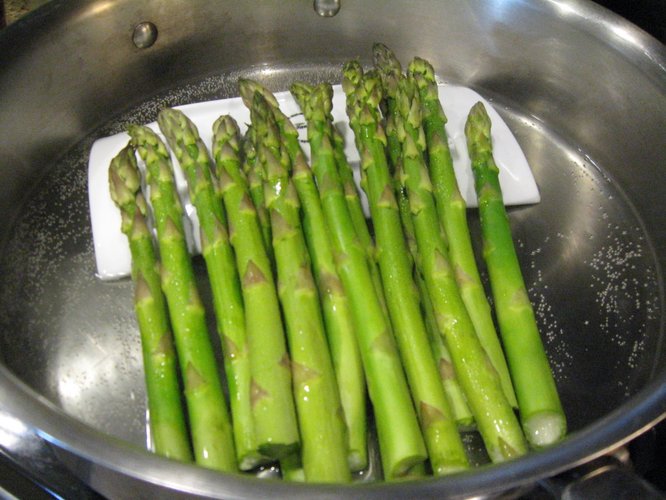 For this recipe I used unpeeled asparagus. Take a frying pan and put in 1/2 inch or so of water
. I used a small rectangular plate inverted to lift up the tips so they wouldn't be in the water. This way the tips don't disintegrated by the boiling water. . You can use whatever is heatproof to do the job.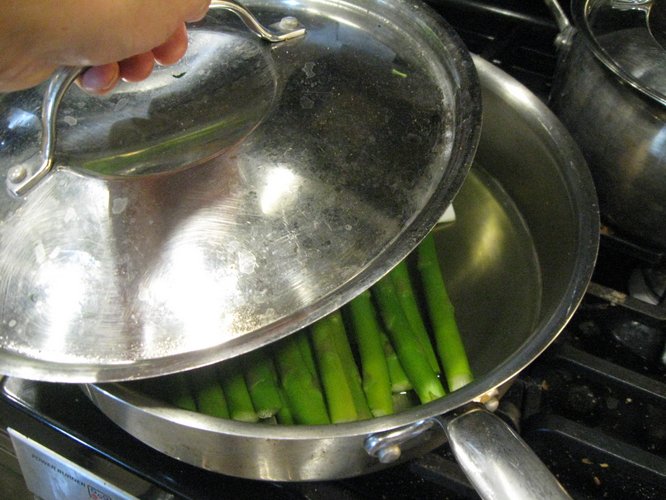 Steam for 5 minutes covered and check for doneness by taking one out and test.
They should be tender but a little firm.
Here is the cooked Spargel, The tips turned out firm and not soggy or sometimes I have
had them disintegrate almost.
~~~~~~~~~~~~~~~~~~~~~~~~~~~~~~~~~~
Pan Roasted Asparagus with Garlic and Olive Oil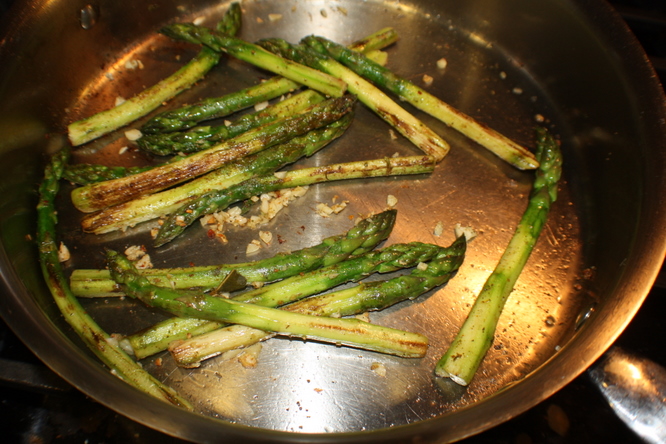 3 tablespoons olive oil
3 garlic cloves chopped
1/4 teaspoon salt
1/4 teaspoon pepper
This is an option to pan roast it in a little olive oil, turning them constantly and finish it with some chopped garlic.
~~~~~~~~~~~~~~~~~~
Oven Roasted Asparagus
Basic Ingredients
1 lb (bunch) Spargels (Asparagus)
2 Tablespoons olive oil
1/4 teaspoon salt
1/4 teaspoon pepper
From here you can add some grated parmesan, orange or
lemon peel, lemon juice or balsamic or other seasonings.
A flavored olive oil
Oven Roasting Spargels or asparagus is very simple,
Clean the asparagus and break the tough end pieces, and place on an oven proof baking sheet.
Bake for 10- 15 minutes at 400 degrees F. Turning once during the baking process.
~~~~~~~~~~~~~~~~~~
Asparagus with Brown Butter and Lemon
4 oz or 1 cube or stick butter (salted is fine)
lemon zest
1 /4 tablespoon
Juice of one lemon
Add butter and cook till it just starts to brown, then squeeze the juice of a lemon.in it. If it looks like the lemon has a lot of seeds, squeeze it through a sieve or strainer.
Grilled Asparagus on the BBQ
To Grill Asparagus, simply toss the spears in a large bowl with a little olive oil , salt and pepper and Grill for 10 minutes on medium heat. keep an eye on them and roll them with the tip of your grill tongs to brown evenly. Some charred spots are fine they add a great flavor.
The most important tip is to NOT leave them on the grill to keep warm. A much better plan is to
keep them wrapped in foil away from the gtill till serving time. I have left the grill even though they are not on direct heat and they end up unwittingly dried out and shriveled.

~~~~~~~~~~~~~~~~~~~~~~~~~~~
Purple Asparagus
Purple Asparagus was developed in Italy, and is said to be sweeter than other varieties. I really enjoy it.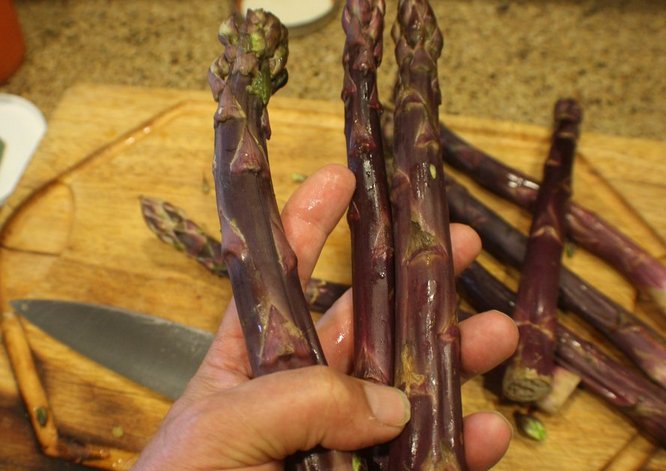 The Stalks I found were nice and thick.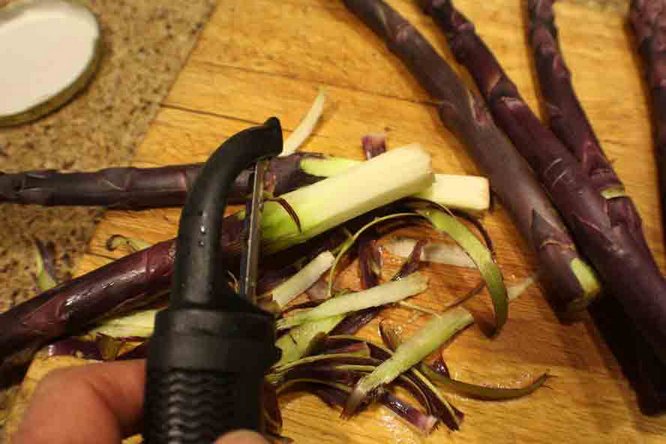 Peel the tough skin off off and the tip that looks very tough. I only took about 1 inch off of the end.
To oven roast them follow above direcions
or follow the instructions for Simmering in water the German way
I served this with Hollandaise sauce. A number of sauces or glazes would work fine.
~~~~~~~~~~~~~~~~~~~~~~~~~~~~~~
Storing Asparagus
So you find asparagus on sale and want to get a few bunches, and wonder if they will keep.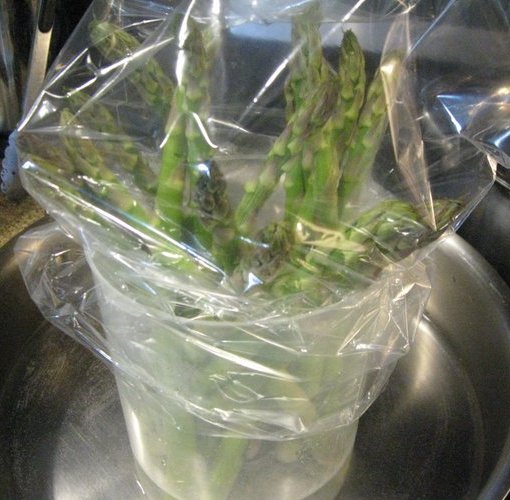 I found that they keep well in the fridge standing in a little water, but the stalks should be lightly
covered.