Fill a pan with a quart of water and 2 tablespoons white vinegar and bring to a simmer.



First I chop and assemble the ingredients. The amount of potatoes can vary, more potatoes makes the hash congeal a bit more so your serving sticks together. The technique of making a good Labskaus or Hash as it is called in the states is to fry it and constanty stir to crisp and brown all the nice components. Browning brings out a tremendous amount of flavor that you don't get by just heating the ingredients and getting an occasional browned spots.
Place about 2 tablespooons or more for crispier in pan and heat to medium high.
Add the corned beef, onions and potatoes and fry turning every 15 seconds. I use a flexible spatula and scrape the crust off the pan. This adds so much flavor. I like to add a little salt and pepper right now.
| | | |
| --- | --- | --- |
| Add the chopped beets and continue to fry for another minute | While you are browning the hash poach the eggs one at a time. with a spoon stir the water until you have a nice little whirlpool, drop one egg in at a time and poach to desired doneness. remove to plate and repeat. | Taste the Labskaus and adjust salt and pepper. If you need to hold for serving, turn heat off and slightly cover. If you cover completely it will get soggy. |
Click to enlarge picture
When ready to serve, put an egg back into the hot water to reheat, then dish a mound of Labskaus on the plate. Place the hot egg on top of the hash then repeat. This keeps the eggs from overcooking.

I prefer 2 soft poached eggs. The runny yolk makes a perfect sauce. Serve with tomato sauce or catsup.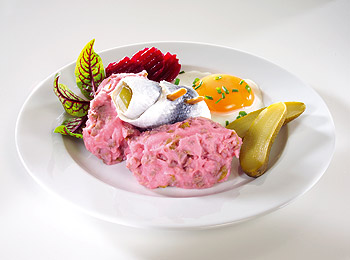 If you go to Northern Germany and order this you will probably get it with dill pickles and a rollmop ( Herring filet wrapped around a pickle) and mabe some pickled beets.
Looking for another recipe?
Enter your recipe request and search
Where to shop for German Foods and Things
I order from the German Deli more frequently than ever.
I try to get in bulk to make the shipping dollars count.
Also there are sales all the time I like to take advantage of.
They are nice folks. If you don't believe me call them.
and tell them Stephen Block sent you from the German Goodies Newsletter.
Shop for German Food

Go here and search for all kinds of German Food

Shop for German Clothing,
Cooking equipment for German Food,
Fun German stuff

Do you have a question or comment on this recipe?
make sure you put the recipe name in the subject line
Listen to German Music
Listen to the Chicken Dance, and download it
CD's recommendations and links

Do you have a German Name?
Also what your German name means

Do you want to learn to speak a little German?
Learn one word a day.

Explore your German Heritage
Find out if your relatives came over through Ellis Island and more good links