STILL popular after so many years!
Will the hamburger still be around 2000 years from now?
Probably few things identify your German heritage more than making sausage. It was a means of survival of our German ancestors during the winter months, as well as not wasting precious meat scraps,

Nothing could be wasted,
Most civilizations came up with the idea for a sausage, our forefather's and mother's ingenuity probably came up with the idea of using the intestines to put all the little parts of the pig that were left over including the blood all on their own. Nothing was wasted except the squeak.

Why Germany was a great place to cure sausage
According to my favorite food historian Alan Davidson the best sausage makers were in the colder countries like Germany as opposed to Mediterranean countries where food was more available during the cooler months. The best cured sausages seem came from mountainous regions where the dryer northern winds helped in the curing process.

This is why Britain wasn't known to produce good cured sausages. Some attempts at making cured sausages back then resulted in a new form of bacteria poisoning which they later called Botulism, which the word comes from Botellus, a latin word for sausage. the use of Nitrates and proper sausage making have eliminated this.
Where does the word Bratwurst come from? One theory is that Brat is an Old High German word (spoken between the 9th and 11th centuries) that means ....meat without waste ....and Wurst means sausage and probably comes from the word wirren that originally meant.... mixture.
When you cook sausage you are performing one of the oldest cooking techniques. The first recorded cookbook "Apicus Cookery" from approx. 228 AD has sausage recipes in it. Apicus lived in Rome. But who knows when and where this technique began.
a Bratwurst Researcher from Würzburg, Heinrich Höllerl, has discovered that the Bratwurst has its origins with the Celtics and it was the Franconians that developed it further.
German heritage is even more identified with sausage as the pig was the animal of choice for meat as probably beef is in America, Unsurprisingly the pig is a good luck symbol in Germany. Also it is very cold in the winters, sausage was an excellent way to preserve the pig and use up all the trimmings …."all but the tail and the oink" as some have put it.
In America our German ancestors have really kept the Bratwurst tradition going. It has become a social food in places like Wisconsin where they have "Brat frys" on the weekends like they have BBQ's in the south.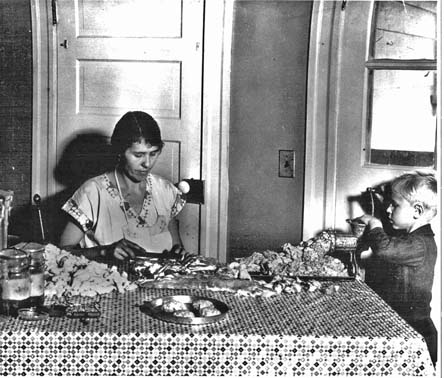 Historian finds oldest recipe for bratwurst
Thurninga is a state in Germany that really takes their bratwurst seriously like Chicago takes their deep dish pizza seriously, and Cajuns take their gumbo seriously and Texas takes their BBQ seriously.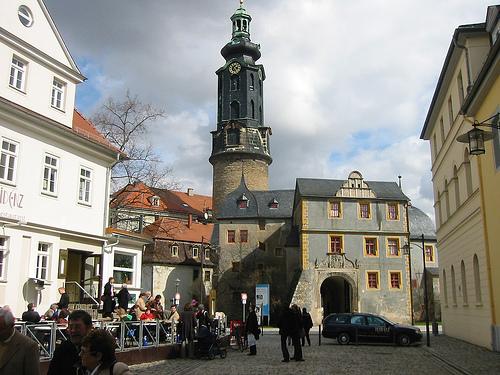 In Wiemar, Thuringa, located above Bavaria,
A document was found recently dating to 1432, showing that Bratwurst makers had strict guidelines on what the quality had to be or they were fined.
BERLIN (Reuters) - A hobby historian, Heinrich Höllerlhas discovered the oldest known recipe for German sausage, a list of ingredients for Thuringian bratwurst nearly 600 years old.
According to the 1432 guidelines, Thuringian sausage makers had to use only the purest, unspoiled meat and were threatened with a fine of 24 pfennigs -- a day's wages -- if they did not, a spokesman for the German Bratwurst Museum said Wednesday.
Medieval town markets in Germany had committees charged with monitoring the quality of produce. Thuringian bratwursts, which are made of beef and pork, are symbols of Germany's cultural heritage and ubiquitous snacks at football matches.
Historian Hubert Erzmann, 75, found the ancient recipe, inscribed with pen and ink in a heavy tome of parchment, earlier this year while doing research in an archive in the eastern town of Weimar, museum spokesman Thomas Maeuer said. "The discovery shows that there were already consumer protection laws in the Middle Ages," he said.

There are over 40 different varieties of Bratwurst throughout Germany,
There are theories of where the Bratwurst was first started.
Many from Thuringa say they stuffed the first wurst. The Franconian's feel frankly they started the sausage we call Bratwurst.
Heinrich Höllerl a bratwurst historian, has discovered that the Bratwurst has its origins with the Celtics and it was the Franconians that developed it further.
Celtics? Yes the first Celts were from an area of Austria, and then migrated ending up in Northern England and Ireland.
The Blue is Thurnigia, Germany a very small state.

One of the most famous is from Thuringia , another from Nurnberg. There is also
varieties called Franconian.
Franconia is a region in Germany just as the South, or Midwest might be considered a Region of the U.S.

There is Thuringa bratwurst that are served always BBqued over coals.
and served on a roll with mustard, another style in Thurngia is Coburg sausage that is

| | | |
| --- | --- | --- |
| | | |
| There is also a Coburg Bratwurst from the city of Coburg in Thuringia that is traditionally Grilled over pine cones. | | |


Map showing the Franconian part of Bavaria

Fränkishe Sausages

Generally 6 -8 inches long, a coarse sausage and generally pan roasted or done in a broth of vinegar, wine and onions, called
"Blaue Zipfel" ( blue corner) leaving sometimes a bluish tint on the sausage.
These Bratwurst use to be a Sunday feast only but now are eaten all year long.
In the old days on the farm, the fatted pig was slaughtered in Autumn. A few of the sausages were eaten and the rest smoked, to be saved throughout the year.

Blaue Zipfel style of preparing Franconia Bratwurt
In Nürnberg bratwurst they are famous for their short and thin sausages. diameter. 3 inches long and only finger thick, Often served 3 to a roll.

According to legend, Hans IV. Stromer (1517-1592), a judge in the medieval times, was imprisoned for life for revealing an important political secret.

In those days, life-term in prison meant that once the dungeon doors were shut, you never again left your cell. Prisoners depended on family members for their food. Since he was a high ranking prisoner, Stromer was granted one reasonable wish. That wish was to be allowed 2 Bratwursts daily until the end of his days. So, his family made a Bratwurst so small that it could be passed through the keyhole of the prison door. In deference to the legend, all "Nürnberger Bratwurst" now made in Germany are required, by German law, to include certain ingredients in specific proportions. The law specifies that the sausages must be a certain length and diameter, and must be produced within the city limits of Nürnberg
The Weisswurst in Munich, Bavaria is generally steamed, never boiled, so as not to break the skin, and served in a bowl of hot water at the table.

They have an unusual tradition for eating Weisswurst in Munich, where the skin is peeled back and the filling iss sucked out.
Some not so brave eat it with knife and fork.
Longest Bratwurst in Germany!
Probably the longest sausage of North Bavaria is called Mainfränkische Meterbratwurst.
Like the name already says the sausage is one meter (40inches) long. In 1953 Lawrence Stark a butcher in Sulzfeld, Bavaria invented this meter long sausage on the suggestion of a guest who proclaimed : "I can Wurscht The meter setting ess" meaning he could eat a whole meter of sausage in one sitting.
Lawrence rose to the occasion and came out with a meter long sausage sizzling in a pan, that started the tradition and is still a fun thing to do


http://www.ratsstube-sulzfeld.de/metzgerei.html

There are contests to see how much meter bratwurst you can eat. The current record set in
1982 is 5.15 meters or 16.9 feet!
Who started this meter long Bratwurst?

Lawrence Stark, who had saved his master's certificate as a butcher in 1949 and led as well as a restaurant host, invented in 1953 the meter, which has attained cult status. A group of regulars at that time was thirsty and starving in the guest room. The atmosphere and the pints were as good as the sausages with sauerkraut and freshly baked bread. One enthusiastic guest spoke the magic words to the host: "I can Wurscht The meter setting ess" And the resourceful butcher - restaurateur Stark acted immediately. After 30 minutes in the sausage kitchen, he came back with a long sausage, it was sizzling in the pan until golden brown and served the first meter of bratwurst.The Sulzfelder meter sausage - served charming - this event has attracted many brave eater record and ensured a lively atmosphere on all sides.Whoever managed to record the current length of offer, ate nothing. The current record holder (Andreas Schäfer from Naila, then 19 years old) consumed in 1999 in Guest House "star" an incredible 5.60 meters plus side dishes.


These are just a few of the Bratwurst and some of the history.




  Links

http://www.euro-goodies.com/index.php?main_page=product_info&products_id=180

http://www.germany-christmas-market.org.uk/christmas_shopping_guide.htm

http://hauptsache-es-schmeckt.blogspot.com/2010_04_18_archive.html

http://de.wikipedia.org/wiki/Blaue_Zipfel

http://www.food-from-bavaria.de/de/reg_spez/einzelprodukt.php?an=260

http://www.worldhum.com/features/how-to/eat_weisswurst_in_munich_20070626/
Want to receive our German Goodies Newsletter?

More Links
Mustards and Condiments

Side Dishes for Bratwurst
Bratwurst Sauerkraut
Customize sauerkraut to your taste
History of Bratwurst
How did it get started? what does Bratwurst mean?
Grilling Bratwurst
and some tips for a Bratwurst BBQ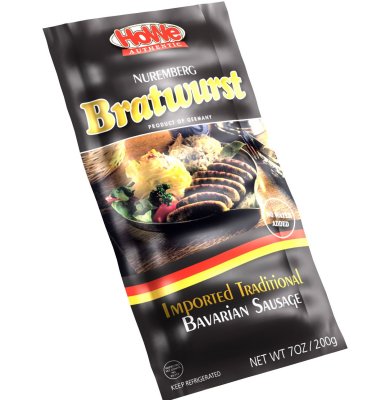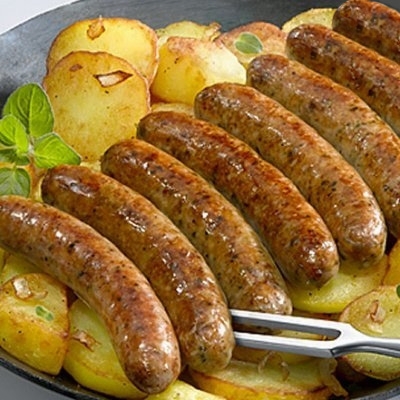 HoWe Nuremberg Bratwurst,
- Echte Nürnberger Bratwurst, 7oz
(8 links)
From a 698 year old recipe
For the first time EVER we have authentic German Bratwurst actually made in Nürnberg and imported fresh from Germany. Produced under the highest quality standards and USDA approved. These sausages are made from a traditional 1313 recipe (which would make it a 698 year old recipe). It doesn't get any better than this. It's so delicious you won't need to add mustard. This Nürnberger Bratwurst is fully cooked just heat and serve. Can be pan fried or grilled. Each package contains eight (8) small Bratwurst similar in size to American breakfast sausages. Each sausage measures approx. 3.5" in length.
Storage: Refrigeration recommended but can be frozen too.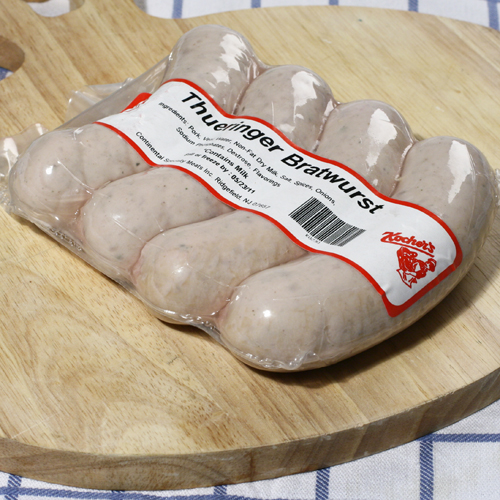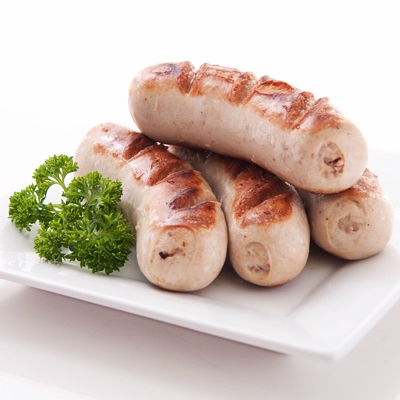 Kochers Thuringia Style Bratwurst
Thüringer-Style Bratwurst from Kocher's is a traditional German favorite. The texture is slightly coarse and the seasonings give this sausage a wonderful flavor. Served with Sauerkraut or Brezel, and a little German mustard……..a true delight.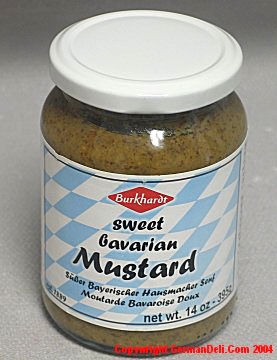 Bayrischer Süsser Senf
(Bavarian Sweet Mustard), 390g
White Sausage and Sweet Mustard - perhaps the most popular meal from Bavaria! Burkhardt's Bavarian Sweet Mustard is fabulous and perfect for your next Weisswurst meal.

Check out their weekly specials at
the German Deli.