Cooking Bratwurst on the Stove , continured......
| | |
| --- | --- |
| 4. Uncover and brown a bit, over low heat, in the small amount of fat left in the skillet. | |
| 5. Add onions if desired and brown. | |
| 5. After onions have browned add a cup of beer if desired and simmer for 5 minutes. | |
They may also be cooked in the microwave oven, in a microwave-safe dish. As for the boiling method, you may want to prick them first to keep them from bursting. However you cook or serve them, they taste especially good with Dijon mustard. These directions work well for almost any kind of German sausage.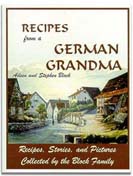 From this book,
"Recipes from a German Grandma"
order information
Want to receive our German Goodies Newsletter?

More Links
Cooking Bratwurst on the BBQ
How to grill bratwurst several ways,
including starting it first in beer.
Bratwurst Recipes
from Bratwurst fondue to stuffed bratwurst.
Grilling Bratwurst
Tips for an outdoor bratwurst grilling party
Mustards and Condiments

Side Dishes for Bratwurst
Potato salads, and other goodies
Bratwurst Sauerkraut
Customize sauerkraut to your taste
History of Bratwurst
How did it get started? what does Bratwurst mean?
Making your own Bratwurst
grind and make your own bratwurst
Grilling Bratwurst
and some tips for a Bratwurst BBQ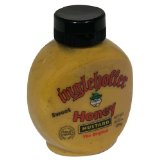 Shop for Mustards
Shop for BBQ's
Weber 7416 Rapidfire Chimney Starter
Sturdy construction, generous capacity, heat-resistant handle, and second handle for pouring control. With the most ventilation holes in its canister, coals ignited quickly.
Recommended by Cooking Illustrated
Plastic basting bottles with brush heads eliminate messy dripping between your bowl of barbecue sauce and the grill. Just fill the bottle, screw on the brush head, and squeeze to release sauce onto the brush. We tried out four bottles, basting grilled chicken. Brushes with soft silicone bristles gently distributed sauce, while stiffer bristles tore and even removed delicate chicken skin. We also preferred long-necked bottles, which kept our hands far from the heat.
Charcoal Companion 13.75-Ounce
Silicone Head Sauce Basting Bottle
Recommended by Cooking Illustrated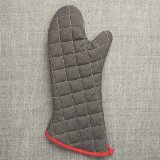 Charcoal Companion 17-Inch Flame Resistant Black BBQ or Oven Mitt
a barbecue mitt must meet two core requirements: enough heat resistance to keep hands from burning and enough pliability to keep cooks from inadvertently dropping grill grates or smashing food
Recommended by Cooking Illustrated
Polder 12453 Stainless Steel Dual Oven Thermometer
ability to simultaneously check the food and oven temperatures, and bargain price. On the grill, a heatproof silicone finger-grip under the dial allows you to take the thermometer out of the lid vents and check the temperature of the meat.
Recommended by Cooking Illustrated
Tool Wizard Grill & BBQ Brush Wizard Grill Scrubber.
This brush was tested and HIGHLY RECOMMENDED by Cooks Illustrated Magazine.
This has a lightweight polypropylene grip, and a single large, tough pad (with a spare included) that did an excellent job cleaning off a baked-on mixture of honey, molasses, barbecue sauce, and mustard.