When you want a special meal and really impress a significant other, or friend you go for the gusto and take them to a Steak House. I am sure many deals were clinched with business associates over a 3 inch thick sizzling Filet Mignon , creamed spinach and garlic mashed potatoes or truffled macaroni and cheese.

Porterhouse Steak , Creamed Spinach and Macaroni and Cheese at "The Old Homestead" American's oldest Steakhouse.
photo courtesy of azure
The roots of the Steakhouse are interesting and how this notable cuisine became popular.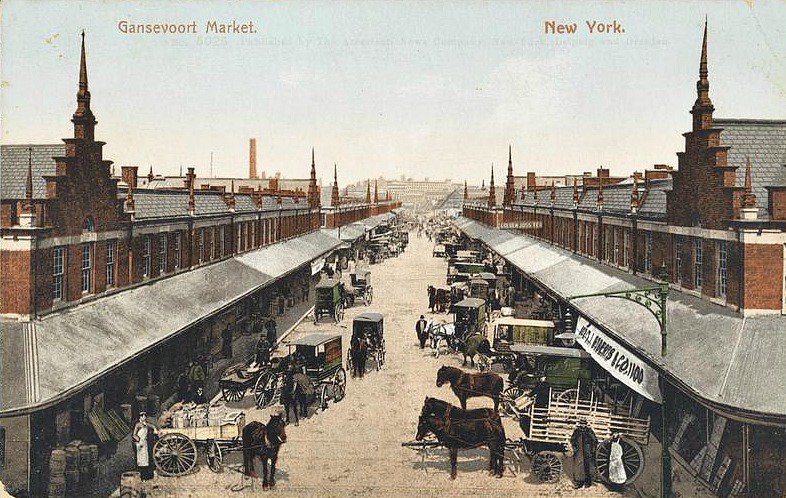 Steak Houses began in the mid 1800's shortly after the civil war in the meat packing district of New York
Before they evolved into the elaborate gourmet service and food of today they were way less formal. A fusion
of 2 different affairs , one an all you can eat beef fundraiser and the other a pub like version of England's old "Chop Houses".
The very strange event called a "Beef Banquet"



Beef Banquet held at Keen's steak house in New York
Showcasing the finest beef in the world ....
Beef Banquets were all you could eat events for political or other fundraiser's that were men only
and the only fare was beef tenderloins served on a piece of bread and eaten with the fingers,
the bread usually going uneaten and stacked next to your plate also served as a way to score your appetite.
The use of a bread plate was not all that unusual historically a slice of bread was used before plates
called tranches that soaked up the juices and either eaten or fed to the dog.

I don't think they kept score of the tankards of beer served with the steak.
Aprons were given out to keep your suit clean required for this event that catered to a male
medieval feast.
The popularity of Beef Banquets took a halt after the Tammany Hall political debacle.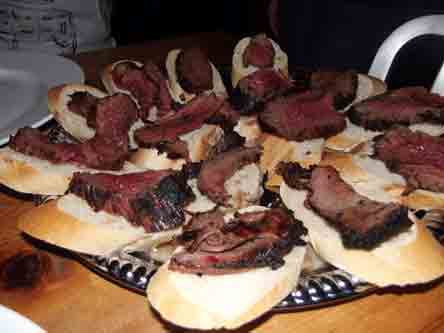 The tradition is being revived today and some folks are putting on Beef Banquets again.
Chop Houses

painting of an old London Chop House.

The Chop Houses that were patterned after those in London with chops of beef, mutton, kidney and bacon.
They would chop as much as you liked and also chop as much fat off as you desired
. They were not exactly Delmonicos either often dusty and dank and catered to merchants and vendors looking
for a good meal
l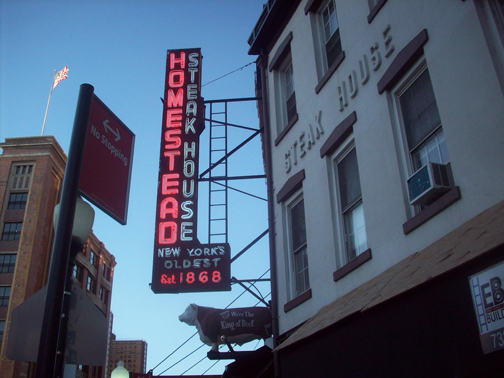 .
When the Homestead steak house opened up shortly after the civil war in America in 1868 a new era of
restaurants featuring the finest aged beef steaks which was readily available a stone's throw away at the
meat packing district. These juicy steaks off the charcoal grill started a tradition that goes on today.
Many of these early steak houses from the mid 1800's have survived and you can book a reservation today.
As prime beef got more expensive side dishes like potatoes, spinach, shrimp cocktails were added
to fill up the patron and reduce the portion of meat.
3 New York City Steak Houses that were some of the first that are still in business today......

Old Homestead Steak House 1868

Peter Lugers 1887

Keens Steakhouse 1885
This old postcard shows the art and flavor of the era.
Famous Mutton Chop with Idaho Baked Potato and mug of arf and arf that I have no
idea what it means.
Keens Steak House Postcard that shows the building and inside.


The Keen's Steakhouse Menu
Click to enlarge. Then use the zoom to make even larger.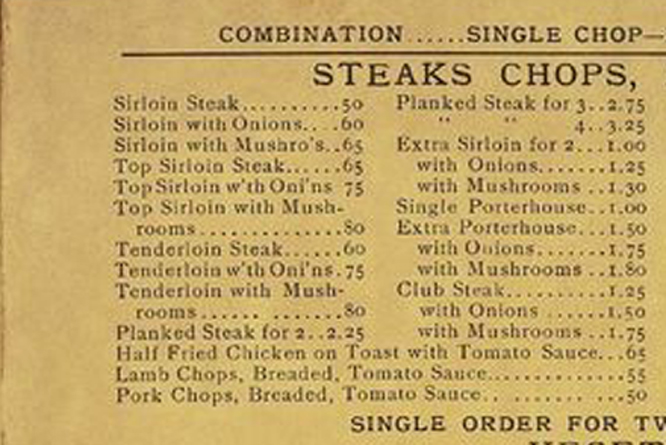 Sample of Steak House menu items in 1916
The Waltons Old Homestead Steak and Chop House in New York
Recipes
Steaks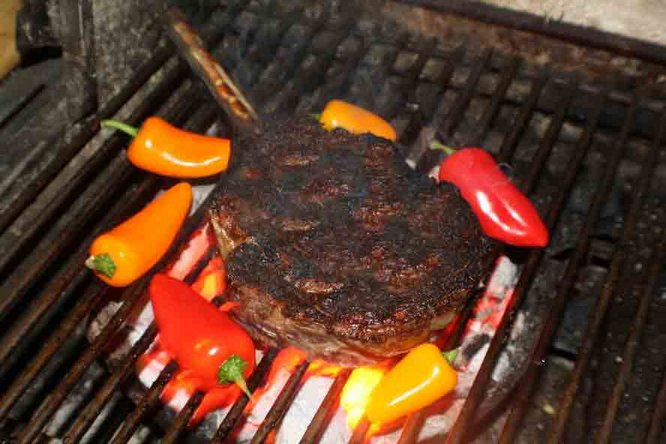 Sides
Butternut Garlic Mashed Potatoes
Ruth Chris Steak House Sweet Potato Casserole
Creamed Spinach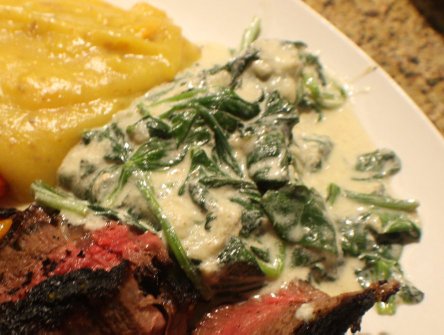 My Lower Fat-Full Flavor Creamed Spinach
My Grandma's Creamed Spinach with Bacon


Macaroni and Cheese
Longhorn Steakhouse Macaroni and Cheese
The Old Homestead Steakhouse Menu
Links
The History Channel ,
A Rare History of the Steakhouse
The Village Voice
Comparing steak houses
6sqFt website
The history of the meat packing district in New York
New York Times
Red Meat and a Sense of History
The Guardian
England's Oldest Eating Establishments
Wikipediea
The history of the Beefsteak Banquet